Scene One: Using Her Hand and Mouth
I've been in a lot of pain lately and mommy really wants to help me feel better so she hired a nurse to help relieve my pain. The nurse never showed up this morning, so my mom calls her to see where she is. The nurse says that she is about 4 hours away and I just can't wait that long! The nurse suggests to my mom that she try and relieve my pain for me… even though it is kind of weird for my mom to do the same things that the nurse does for me! My mom takes my cock out and starts to jerk my cock up and down. She does this for a few minutes but my cock just can't stay hard. I tell my mom that the nurse usually puts it in her mouth to finish me off. My mom decides to try this technique on me too… She puts my cock deep in her mouth and gives me a blowjob until I cum in her mouth. My cum surprises her, but she swallows it all anyway! I feel much better now…
Scene Two: Using Her Body
My mom is waiting for the nurse to get to our house, but of course she is running late again! "Where are you?! I had to suck his dick last time! I can't swallow my son's cum again! This is your job, not mine!!" my mom yells at the nurse over the phone. The nurse says that she is still 20 minutes away and she tells my mom that she will guide her in what to do over the phone. My mom starts to jerk my cock again but it isn't helping me at all. The nurse tells my mom how she fucks me when I can't get hard from her hands. "Excuse me?! You fuck my son?!" my mom questions her. My mom ends up getting on top of my cock and she starts to ride me, since that is what the nurse normally does. My mom asks if there is any more she could do to help me out, and the nurse suggests that she take her big tits out so I can watch them bounce. My mom does what she is told! Then she turns around and rides my cock in the reverse cowgirl position so I can see her ass bounce too. "I just want to make my baby boy's dick feel better," my mom tells me. She rides my cock until I cum inside of her pussy and my mom ends up cumming at the exact same time!
MILF, FEMALE TRAINING , BIG TITS , FACIALS , POV , RELIGIOUS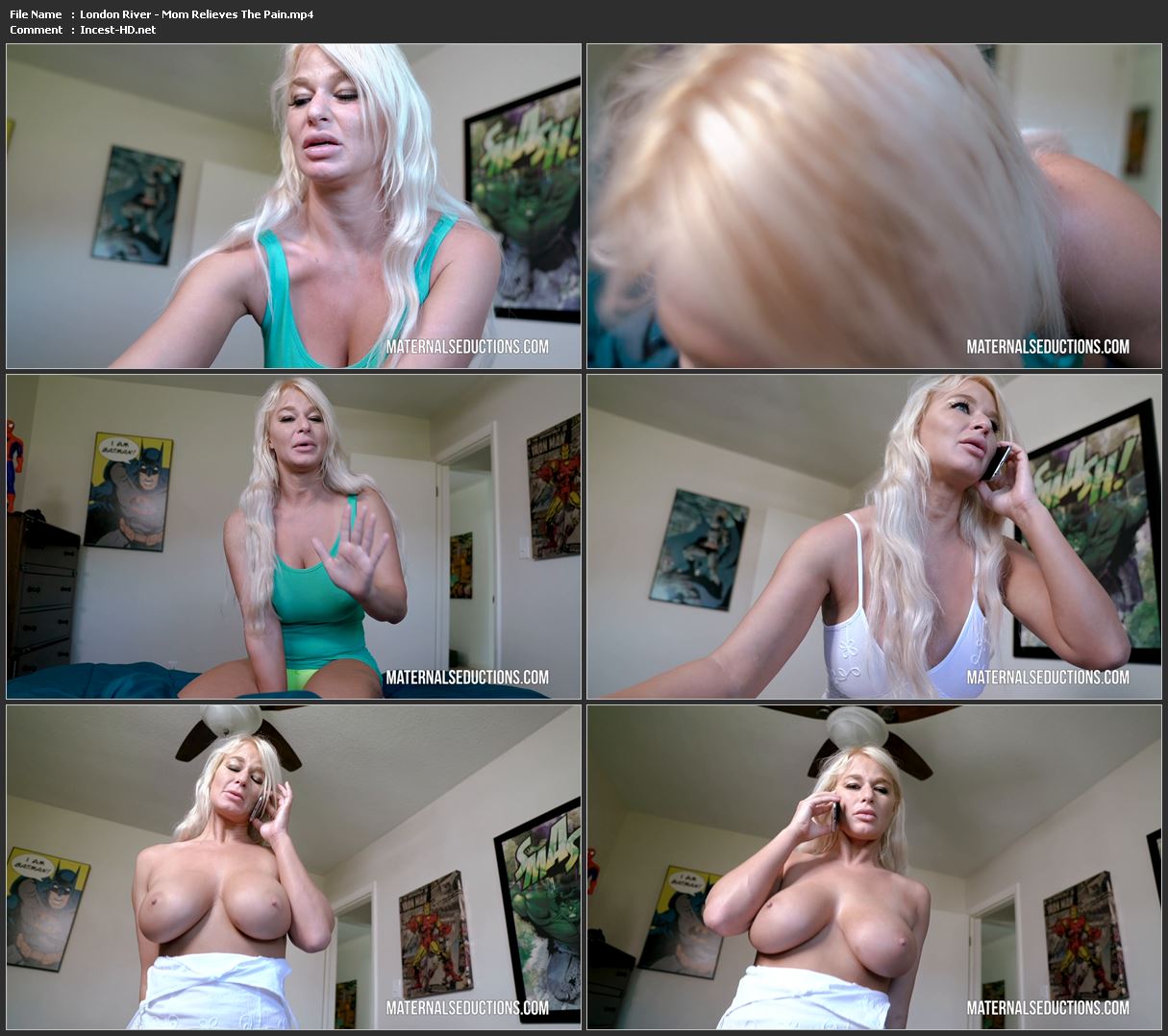 Download Files :
London River – Mom Relieves The Pain.mp4