Scene One: Protecting Mommy
Mommy is asleep in bed wearing only a tight t-shirt and panties. She is facing inwards. She stirs, awakens, is momentarily startled and then gives me a big delighted smile. She says, "Good morning baby. What are you doing in bed with Mommy?" She says dryly, "Oh, you wanted to protect Mommy while Daddy is out of town. Much appreciated." She scoots very close to me and starts stroking my hair. She asks, "Why are you wearing your pj's?" Slight pause. "Too hot. Bummer. I'm not too hot. You know what I am? Bored."
She asks softly, "What is that?" Slight pause. She asks, "Does that feel good, rubbing up against Mommy like that? You like that? It makes Mommy feel good. Rub up against Mommy some more like that." She looks directly into my eyes and says, "That made Mommy feel so good. Now let me help you feel good." She takes off her tshirt and panties. She pulls off my pj's and guides me into her. She writhes beneath me, profanities in Spanish, etc., until she jerks as I cum. Her eyes get really wide and she asks, "Oh my god baby, what have we done?"
Scene Two: Montage
A) She is kneeling before the Bathroom sink. She pulls out my cock and gives me a blowjob while playing with her tits.
B) She is laying on the edge of her bed, feet on floor, completely nude, legs spread wide. She is instructing me to how use my fingers on her. She is red faced, squirming on the bed, crying out, etc..
C) She is laying riding me on the floor in the living room.
D) She is standing over me so her pussy is directly overhead. She is frantically playing with her pussy and asking me, "Do you like this? Look at Mommy play with her pussy. Do like looking at Mommy play with her pussy?"
Scene Three: Mommy in Bondage
Mommy is laying on her bed totally naked and face down with her hands tied behind her back. She looks back and WHISPERS, "That's it baby. Nice and tight where Mommy can't get away. You can do anything to Mommy you want. Do you want to do something to Mommy? Oh, Mommy would like that, Mommy would like that a lot. Will you do something for Mommy Sweetheart? Thank you.
I then put her in doggie positions and fuck her from behind, she cries out in Spanish over and over until she cums with a LOUD cry and flops back exhausted. She looks into my eyes and says, "Oh baby, no one has ever made me cum like that and look, you came all over me. I'm the luckiest Mommy in the world."
Scene Four: Good Morning Sweetie
Mommy walks into my darkened bedroom, She lets her bathrobe drop leaving her totally nude. She pulls back the covers on the bed and pulls my PJ bottoms down. She blows me and then mounts me, taking my dick into her, going very slowly, wincing like she is really tight and my dick is big and it's very pleasurable. She ends up on top of me on all fours, grinding in and out/up and down very slowly.
She starts moving faster and faster. In a shaky whisper she asks, "Does that feel good baby? Does Mommy's pussy feel good? Do you like fucking Mommy? Oh good baby, your dick feels so good. Mommy loves fucking her little man." She starts moving really fast and really babbling in a whisper over and over, "Fuck me, fuck Mommy, oh God fuck me, please keep fucking me!" in spanish, over and over until she leans back into the cow-girl position and cums with a cry. She immediately claps a hand over her mouth, she pauses like she is listening for something. After a couple of seconds of this, she whispers, "That was close, if your Father had heard us, the police could have come and taken us from away from each other, you don't that do you? Good because I love you so much baby and want us to be together forever. You want that don't you. We continue to fuck after we hear Dad leave. She begs for me to finish in her mouth and I give her all of my love…Afterwards she smiles, gets up and puts her bathrobe on and starts to leave. She turns and says, "I love you sweetheart, I love you so much. I wish all mommies and sons could be like us. They would be so happy if they only new." She turns and walks away.
Category: MILF
Related Categories: LATINA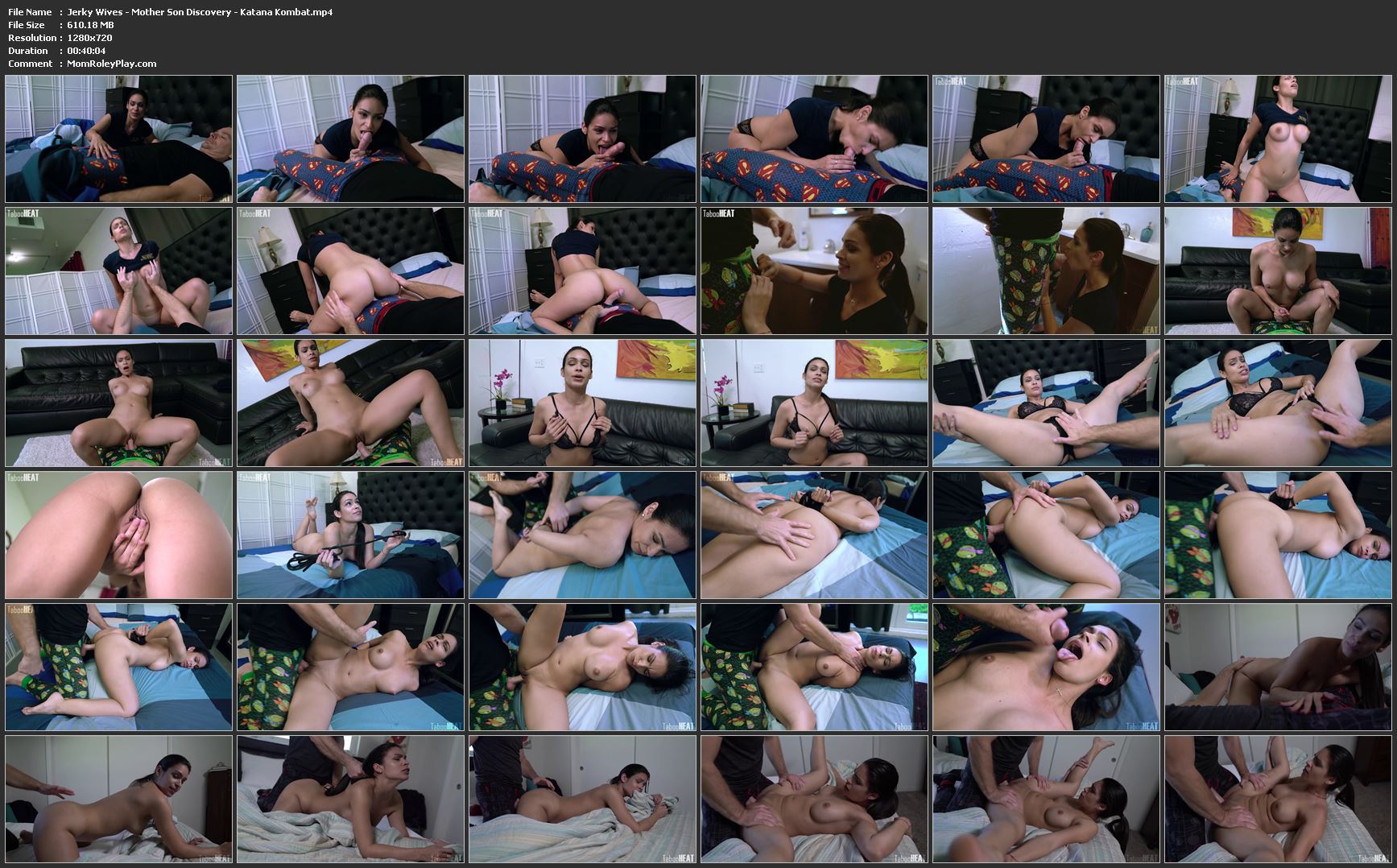 Download Files :
Jerky_Wives_-_Mother_Son_Discovery_-_Katana_Kombat.mp4