When you decided to find your birth mother, it wasn't your intention to be attracted to her…although you were warned about G.S.A.: Genetic Sexual Attraction, a phenomena that occurs when two family members who did not "grow up" together (in this case, mother and son) meet and are attracted to one another. You brushed it off when you first heard it, but you didn't expect your birth mother to be such a smoke-show…and a flirt. She's dressed conservatively in sweater and trousers but she keeps telling you how much you remind her of her husband. "I guess I have a type," she says and smirks.
She asks you to come sit next to her on the couch, and starts to become even more bold, leaning forward, opening her sweater a bit, just enough for you to realize she's not wearing a bra. Her hard nipples are distracting and arousing, and she notices. Teasing you, she tells you that she's glad she didn't' raise you, since she's so attracted to you. You can't believe she's just admitting it like this! But I guess, since you weren't raised by her…it's not really wrong, right?
She tells you to take your cock out and stroke, instructing you and encouraging you as she teases you, pulling her tits out and reaching forward to your engorged member. Her tits are gorgeous, with pierced nipples. She's a total fox, your own mother. She asks if she can suck you, telling you that this is something that must stay secret before worshiping her son's cock with her talented mouth. Your mother is a cock-hungry slut and you're on cloud 9, looking down as she teases you, telling you that she wants your cock inside her. "C'mon, do you want to take that step? You'll forever be the boy who fucked his own mother…"
You watch as she pulls the gusset of her leotard over and slides herself onto your cock, squatting and bouncing on you as she dirty talks you about how wrong it is to fuck your mother, how good her son's cock feels. "The same hole you came out of," she purrs. She tells you she needs to make you cum, riding you to the edge before she pulls off and strokes your load onto her wet, well-fucked pussy.
Category: TABOO
Related Categories: ROLE PLAY, FANTASIES, POV, VIRTUAL SEX, DIRTY TALK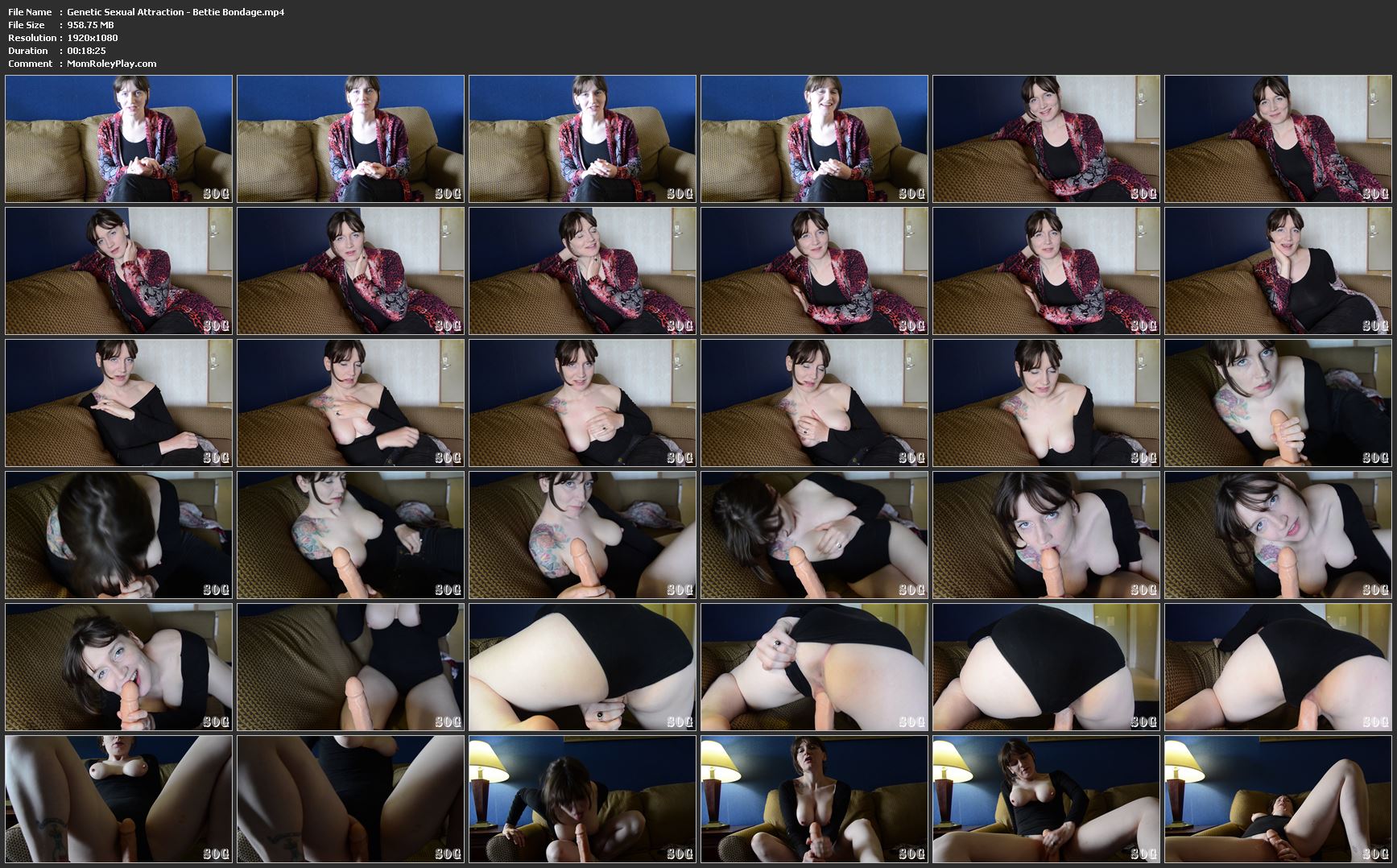 Download Files :
Genetic_Sexual_Attraction_-_Bettie_Bondage.mp4