This a very sweet, passionate, & romantic video – one where mom & son spend a very special Valentine's Day together…
"Hey baby," Mom said sweetly as you entered her bedroom, "is that for me?" Her eyes widened and a big smile ran across her face when she saw a gift-bag in your hand. "My sweet boy, I love you. Is this for Valentine's Day?"
"You make my heart happy," she read on the red and white tag. "Awww, come here." She leaned in to give you a kiss on the cheek, then thanked you for such a thoughtful present. "But don't you want to give this to your girlfriend? No? No special someone? Are you sure you wanna give this to Mommy?"
Mom was your special someone, but she had no idea you had real feelings for her – you were too afraid to tell her. You thought by giving her a sweet gift on Valentine's Day, she might be able to see it. "You're positive you don't want to give it to a crush at school?" she asked again. "Like, a pretty girl that sits across from you?" But it was fairly obvious that Mom wasn't catching the hint, and that upset you.
"Oh, no, no, no…I love the gifts, of course I wanna be your Valentine's – Mommy will be your Valentine's no matter what," she quickly said after seeing your saddened reaction. "I just wanted to make sure the gift went to a very special girl. Awww, you're making Mommy blush, thank you for saying I'm your very special girl – that means a lot to me."
Just admitting that made your heart feel that it was pounding out of your chest. Of course Mom didn't realize how special she really was to you, but you were hoping to work up the courage to tell her. "So, my Valentine's date, what would you like to do? Hm? Oh…what are you doing, sweetie?" she asked awkward and uneasy. "Oh honey, you can't touch Mommy like that."
"Yes…well no, that's not what you do with your Valentine's, but it's…different, okay? Mommy is Mommy, and I'll still be your Valentine's," Mom started to say. "That's why I suggested if maybe there was a girl at school that you wanted to give it to, and you know, you could hold her hand, give her a little peck or something."
You asked Mom for a kiss, but she shied away uncomfortably, and told you that's not what you're supposed to do with your mom. "No, honey…I don't want to feel bad," she said concerned. "Hey, hey…look at me, I'm honored that you picked me, I really am, I just want you to know the difference in Mommy being your Valentine's and another girl – it's…it's just not the same. Why? That's a good question…."
Mom tried her best to explain that your Valentine's might be someone you'd marry, or have a family with…it's someone that you love, and want to be with for the rest of your life – someone that makes your heart skip a beat when see them or hear their voice. "Come here," she said sweetly, "Mommy will be your Valentine's…your real Valentine's, okay? I'm sorry that I didn't appreciate your gift to the fullest extent." She leaned in to give you a passionate, romantic kiss, then pulled back smiling. "I can be your secret Valentine's," she said cheerfully. "Yeah? You wanna be my secret Valentine's, too? Remember, lips are sealed, throw away the key…."
She smiled warmly, unfastening her robe, and pressing her soft, pink lips against yours. You knew, somewhere deep down, that Mom knew how you really felt about her. Today she was going to return those feelings…even if it was just for one day.
TABOO, MOMMAS BOY, VIRTUAL SEX, OLDER WOMAN / YOUNGER MAN, MILF, POV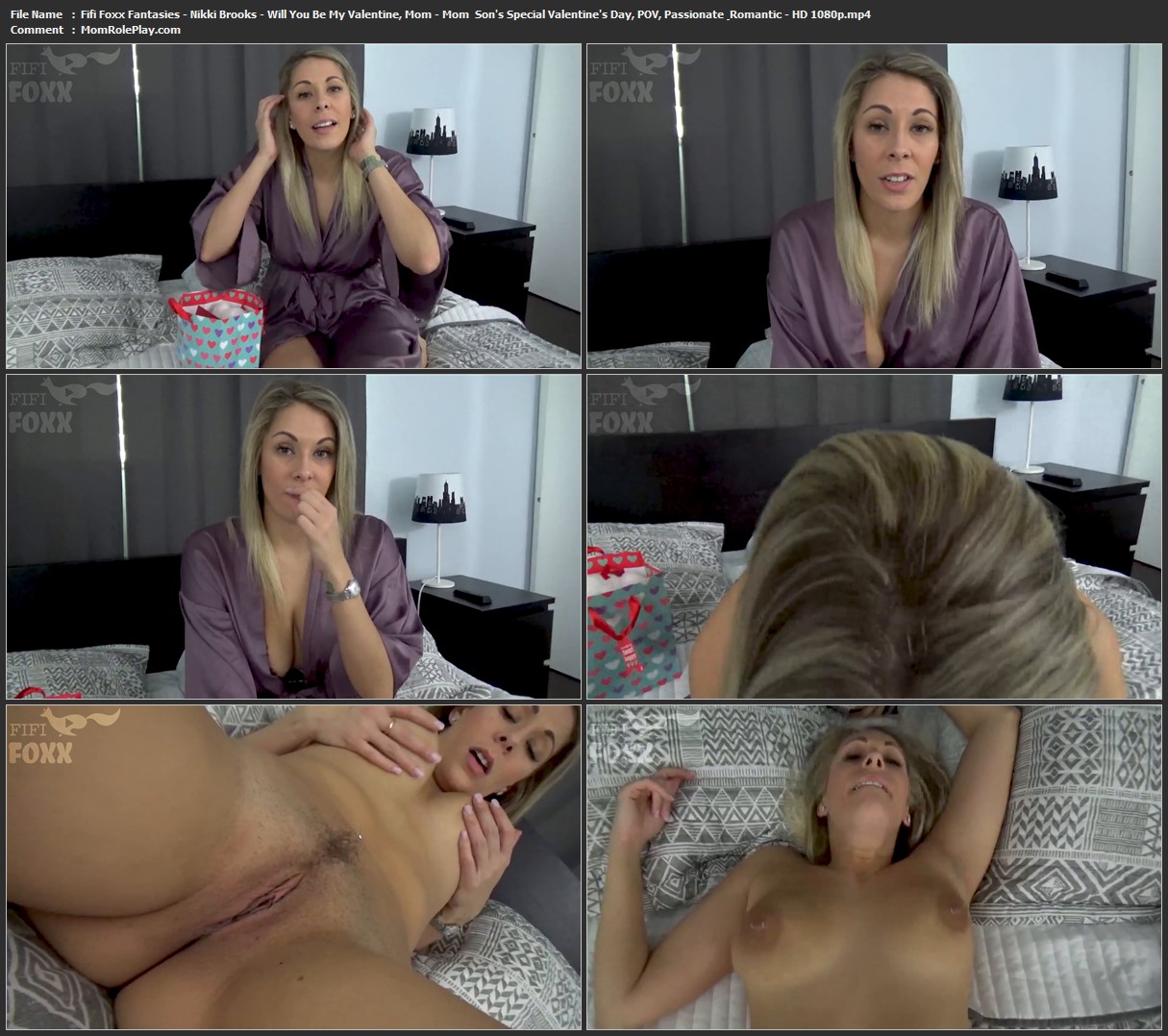 Download Files :
Fifi Foxx Fantasies – Nikki Brooks – Will You Be My Valentine, Mom – Mom & Son's Special Valentine's Day, POV, Passionate & Romantic – HD 1080p.mp4