"Honey, I am so proud of you for getting straight A's this time," Mom said cheerfully. "I knew you could do it! I know I've been giving you rewards every time you do good, and since you got straight A's, I thought we just needed to go really big."
"It's me!" Auntie threw her arms into the air excitedly. "And me! The both of us!" Mom chimed in. It had been a while ago since Mom started the new "reward" system. As a motivation to do better in school, she had shown you her body, then let you touch it, lick it, and fuck it. Every time you improved your grades, she upped the prizes to something better, and this time she had given you the ultimate reward – her and your aunt.
"We are so proud of you," Auntie said with a big, happy smile, "you've been doing so well." And when Mom had told her about the reward system and how well it was working, your aunt jumped right in to help. "You're going to be a doctor one day," Auntie said confidently.
"I will do whatever works…" Mom told her sister, "whatever works." To begin your reward, Auntie helped Mom undress, then Mom helped her. You had never seen your aunt's body exposed before, but it was just as beautiful and perfect as you had envisioned it would be. "Do you like that, honey?" Mom asked after she shared a kiss with your aunt.
"Is he going to be able to concentrate in class, or is he going to be thinking about this?" Auntie joked as her fingers brushed against Mom's soft body. "It'll drive him to work harder…it's been working so far," Mom giggled. After undressing, Mom wanted to take things slow, so she started you off with a little show. Her and Auntie would masturbate and moan in front of you to excite you and get you throbbing hard.
"Isn't her pussy so beautiful?" Auntie said seductively. "No wonder he's doing so well in female anatomy…" After warming you up, Auntie pulled down your pants and started stroking your cock. "Auntie's got a big, fat cock in her hand…" she purred as she jerked you off, now sharing your cock with Mom.
"He's so excited…" Mom said sweetly as she watched pre-cum ooze from your cock. "Look at my tits, baby, while your mom sucks your cock," Auntie told you. They shared your cock, flicking their tongues against your shaft, then wrapping their wet, warm mouths over the head of your cock. "So, which one of us should he take first?" Auntie asked your mom.
Auntie then proceeded to get on all fours so you could fuck her from behind first. After that, you moved over to Mom, and fucked her until you finished inside. "Oh my god, I can feel how big of a load it is…" Mom said in-between breaths. "It's dripping out of you," Auntie looked down at Mom's cum-filled pussy. "Yeah, so just keep those grades up, nephew…"
"Next time we'll have to think of something even better…" Mom went on to say. "I'm telling you…if he gets into a good college, we'll have to bring our other sister over…" Auntie smiled. "We're all proud of our boy.
TABOO, MOMMAS BOY, OLDER WOMAN / YOUNGER MAN, VIRTUAL SEX, MILF, POV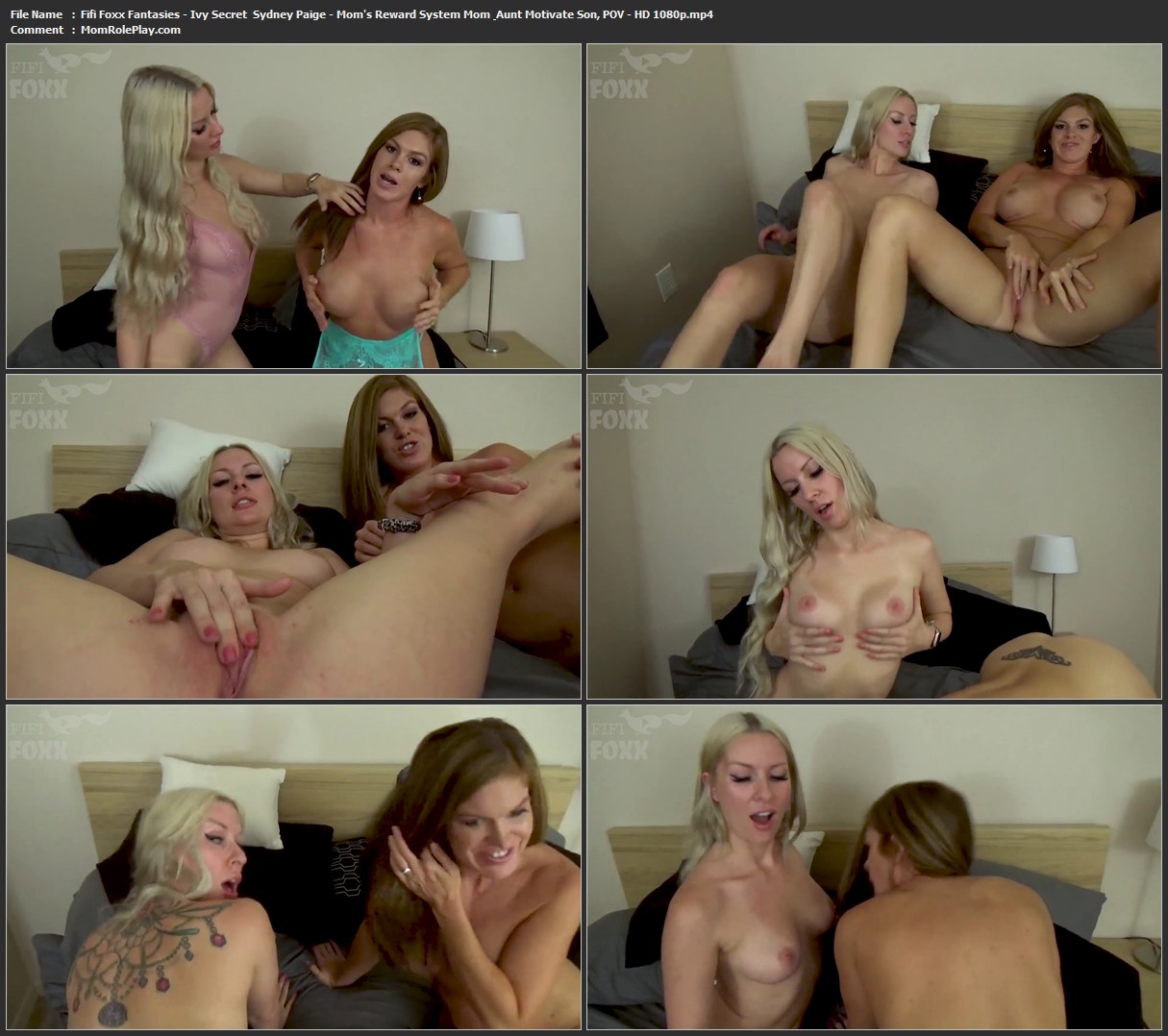 Download Files :
Fifi Foxx Fantasies – Ivy Secret _ Sydney Paige – Mom's Reward System Mom _ Aunt Motivate Son, POV – HD 1080p.mp4