"Sweetie, you have to get your grades up," Mom said to your sister. "If they don't get any better, I can't let you do any of the fun stuff." As the two continued their important conversation, you barged into the bedroom with your new magic remote control.
"Honey, why don't go into your room? We're talking about something important right now," Mom turned towards you in frustration. "I know…it's the remote, go put it back near the TV." Of course it was easy to mistake it as a remote to something else, but that's what made it so appealing to you – they had no idea what it could do.
So, you showed them. With the push of a button, your mom and sister started saying naughty, sexual things. "I wanna fuck your cock so bad," Mom said seductively, then gasped in horror. Anastasia gave you a sweet smile, then purred, "Yeah, bro. You wanna have some nasty, dirty sluts?" The two were shocked and confused at the words coming from their mouths.
"What just happened?" Mom asked you. But you ignored her question, pressing one button after another, and making them do whatever you wanted. The next command had them stripping uncontrollably in front of you. Their bodies were nude and exposed, and Mom desperately tried to cover up your sister's body, but it was no use.
"Stop that!" Mom yelled at Anastasia as she stripped down. "Mom, I can't!" Anastasia panicked. Their hands caressed their naked bodies, and Mom reminded you that you shouldn't be looking at her and your sister that way. But things would only get worse for them.
Another button forced them to masturbate and moan in front of you. "No, no, no…" Mom screamed as her fingers circled her clit. "Get him out of here!" Anastasia begged your mom, but there was nothing she could do.
The next command pushed their bodies forward, and they were forced to wrap their hands around your throbbing, hard cock. "Don't make me…I don't want to touch your dick. Put that back in!" Mom told you. "Stop it, please…honey, please stop! You're gonna be so grounded. Make us stop doing this!"
But no matter how much they begged, screamed, or threatened you, you knew you had total control of them. Another button, and Mom and Anastasia would be sucking your dick. "What's wrong with you?!" your sister's blue eyes widened. "You're making Mom suck your dick?!" The two choked and gagged on your cock, and when they tried to pull their heads back, their mouths only magnetized back onto your cock.
Now it was going to get really fun. With another button, the two lied back onto the bed. They couldn't move from the position they were in, so it made it ridiculously easy to penetrate their pretty, pink pussies. "Get out!" Anastasia yelled as she watched you fuck Mom. "You're so gross!"
"Please stop!" Mom cried, but you didn't. "Honey, why are you doing this!?" After you were satisfied, you moved over to your sister and began fucking her. She cried as you thrusted in and out of her, and your mom begged you to stop. And you did, eventually, when you were finished.
Your sister made such a disgusted face when she felt your cum inside of her. "Ew, get out of me!" she whined. Fortunately for you, the two were stuck in those positions until you were ready to let them go. You taunted them with the remote, then left them there hopeless and violated.
MAGIC CONTROL, FEMALE TRAINING, WOMAN FOLLOWING ORDERS, TABOO, EMBARRASSED NAKED FEMALE, VIRTUAL SEX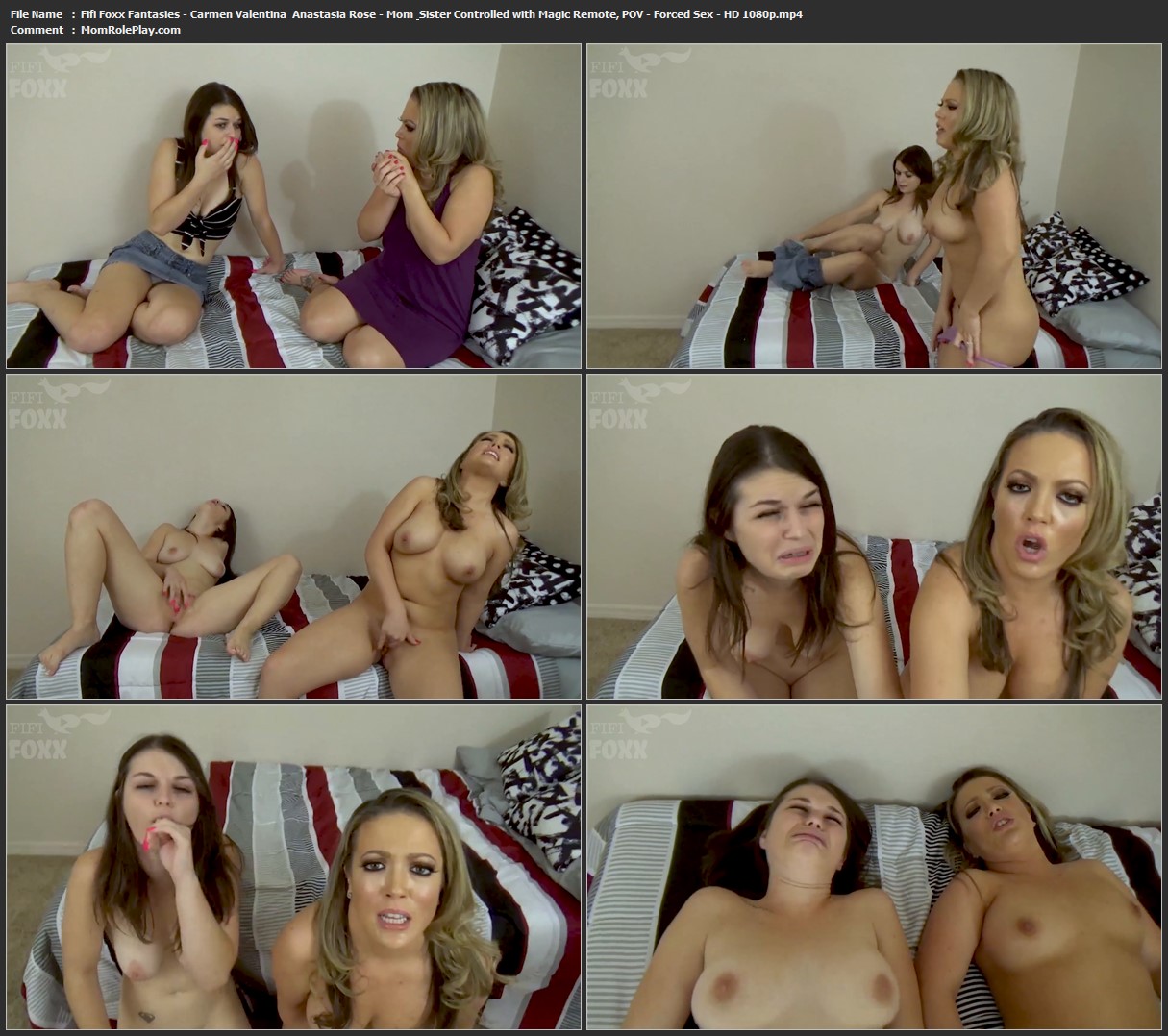 Download Files :
Fifi Foxx Fantasies – Carmen Valentina & Anastasia Rose – Mom & Sister Controlled with Magic Remote, POV – Forced Sex – HD 1080p.mp4