Your mother is always teasing you, walking around in her tight workout clothes, doing yoga moves that you know are designed to make you hard. I mean, she has to know what she's doing, right? Today, it's too much. She keeps pushing her ass into the air, bending over at the waist, moving her hips, laying on her back and spreading her legs…all the while, her yoga pants are completely see-through! No one can be that naive, right? She must know what's she doing…she must want it, the way you want her…
You watch her from the doorway for a while, getting rock-hard seeing your mother move her lithe and strong body, until you can't take it anymore. You step into the room, standing over her as she stretches her legs, eyes closed. When she opens them, she acts surprised. Yeah, like you're buying that. She knew you were home. She had to know you'd get excited, seeing her like that. There's no way she doesn't want it…she asks why you were watching and you tell her, point-blank, why. She plays like she's startled, shocked that you would say something like that to your own mother but there's no denying it at this point. Your boner is tenting your pants and she can tell. So what does she do? She goes back to her stretches!! She pretends she's pissed but there she is again, bending over, wiggling her ass at you. You take your cock out and when she realizes, she acts SO offended, but c'mon. She knows what she's doing.
You stroke as she feebly protests, her eyes darting back and forth from your face to your dripping cock, precum oozing out. After a few minutes, though, her fake resistance starts to waver. She can't play this game forever. She reaches down, tentative, nervous, towards your rock-solid member. Wrapping her hands around, you watch as her eyes flash with desire, a little grin starting to play across her face. She's stroking you, touching you, softly at first, but then longer strokes, faster, before she bends down, putting her ass in the air as she takes you cock into her mouth, sucking you like the little yoga bunny slut you know she is! She teases your cock with her mouth before bending over, making her skin tight yoga pants go see-through as she does. She pulls them over her big, round ass and pulls her thong aside, working your cock into her pussy with a deep, hungry groan. She milks your cock into her, taking your cum deep inside her pussy before laying on her back on her yoga mat, legs up, her son's hot cum dripping out of her!
Category: TABOO
Related Categories: POV, VIRTUAL SEX, YOGA PANTS, STRETCHING, MILF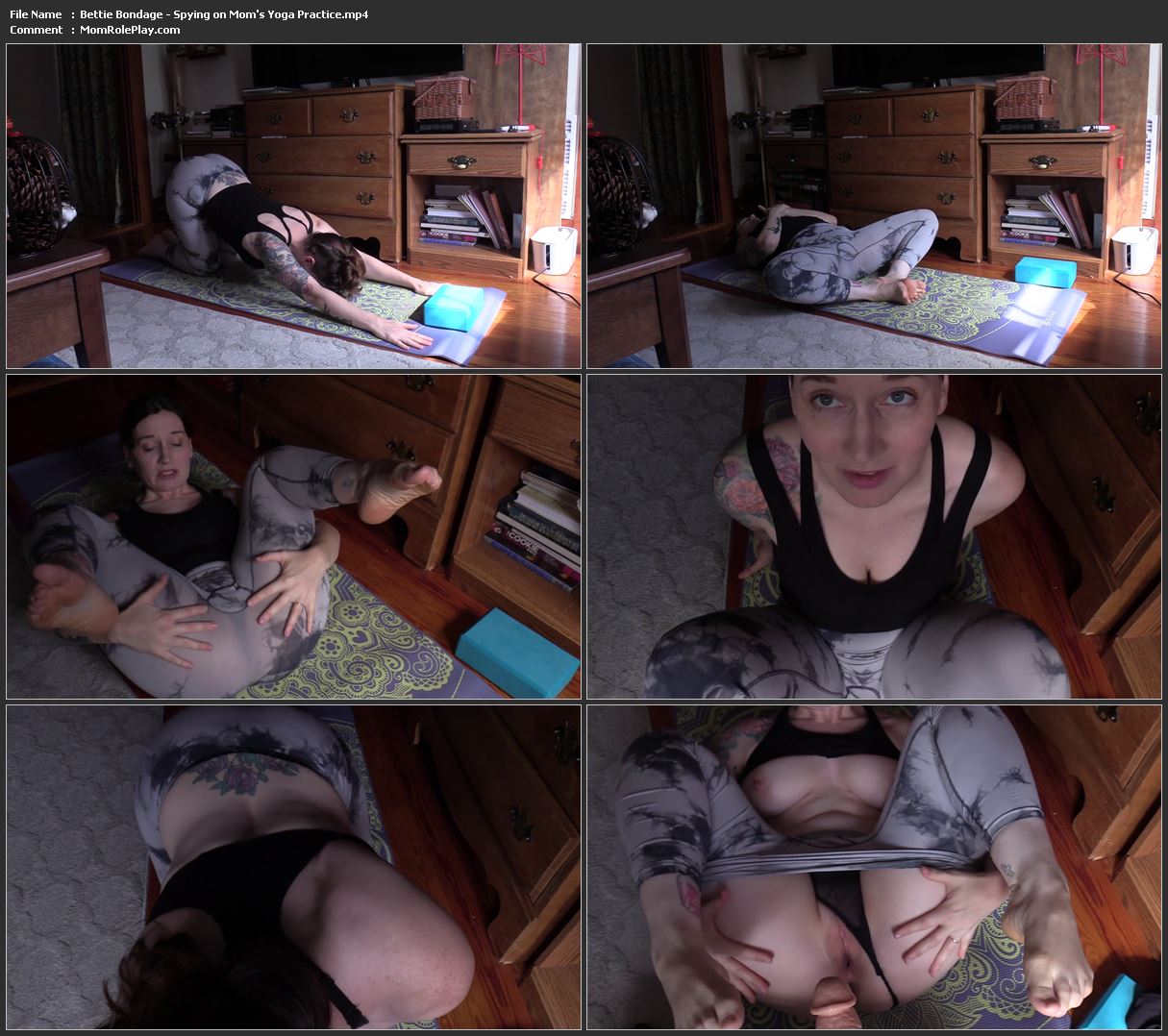 Download Files :
Bettie Bondage – Spying on Mom's Yoga Practice.mp4