You've been auditioning for months, and today you've finally gotten a call back, only they told you you're in third place, and to cinch it you need to really bring it in terms of dominance and authority. The role is for the lead in a steamy, BDSM film – sort of like 50 Shades, only not terrible. When you get home, your mother is so excited for the news! She's always believed in you. When you tell her that you really need to step up your game, she suggests running lines with you. You're reluctant at first but she's right, you need someone else's perspective and you need to run these lines over and over. Besides, she's a woman, maybe her presence opposite you will be helpful?…even if a little awkward.
You start out trying not to laugh at her stiff delivery, but as you two go through the lines, you notice her getting flustered. You know you're the cause of it and the power of it, the feeling of being in control, even with it being your own mother, is exhilarating. You allow your improvisation skills to come out a bit, testing the waters to see what she'll tolerate. The effect is powerful, in that her own delivery seems to be much more natural. There are some really risque stage directions, telling her to close her eyes and reveal her bra. It takes surprisingly little in the way of persausion to convince her that it's a good idea. Once her eyes are closed, you realize that in order to truly inhabit the role, you need to immerse yourself, you need to weild your power, and what better way to truly test your ability to command a woman than to try on her, your mother? There could be no greater challenge! Besides, the rate at which her chest is rising and falling, the ease with which you convince her to tell you about her breasts, in her own words, the false protests she gives when you tell her, eyes still closed, to take out her breasts…you know your words are working on her.
After making her describe what men like to do to her breasts, you have her tell you about the condition of her cunt. Is it wet? Slippery? Show me, you demand. Dutifully, she presses a finger inside herself and then shows you, eyes still closed, blushing deeply. You make her taste herself. You make her stick out her tongue. This is the point of no return. There is no going back, you think, elated at your ability to Dominate completely your own sweet mother, as you pull your cock out and watch the surprise flash in your mother's face, her eyes still held shut in utter compliance, as your cockhead slaps against her outstretched tongue.
"What is that?!" she exclaims reaching out her hand instinctively and wrapping it around your cock. Of course, she knows what it is. You're quiet as you let her explore her son's cock, tentative, horny. You never knew she was a slut, but there can be no mistake about that, as your mother's weak protests again dissolve, and she takes you into her mouth, obedient in service to her son's thick cock. You watch her slurp and suck, making her beg for what you can tell she wants: your cock, inside her warm, submissive cunt. Pressing against her wet little hole, she moans in delight as you press into her, filling her completely, fucking her, watching her lithe body bounce and twist in delight and the carnal knowledge of the taboo, made real. You want to fuck her until the both of you are shivering and collapsed. You tell her you're going to cum inside her. Again, she protests at first but you are firm, dominant. You tell her to beg for it. She smiles in surrender as she begs for her son's cum.
TABOO, SLUT TRAINING, MILF, POV, SENSUAL DOMINATION, VIRTUAL SEX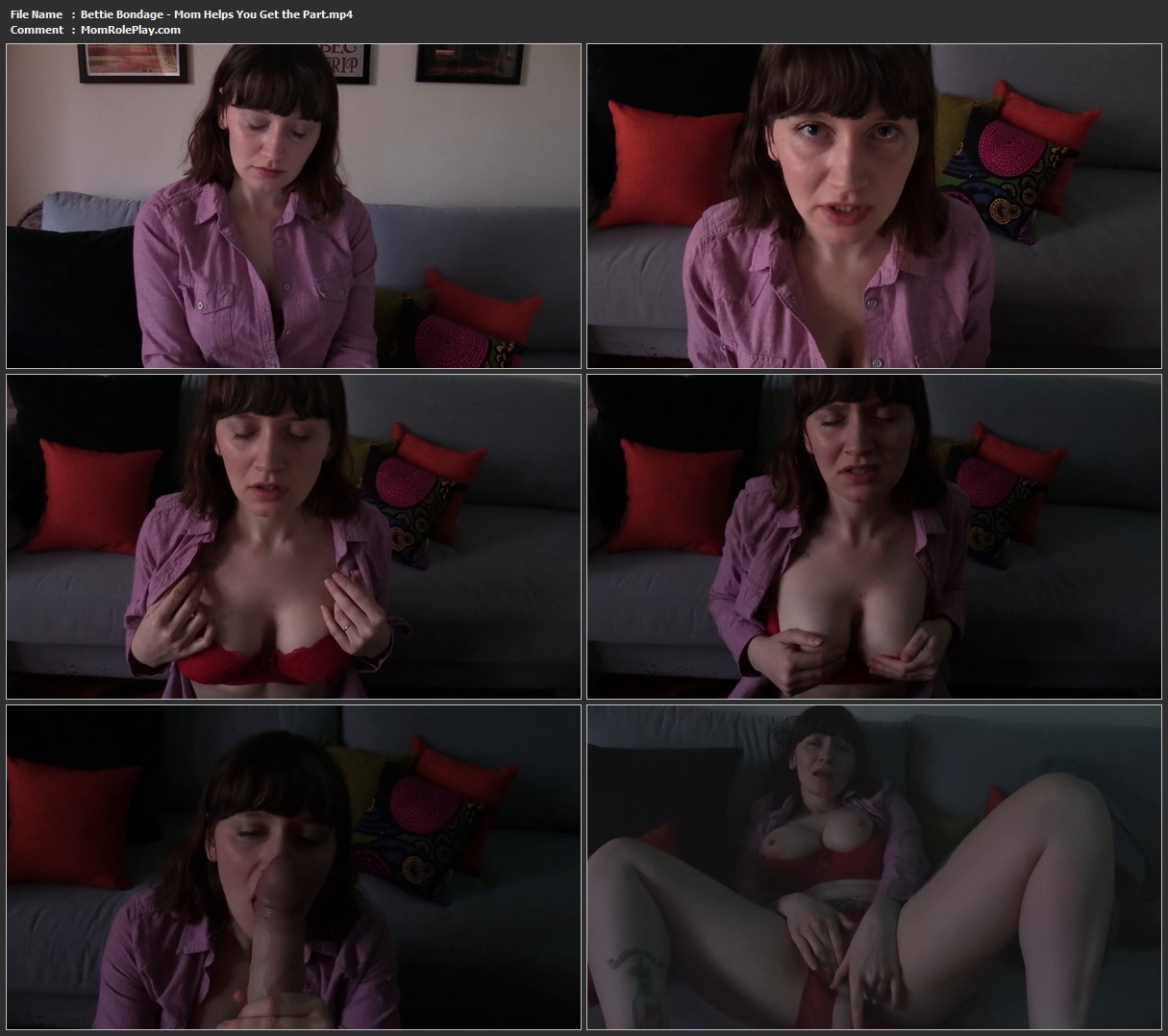 Download Files :
Bettie Bondage – Mom Helps You Get the Part.mp4 – 949.45 MB