Your son is away for the day (at school) and you are at home doing the laundry. You go into his room with your laundry basket to gather his dirty clothes. Eventually after gathering all of his laundry around his room, under his bed, you find one of 'your' sexy black socks. You inspect it a little looking a bit puzzled and give it a quick sniff, but you soon realize that it's all hard and crusty from his cum. Apparently he has jerked off and cum many times with your sock! You are very surprised, but also conflicted/confused. You don't know whether to take the sock away or just leave it alone… So at first you just decide to leave it under his bed. Throughout that same day you keep thinking about the cum covered sock, and as you pass by his empty room you eventually decide to take it back from under his bed and put it in the washing machine with the rest of the laundry. But later in the day when the laundry is all done and you're putting his clothes away in his room, just as you're about to leave the room you slowly stop at the door 'thinking for a few seconds' then hesitantly you decide to put your (now cleaned) black sock back under his bed, almost like you're encouraging him to jerk off with it some more (which is a very hot and dirty gesture for a Mom to do for her son). =)
Later that night when everyone has gone to , on your way back from the (bathroom/kitchen, or whatever works) as you walk by your son's room you hear him talking or saying something, so you decide to quietly crack his bedroom door a little and take a peek into his room. You see him jerking off with your sock that you cleaned for him earlier, you watch him the whole time but he doesn't notice you there at all. You start to touch your pussy over your panties a little while you watch. After he cums using your sock, you just give a happy/proud smile, quietly close the door and then go to bed.
The next day after you son has gone to school again, still wearing your morning bath robe, you know it's wrong but you can't stop thinking about your son's cum-sock. So eventually go into his room and walk towards his bed. You hesitate several times as you have the urge to reach under his bed to grab the sock, but you keep turning back knowing it's wrong.. Having not touched the sock, you are about to leave his room and you stop at the door for a few seconds, knowing that your sock covered in your son's cum is just setting there under his bed…taunting and teasing you. You then turn around, go to his bed slowly and hesitantly reaching under the bed and grab the cum covered sock.. Once you have the sock in your hand you notice that he has cum on it several times since last night.. You especially notice a very fresh, thick visible load of cum that he apparently left on the sock just this morning before he left for school. The cum hasn't even had time to soak into the fabric of the sock yet. (Fake, visible cum is fine to use for this part)
As you look at it, you decide to take a close, long sniff of the cum and take in the smell and aroma of your son's hot sticky load as the look on your face shows how much you truly enjoy it. You can't help yourself and you decide to take the tip of your tongue and lightly swirl it in the cum for a little taste. You pull it away from your face for a few seconds (you still seem to be conflicted, knowing how wrong it is) but after a few seconds, with your free hand you reach down and slide your hand into your panties and start playing with your pussy while holding your sock covered in your son's cum in your other hand.. Moaning his name
"oh Carson, you came so much for me.. such a big, thick load.." while you're still playing with yourself, you start to lick the cum some more and start to rub the cum soaked sock all over your face, covering your face in your son's fresh cum..
Then you lay down on your son's bed and continue licking and rubbing the sock on your face, you then open your robe completely and take off your panties. And start rubbing the sock all over your body, working it towards your pussy and asshole. As you're rubbing your pussy with the cum-sock, you start to have the best, strongest orgasm of your life.. Because your son's cum is all over you now, as well as your pussy!
…And as you finish your super strong orgasm on the sock which is now soaked from your wet pussy, you're still in a daze from cumming so hard.. You start to fall into a deep , into a sort of cum-coma.
(The rest hereon is POV from the son's point of view)
Shortly after, your son opens his bedroom door (you're sill deep a on his bed covered in his cum, not knowing he was back home from school) and he sees you laying there on his bed covered in cum, legs spread, with your sock still in your hand and your robe is wide open exposing your full, naked body. Standing at the door he just says '…Mom?'
He realizes that you're in a very deep and decides to pull out his cock and start jerking off to you as he approaches the bed. He rubs his cock all over your lips and face while jerking and then he decides to make YOU his very own cum-rag! He then blows a huge sticky load all over your face..
As you lay there still , he squeezes and smears the rest of the cum from the tip of his cock onto your lips and in a sigh of relief whispers 'Thank you mom..I love you..'
And he leaves the room, leaving you there in his bed covered in his cum.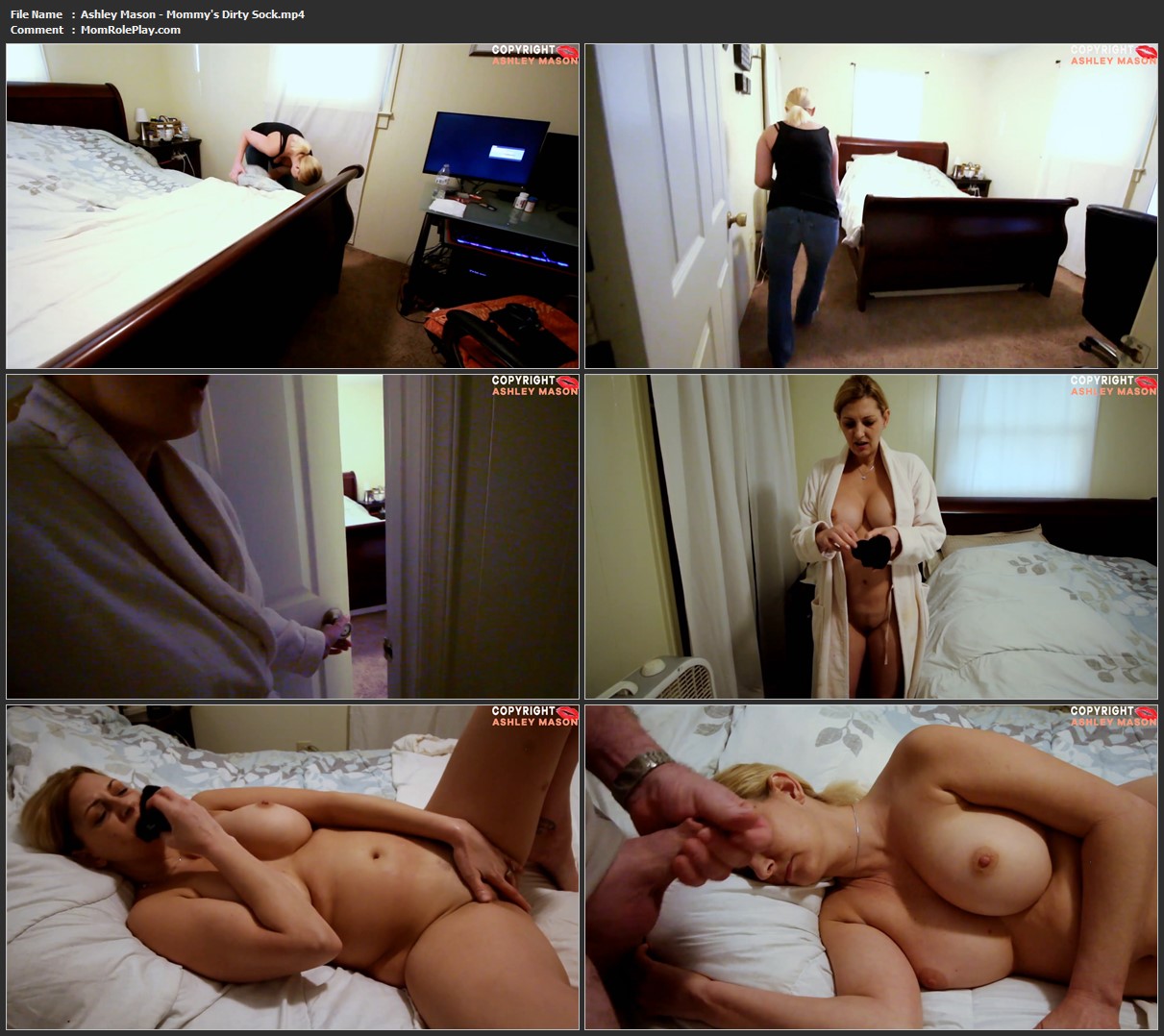 Download Files :
Ashley_Mason_-_Mommy_s_Dirty_Sock.mp4 – 304.10 MB