Angel, here is what I want
Outfit: white sleeveless knit & black pantyhose & high heels Hairstyle: formal updos with blunt bangs
Script: Angel is an elegant lady who is also sex addicted. She is meeting with her future step-son-in-law William for the first time alone in her living room and find him to be very sexually attractive to her. (give close-up views of her face, neck, breasts, legs, feet and other body parts during this scene.) She starts to seduce him with flirty eye contact, languages and then touches his penis with hands and legs. She then walks up behind him and pull his dick out of his pants unexpectedly and gives him a hand job from behind (kiss ears and rub balls at the same time). Angel's step-son-in-law can not resist the seduction and let her do what ever she wants to him. Angel performs massive blowjobs & handjobs(POV) in every position she knows and always has indecent smiles on her face since she really enjoyed it. She also teases him with her beautiful legs and feet white giving blowjobs. (please include as many blowjob positions as you can)
Her step-son-in-law feels embarrassed for being so passive in the sex and decide to be more positive. He holds her chin with one hand and taps her tongue with his dick and then penetrate her mouth wildly. He asks Angel to suck his dick while squatting on the ground like a doggy and she doesn't refuse at all. He also pulls his dick out of her mouth and walk backward couple times during the blowjob, for Angel will crawl like a cat and chase him to suck his dick. (be very submissive and keep innocent eye looks) Finally William cums all over her face (while she's hanging her tongue out) and she then clean up his dick with her mouth and tongue. Angel looks very happy and satisfied and asks him to visit her more often.
TABOO, MOMMAS BOY, MILF, FACIALS, BLOW JOBS, TIGHTS FETISH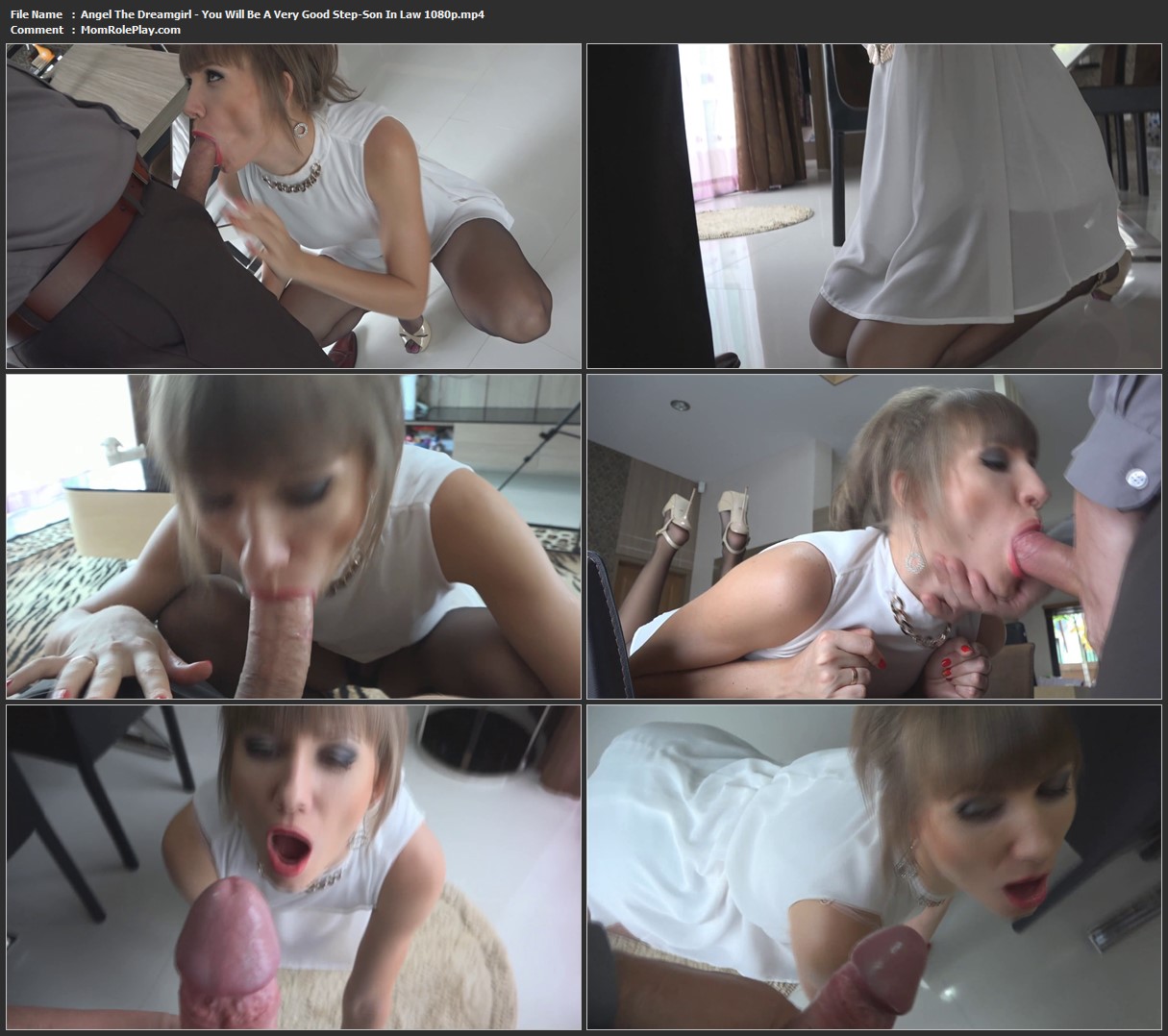 Download Files :
Angel The Dreamgirl – You Will Be A Very Good Step-Son In Law 1080p.mp4