Scene One: Photos of mom
I've always wanted to go to photography school. Filling out applications I become frustrated. "I don't know what to do" I tell my mom. All these schools are asking for a portfolio of work using models and I don't have anything. Mom gives me a smile and tells me that she will be my model if I really need it. "Thanks mom" I say and take some photos of her.
The next day and I'm freaking out a bit. The college I really want to attend requires nude photos in their submitted portfolio. With a bit of hesitation mom agrees and starts to take off her clothes. This is for her son's future, she tells herself. She poses and spreads her legs for her son's snapping camera. Embarrassment and humiliation are hidden behind a smile that she will do anything for her son.
Scene Two: Just the tip Mom
I've just gotten back and email saying that the photos were not up to their standards. They were boring and poorly shot. If I want to attend their prestigious school I will have to do something powerful and bold in my work. I suggest to my mom that we take a more sexual photo shoot. With a deep sigh she says "Let's do it, if it means you getting into college"
Stripping off her clothes I lay on the bed and take photos. Hiding her emotions of shame mom does her best to give a sexy blowjob for the camera. Laying back she spreads her legs and I press the tip of my cock against her warm wet pussy. Shivers run up my spine as mom tells me to keep going. Slowly my dick slides in and out of her, making me feel so dirty and so fucking horny all at the same time. I control myself and run out of the room to upload the photos, trying to clear my head of these dirty thoughts.
Scene Three: For my son's education
I come back to my room to see my mom still naked on my bed. "You're not dressed yet?" I ask nervously. I've heard back from the college that the photos look posed and not passionate enough. Still not good enough to be admitted. "Let's give them what they want" mom says with a smile. She's so hot and horny that she doesn't care about the photos anymore. "You've got me all worked up" She giggles.
Putting my cock into her mouth she sucks the hardest cock she's had in years. "Oh honey" She moans as my dick presses inside her. I fuck her, taking photos of her lust filled eyes. She's so close to cumming as my cock rams into her. "You're so good at this, oh my god" She says in uncontrolled passion. Her pussy tightens as she cums making me shoot my load deep inside her. Cum drips out of her tight pussy and I take one final photo of my mom tasting her cream pie. "Anything for you" She says.
Category: MILF
Related Categories: POV SEX, CREAMPIE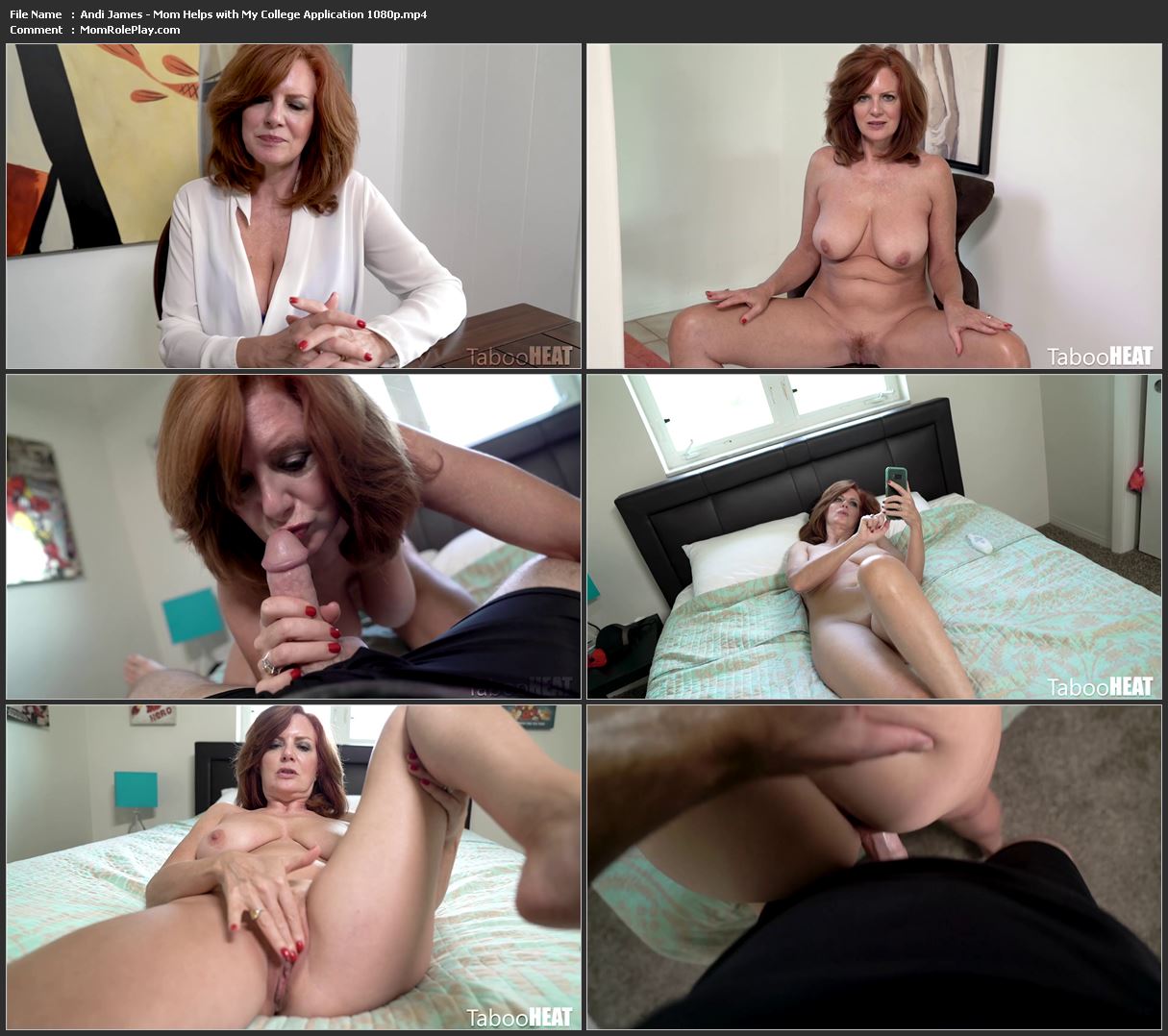 Download Files :
Andi James – Mom Helps with My College Application 1080p.mp4