This is the full and complete series of Mom And Son Share A Changing Room, it stars Helena Price. you can buy all 5 parts here at a discount!
Mom And Son Share A Dressing Room Part 1:
I was out past curfew again this week and my parents said i was grounded for a month, so that also meant i couldn't be left alone either. so that meant on Saturday when i was it the kitchen playing on my phone. a phone i wasn't suppose to have and mom walked in and i knew i was gonna catch some crap. she took the phone and said she was going shopping and i had to come with her. i complained but it didn't work. when we got to moms favorite store in the mall mom actual made me go in the changing room with her! i was so pissed and tried to argue but she wouldn't hear it, so in the changing room i went. once she closed the curtain she maid me sit on the chair and put my hand over my eyes while she stripped to her bra and panties. i decided to take a peek and holy crap did i like what i saw! i never moms body was so nice, i couldn't stop looking through my fingers, she kept making sure my hands were cover my face but she never noticed me peeking. after she stripped and modeled the outfits for me twice she made her decision and said we were all done/ she told me shops every Saturday so don't be surprised if she makes me cum with her, now im kinda looking forward to shopping with mom!
Mom And Son Share A Dressing Room Part 2:
it was Saturday again and my mom told me had a party that her and dad were going to tonight. she said she needed a new dress and since i was still grounded i had to go with her again. i complained but at the same time i was little excited. after she picked some outfits she made me go in the dressing room with her again, once in there she had me cover my eyes while she got undressed. i peeked like last time and popped a huge boner, she told me i could look and i told her i liked the outfit. she said she did too and was just gonna wear it out, i told her i couldn't leave yet and she asked why. i kinda looked down at my boner through the pants, mo was shocked but i did notice she stared longer then she should have. she ask me how i normally make it go away and i told her with some lotion and hard work. there was no way i could walk out a dressing room with a boner and what made matter even worse was the line of people out side waiting for a free room to use. mom gave me some lotion from her purse and told me to take care of it while she kept watch, now i was shocked but mom kept rushing me so i got to work! its a weird feeling jerking off in a changing room with your nearly naked mom watching the door to make sure you dont get caught. she kept say hurry and would look back to see if im done but i notice when she would look. she tended to let her gaze linger on my cock. i told her i was gonna cum and she grab some tissue out of her purse for me to not to make a mess. we bot got dress and mom and a naughty little smile on her face. i cant wait for our next shopping trip!
Mom And Son Share A Dressing Room part 3:
It was Saturday morning and i was trying to stay in bed all day until my mom walked into my room. she told me to wake up, she said since i was still grounded i needed to come with her. i tried to argue but in the end i kinda wanted to go and see what fun we would have this week in the changing room. i had my hands over my eyes while mom was changing, i asked if she was almost done. she asked why and wanted to know if i was having my "problem" again. she was just wearing her panties and a shirt but im sure she knew i was peeking. so i just dropped my hand down to my rock hard cock and squeezed it. mom just rolled her eyes and got the lotion out of her purse. she put a few drops in my hand and told me to hurry up while she kept watch. after a few minutes she asked if i was almost dine to which i said no. then she really shocked me and she walked over and dropped down between my legs and grabbed my dick. mom started stroking like a pro, i came all over my moms sweet hands and then we got dressed and left. i cant wait for our shopping trip next week!
Mom And Son Share A Dressing Room Part 4:
I was getting excited because my time being grounded was almost over, i was ready to be free again. the only thing i was gonna miss was the dressing room fun id been having with my mom, i found myself looking forward to our Saturday shopping trips. this Saturday morning i was in the bathroom brushing my teeth when mom came in and told me to get ready because we were going shopping again. i pretended to be upset then she said she needed to try in some lingerie, that got me excited so i said id get ready. in the dressing room mom model a couple of different outfits, when she was ready to changing out of the last one she looked down at my dick through my pants and noticed my boner. she pointed it out and ask if i was having my problem? while at the same time she took her top off and was just standing there in her bra and panties, i tried to cover my eyes but she said she didn't care if i looked. she knew i couldn't walk with my hard on so she told me to take it out and take care of it. once my dick was out i asked her for some lotion that she always had in her purse. she told me she didn't have any, i asked what i was suppose to do? there was no way i was gonna jerk off dry, i told her i need something wet and most to help take care of my boner. we heard people outside the waiting room and mom got nervous. with out batting an eye mom dropped down between my legs, grabbed my dick and started sucking me off! she was moaning and spitting the whole time she was giving me a blowjob, with her going that hard it didn't take me long to come in her mouth!
Mom And Son Share A Changing Room Part 5:
I was finally done being grounded and i thought my mom was gonna let me enjoy a Saturday relaxing. right when i sat down on the couch to watch tv mom walked in and said i need to go shopping, it was almost back to school time and i needed new clothes. once we got to the store mom said i need new underwear so she got some plus some stuff for her and we headed to the dressing room. once in side mom started stripping and she just let me watch, once she was naked she urged me to try on my underwear. once i was naked i tried on my underwear but i couldn't pull them up all the way because of my ragging boner. i told mom i couldn't pull them up so she dropped to her knees to try and help, she got really close and pulled harder. i leaned forward and slipped my cock into her mouth and she just started sucking. she pulled my underwear down and sucked my cock like a good mother should. i laid down on the dressing room floor and mom lowered herself down on top of me and started bouncing. i creampied my beautiful mom in the dressing that day!
Category: TABOO
Related Categories: MILF, CHEATING, CUCKOLDING, CREAMPIE, PUBLIC SEX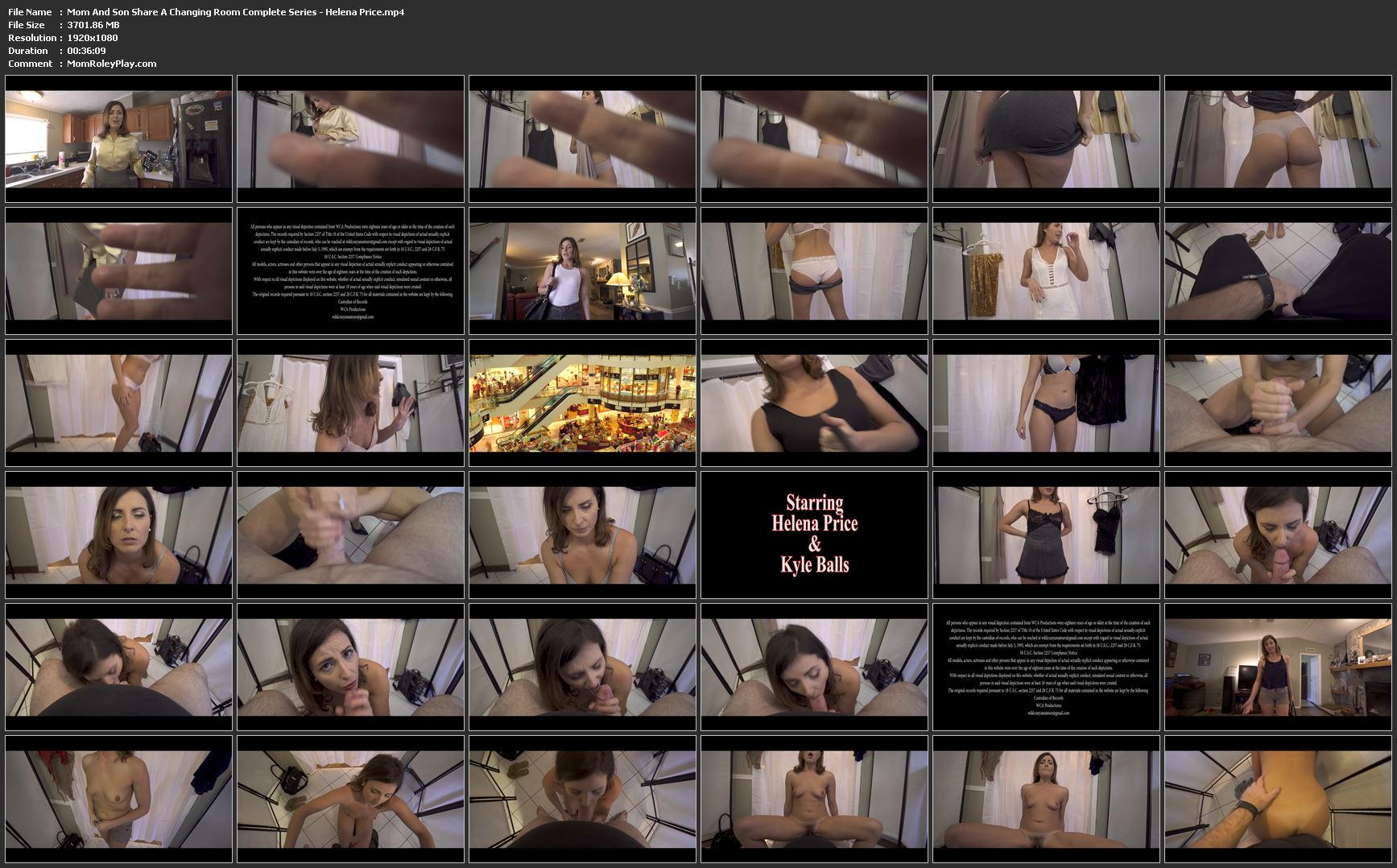 Download Files :
Mom_And_Son_Share_A_Changing_Room_Complete_Series_-_Helena_Price.mp4