Part 1:
Mom (Syren de Mer) in the kitchen speaking on the phone with her good friend Stacy. While on the phone with Stacy, Stacy is telling Syren about a neighbor that is in the middle of a nasty divorce. The reason for the divorce is a common reason – infidelity by both the husband and wife. The erotic twist about this situation is the real reason for the divorce was that the wife was caught fucking her own son! This leads to a heart-to-heart discussion between good friends Stacy and Syren. Stacy during the course of the discussion is basically advocating the sexual and emotional virtues of sex between an adult son and his own mother. Of course Syren as a mother of a 20-something year old son (Conor), takes the more cynical and skeptical position on the risks a relationship between a mother and son can create. As Syren is speaking on the phone, her son Conor comes to the kitchen to say hello and grab a glass of water. Despite Syren's comments on the phone, she can't help to notice how sexy her son is. Syren finishes her call with Stacy, but still can't get the fantasy of her son out of her head…
Late that morning, feeling horny, Mom figures she had at least a good two hours to herself and planned to use the alone time to get herself off. She sits in front of her computer and begins to search for some hot porn videos. All she can seem to think about are fantasies revolving around a mother and a son. Despite her better judgment she searches the Internet for stories, videos and blogs relating to between a mother and a son. She is amazed to the amount of content she has found. After reading some sexy blogs and stories she finds a very hot video with an actress and actor that reminded her of both her and her son. The video is a very hot and erotic scene where a mom and son are sharing a bed, which ultimately leads to a hot fuck session. As the video plays she slowly uses her fingers on herself. Mom watches the entire first scene while teasing herself until she has the best orgasm in years. Not realizing but as she is reaching an orgasm she utters softly: "Fuck mommy, fuck mommy hard, Conor! Mommy needs your cock so bad!" Feeling a bit ashamed Mom gulps down her wine while gasping "What is wrong with me? I am a mother of three and all I can think about is fucking my son!" She decides to work out and try to get these thoughts out of her mind. What she does not realize is that for the last few moments while she is pleasuring herself her son was watching from the back door. While he could not hear what she said or the sound on the video he was mesmerized by the image of his sexy mother masturbating. Conor leaves the room so not to get caught but the image of his hot mom is now burned into his head – forever!..
Later that day after working out, Mom comes into the house to clean up. She is wearing a tight T-shirt and shorts with her hair up, which shows off all the curves of her fantastic body. She is not aware that her 28 year-old son, Conor, had already come home and was in the shower. Without hearing the water running, she opens the door and steps into the bathroom. And there he is.
He is in the shower and leaning back against the wall. She can clearly see his young naked body glistening with water through the glass shower door. He doesn't notice her as she walks in because his eyes are closed. Out of pure curiosity, she looks down at his crotch. She immediately has to cover her mouth as she gasps at the sight of it. Her son is fucking huge! His hands are stroking his thick cock and fondling his heavy balls. The sight of her son's big cock entrances Syren. It was easily double the size of his father's puny prick. She watches, as it gets harder as he strokes it. To her shock she looks up at his face, and he is staring right back at her. He knew she was watching him and yet he continued to stroke his big cock in front of her. When he sees her looking into his eyes, he just smiles and strokes a little faster. He is enjoying showing off his young body and long hard cock to her. She can't move. The sight of such depraved lust was totally foreign to her. She had never imagined that a young man, particularly her son, would want to have her watch him stroke his cock.
Conor then turns off the water and opens the shower door. He releases his hard cock, which still stands out from his body. He just smiles and says, "Hand me a towel, please, Mom?" Swallowing as she sees his hard cock standing out like a pole., she reaches over and takes a towel off the shelf and hands it to him. But, he refuses by saying, "Why don't you dry me off like you did when I was younger?"
He doesn't wait for her reaction. He only turns his back to her and stands there expectantly. She then looks up and down his body again. She bites her lip as she sees up close his shoulders, back and tight and firm ass, Swallowing again, she uses the towel to dry off his shoulders. She then rubs the towel down his arms and back. She kneels down to dry to his ass. She lingers there for a moment and deliberately squeezes his cheeks. She particularly loves his strong ass muscles after having felt her husband's flabby butt for years. She rubs the towel over his legs and on his inner thighs. She stares at his heavy nuts hanging between his legs, but can't bring herself to touch them.
As she is about to stand up, Conor quickly turns around to face her. As he does, his big cock hits her in the face. She looks at his big cock, which was only an inch from her face. Conor looks down at her and smiles saying: "Don't forget my front side, Mom."
Mom slowly stands up in front of him. Looking him in the eyes, she could see that he was enjoying being in control, making her get so close to him, and touching his naked body. She moved the towel to his chest, rubbing it over, She slowly slides the towel down to his stomach. She slides the towel down one of his hips, not wanting to touch his huge cock. But, he takes her hand in the towel and brings it to his balls. He uses her hand in the towel to rub his balls and cock, saying, "Make sure you get everything, Mom." She strokes and fondles his cock through the towel. She is amazed at how heavy and thick it was. She could feel it getting hard again as she dries his cock and balls. She then gets on her knees in front of him to finish drying his legs and feet.
After she finishes drying him and stealing glances at his huge cock looming over her, she tries to stand up. But, he puts his hands on her shoulders and holds her down on her knees. She looks up at him as he looks down at her. He holds the back of her neck with one hand and presents his hard cock to her with the other. He smiles and says, "Why don't you put it in your mouth, mom?"
Mom swallows hard again, looking back at his cock in front of her face. Her eyes stare at the fat, swollen cock head pointed right at her. She wants to do it but she can't bring herself to perform such a nasty act, especially not on her own son. She looks up at him to tell him that she couldn't. But before she could say anything, he pulls the ponytail on the back of her head making her gasp loudly. As her mouth opens, he pulls her head forward and sticks his fat cock head into her mouth saying sternly, "I said suck it, Mom!"
Her eyes go wide as she feels his cock head cross her lips. For a moment, she doesn't know what to do. Her moral instinct was to push him away and run out of the room. She knew she shouldn't want to have his cock in her mouth. But, she did. She loved the feeling of his hard meat in her mouth. She begins to suck his head over her full lips. She looks over at the mirror and sees herself on her knees in front of her handsome, boy, his long cock sticking into her eager sucking mouth. Conor sees her looking at herself, and says, "Yeah, Mom. That looks good, doesn't it?"
She holds Conor's cock around his shaft with one hand, guiding it deeper into her mouth. Her other hand comes up to fondle and massage his heavy balls. She closes her eyes as she begins sucking his cock harder, sliding it in and out of her full lips. Conor puts both of his strong hands on her head, entwining his fingers in her long black hair and says: "Oh yeah, mom. You're real good at this. Mmmmmmm. Yeah, suck it. Suck my cock, Mom."
Her eyes open as she feels him pull her head towards him, sticking his cock deeper in her mouth. She looks up at him and sees his head laying back and his eyes closed. Her eyes go wide as he pulls her even further and shoves his cock into her throat. She realized that in his mind she was no longer his mother. She was just a mouth to be fucked to pleasure his big hard cock. As he holds her head in place with his strong hands, he fucks her face faster and harder, she starts to choke and gag on his thick cock. She brings her hands up to push his hips back so he couldn't thrust so hard and deep. But, he is too strong for her and she quickly realized that he wasn't even aware that she was resisting him. She then decides to relax and let him use her mouth. She brings her hands down and relaxes her head and throat.
Conor continues to pump his big hard cock into her mouth. She feels his balls slap her chin as he thrusts his cock deep into her throat. She could tell from his grunts that he is frustrated that he couldn't get all of his cock into her mouth. It wasn't from a lack of trying, but her mouth and throat simply weren't big enough to take all of his monster cock.
She looks up and watches him, her son, as he pounds and thrusts his cock into her mouth. Using her face to pleasure himself, making her take his cock whether she choked or not. As he reaches his climax, he begins to grunt out obscenities. "Yeah, suck it. Take it. Take my cock. Mom. Take my cock, you little cocksucker. Fucking little cocksucking mommy slut." Then he pulls her head into him as he thrusts his cock into her throat. As he yells out, she feels his hot cum shoot into her mouth. She didn't taste it because his long cock was deep in her throat. Conor keeps cumming and cumming. She thought it would never end.
After he finishes emptying his balls into her mouth, Conor slowly pulls his long, wet cock out of her mouth. She then lets what she could not swallow drip from her mouth as she sits there on the floor panting and trying to catch her breath. He had been fucking her mouth for five minutes and she felt as if she had just run a marathon. Conor takes a step back and uses a towel to dry off the saliva and cum on his softening cock as Mom wipes her face and lips. He looks down at her apologetically and says, "Mom I am so sorry. I don't know what came over me. You're just so fucking hot. I could not help myself". Mom looks up at him not know what to say and simply states with tears in her eyes: "It is okay baby". With that see runs out of the bathroom.
Part 2:
Later that night Mom is sitting at the kitchen table again drinking wine and browsing her phone, when Conor walks in and sees his Mom sitting there. Conor does not know what to say but before he can speak his Mom says: "Conor, please sit down. We need to talk." She then proceeds to explain why what they did earlier was wrong. As his mother is speaking, Conor is looking at his mother with pure lust. Before she can finish her speech he simply takes her by the hand and pulls her up and kisses her passionately. She tries to push him away but either can't or doesn't want to. With that Conor says: "What is wrong with what we know we both feel." He then, leads her to the bedroom without closing the door. As she stands in the middle of the room, not certain of what he wanted, Conor removes his clothes and sits on the edge of her bed. He smiles as he notices her staring at him resting back on her bed. He looks her up and down and says, "You don't look too bad yourself, Mom. Why don't you strip for me and show me what you're hiding?"
She knows that she had to do it. After he forced her to take his huge cock down her throat and swallow all of his hot cum, she knew that he could easily rip her clothes off if he chose to. But, also, she realized that she wanted to do it. She wanted to show her son her body. She wanted to be naked in front of him and get him hard again. She wanted to see his long cock completely hard. She pulls her t-shirt over her head and tosses it onto the floor. Conor whistles when he sees her perky boobs in her bra. She then unbuttons and unzips her shorts and pushes them down over her hips. She lets them fall to her ankles and kicks them to the side. She stands there in front of her son wearing only her bra and panties. Conor then says: "Mom, you have the body of a 20 year old." Conor begins to massaging his big cock as he leers at her body saying, "Please keep going. Take everything off." She the reaches behind and unfastens her bra. Conor's eyes went wide when he saw her boobs released from her bra. He licks his lips and strokes his cock as he stares at her erect nipples standing out before him. At this moment she realizes that she needs to gain some control. She then hooks her thumbs in her panties and pulls them down over her hips. She says: "So you like what you see baby. Mommy is getting you excited. You are such a little fucking pervert". She then lets her panties fall to her ankles and kicks them over with her shorts. Conor grins wide when he sees her tight, shaved pussy. He stares at her pussy for a moment and says, "Now, show me your ass." She turns around and puts her back to him. She looks seductively over her shoulder to see his reaction. She says: "Bet you will like Mommy's ass". He looks over her ass and hips and tells her to turn back around.
"Damn, Mom. You've got it all. A big set of tits for squeezing and sucking, a nice tight ass for gripping and slapping, and a shaved, little pussy for licking and fucking. Dad obviously doesn't know what he's got. Come here and let me get a closer look at you."
As she steps closer to the bed, Conor sits up and puts his hands on her hips and pulls her closer to him. Her tits are now right in front of his face. He reaches up and massages and squeezes her soft breasts with his big strong hands. She cannot help but groan with pleasure when he rubs and pinches her erect nipples.
Conor looks up at her and says, "Hey, mom. Remember the last time I did this?" Then, he pulls one of her nipples to his mouth and licks it hard. His other hand slides around her back to her ass. As he sucks her nipple into his mouth, he squeezes and grips her round ass cheeks. He closes his eyes as his other hand moves around to squeeze both of her ass cheeks. She wraps her arms around his neck and runs her fingers through his hair as his mouth devours her soft tit flesh.
He takes her nipple out of his mouth and looks up at her. "Now for the real test." Conor smiles up at her as he moves one hand around to her crotch and rubs his fingers over her shaved mound. "Nice and smooth. I don't even want to know why you shaved your pussy. I just like it." She instantly sucks in air as she feels him slide one finger up and down her tight, wet slit. She groans loudly as she feels him push his finger into her little hole. ", Mom. You've got a tight little pussy. And it's so wet. You must be itching for some sex." She says: "Mommy needs to be fucked good. Is her little boy man enough to do it".
Conor stands up and pulls his finger out of her slit. He turns her around and sits her on the edge of the bed. Pushing her back to lay on the bed, he says, "Well, I think first it's only right that I show my gratitude to what gave birth to me." He then knells beside the bed between her spread legs. Pushing her thighs farther apart, he leans in and licks his tongue up and down her lips.
As Conor's mouth and tongue work over her clit, he sticks one finger back inside her tight wet slit and pumps it in and out. She pants and gasps as she feels her pussy begin to twitch. She trembles as she groans out, "Oh yes, baby. Mmmmm. God, this feels good. Oh please, don't stop. Keep eating me. Keep eating mommy's pussy." After her orgasm subsides she lays on the bed panting and dazed with her eyes closed. She is collapsed and completely spread out on the bed, her spread legs hung over the side of the bed. She was as sexually fulfilled as she had ever been in her life. And it was her son who had done it for her.
Conor stands up and says, "I'm glad you liked that, Mom. But, look at what I've got." She opens her eyes and sees him standing beside the bed between her legs. His cock was completely hard again and standing out to it's full thickness and length. He bends over and puts his hands under her arms and pushes her further up into the middle of the bed. She watches as Conor climbs on top of her. She feels his big, hard cock against her thigh as his body lies between her spread legs. She runs her hands over his chest and shoulders, loving the feel of his hard flesh against her hands. Conor reaches down between them and aims his swollen cock head against her wet slit. As he is about to enter his Mom, she says: "Let's see if this man-sized dick can make Mommy cum."
She gasps out loud as she feels him push his thick cock head into her tight hole and says, "Yes, baby, fuck Mommy good". Her eyes close and she moans loudly as her son slowly pushes his big, thick cock all the way into her hot, tight pussy. As Conor fucks his Mom she begins to take more control and loses herself to her lust. "Come on Conor fuck your mother harder". As she says that she slides her hands down to his strong ass and pushes his cock deeper into her. Just then Conor says: "Damn Mom you're fucking tight!" Which to Mom responses: "Mommy has never had a dick this big." After fucking missionary for a few moments, Mom pushes her son off her aggressively and makes him lay on his back, where she then proceeds to mount him.
She finally takes his length and girth and starts the familiar bucking back and forth of her hips. She leans forward on her thin son to kiss him and gives him a perfect view of a mom sliding up and down on her son's thick long rod.
Mom starts to pick up the pace as she gets use to her son's girth and she lets out an intense moan. Conor matches his moms thrust from underneath as he sucks her hard nipples.
"Fuck me! I'm your mother! Fuck me with that big dick! Fuck your mother NOW!" Mom screams
Mom sits up as Conor goes to work slamming his mom from underneath. Conor's youthful body is like a jackhammer pumping in and out of his mother's creamy pussy.
"Oh baby I'm gonna CUM!" Mom screams.
As she releases a barrage of loud moans Mom collapses on her son's thin body for a moment and says:
"I'm usually done after one orgasm but your big cock has got mommy hot and bothered wanting more. Plus mommy wants to make that big dick cum again."
Mom unmounts Conor's engorged cream covered cock and turns around and lays on him 69-style. Mom instructs her son to:
"Lube mommy's ass up with your tongue baby."
As Conor is licking her ass Mom is sucking and slurping on his huge penis.
She then orders Conor: "Now gently fuck Mom's ass with your finger baby."
Several minutes pass as Mom moans and groans once again intensify.
Part 3:
Then suddenly Mom says: "Fuck me doggy. Fuck Mommy doggy, baby." Mom is now spread out on all fours. Her ass on the end of the bed and up in the air. Conor is shoving his cock into his mother's cunt doggy style.
After she's re-accustomed to her son's girth she guides his finger towards her asshole and instructs her son: "Fuck Mommy's ass with one finger first then add another finger when I tell you."
After a few minutes pass of Conor gently fucking his mother's tight pussy and fingering her ass, Mom starts to hump back towards her son matching his strokes. She then moans out: "Ok, Mommy wants her son's big dick in her ass now! Go slow.."
Conor slides his big cock out of her pussy and sets it against his Mom's ass. Conor presses the head of his cock against his moms pink and tight ass hole and she slowly but steadily inches back towards him. While sliding back gripping her son's love stick with her asshole Mom lustfully says: "Oh my God! You're huge! Go easy, baby!" As Conor sinks deeper and deeper, Mom starts to pant louder and louder. Finally she has engulfed the entire length and girth of her son's big cock into her ass. She says: "Ok, baby, fuck Mommy's ass softly.."
Conor starts releasing his length out of his moms ass and right before the bottom tip of his head slowly inserts it back. These slow strokes between Mom and son continue for a bit and Mom tells her son to lube his dick up with some more spit. Conor slobbers up his dick and easily slides back in his Mom's now gaping ass.
The pace picks up as Conor says "Mom your ass is so tight, I bet it's never been fucked!" Mom pants back "You'd be surprised big boy!"
Mom moans grow louder as her son's strokes grow harder and faster. Conor is now clasping each of his moms tits from underneath and using them to help thrust into her ass. Mom is now taking every inch of Conor. Once again Syren screams: "Fuck Mommy hard! Please fuck Mommy's ass harder!"
Conor's hips start gyrating at jackhammer speed again. His mother is spread out doggy-style and he's in her ass. At the same time, Mom's fingers find her pussy which she plays with as Conor' fucks her ass hard.
Her moans are no longer moans and she is now screaming at the pleasure her son is giving her. Mom screams: "Fuck Mommy! Fuck Mommy Oh my God! Oh my God!"
Mom is now violently pounding back against her son's hips with his dick plunged deep in her asshole, Mom's fingers furiously rubbing her clit and fingering her pussy. "Harder!" Mom demands! Conor slams back and forth against his mother's petite body. Conor then screams "Oh Mom, Oh Mom!"
Syren pants back "Oh son! Oh Son. I love you!" Mom and son now are ruthlessly fucking each other in the most primitive state. Conor fucks his mother asshole screaming:
"Oh Mom I'm going to cum!" Mom screams loudly bucking her ass back against her son's huge dick:
"Oh my God! You're making Mommy cum too!" As soon as Conor hears his Mom's cries of lust for him his legs start shaking and he unloads his hot young cum deep inside his mother's ass.
Conor pulls his cock out of his mom's ass and reveals a gaping hole that is dripping with cum.
They both collapse, out of energy and out of their sexual frenzy. Mom rolls into her son's arms and kisses him passionately and says:
"That was the best. I've never came like that before."
As they lay in each other arms and tell each other how much they love each other and how fantastic the sex was they are disrupted by the sound of the front door and Dad coming home! They quickly get out of bed. Mom screams at Conor: "Hurry! Get out of here! If your Dad catches us he'll never understand"
Mom quickly puts on her robe as Conor runs out of the room. She lights a cigarette and takes a drag as she hears her husband say from the kitchen: "Hun? Are you up there is Conor with you?"
She says quickly as she puts out her cigarette: "Hi Hun! Be right down just changing!"
Under her breath she's laughing as she says: "Our son was more then with me! He fucked me!"
Category: TABOO
Related Categories: MILF, BLOW JOBS, FUCKING, ANAL, CREAMPIE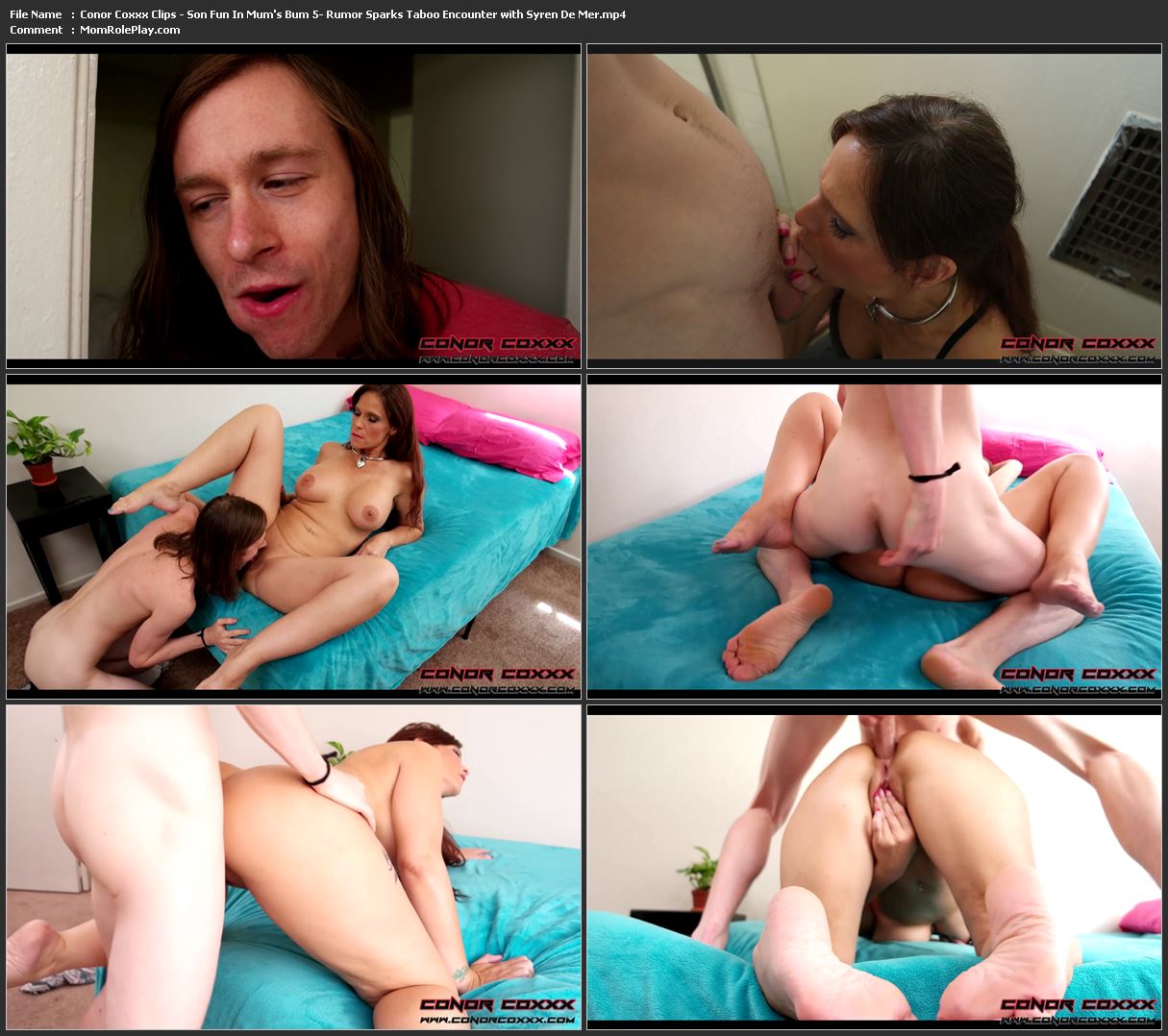 Download Files :
Conor Coxxx Clips – Son Fun In Mum's Bum 5- Rumor Sparks Taboo Encounter with Syren De Mer.mp4