Every year, you have to get a physical for school sports, which is never really a big deal…but this year, things have changed. It's like you can't feel a gentle breeze across the front of your pants without getting a huge boner! Not that you're complaining but its gotten much bigger and its a lot harder to hide…plus, your doctor is pretty, and you're sure that when she checks you for a hernia, you're going to get a big one. You're not sure you can handle that level of embarrassment, so you go to your mom, hoping maybe she can forge the signature or take to the doctor about skipping that step, but instead she suggests that the two of you "practice" an appointment so you won't be so nervous about it.
You're not so sure about it, but you go along anyways, leaving the room so she can "get ready," whatever that means. When you come back, she's wearing a lab coat and has a stethoscope draped around her neck, remnants of last year's Halloween costume. She starts to ask you questions, which aren't so bad…until she gets to the stuff about your penis. About night time erections. It seems a little much – surely the doctor wont ask these types of question? – but your mother is adamant, insisting that you answer. You try to do so but even talking about it starts to get you hard. Oh god, now you're going to have to roleplay a hernia check with your mother while you've got a boner! Your mother, her hand wrapped around your boner…squeezing it…oh god….this can't be happening…
…but then it is. Your pants are down, and your mother is inspecting your hard cock. She's touching it and holding it and then…she's asking about the little red marks. The chaffing. You admit that sometimes you jerk it too much, and she wants to see how you do it. What?? She's serious, she wants to see how you masturbate, to make sure you're not doing damage to yourself. Strange as it seems, you oblige, stroking yourself like you normally would until she stops you, pulling out some lube and telling you that such friction on your penis can be avoided with proper lubrication. You're about to hold out your hand for some when she squirts it into her palm and gently starts to rub the head of your desperately sensitive cock with it, covering you in warm, slippery lube!
She starts to instruct you on how to properly touch yourself, demonstrating every stroke with her own hands! She shows you how to bring yourself to the very edge of an orgasm, then back off, building a huge load inside your balls. Her breasts heave under the crisp white lab coat as you stare down at her, stroking and massaging your cock and balls with loving tenderness. She brings you up to the edge and back over and over, until she announces that she needs to make sure you're ejaculating properly, taking out a specimen cup from her desk. Holding it up, she strokes you faster, encouraging you to cum, finally, to empty your balls for your mother.
TABOO, MEDICAL FETISH, HANDJOBS, ORGASM CONTROL, EDGING GAMES, POV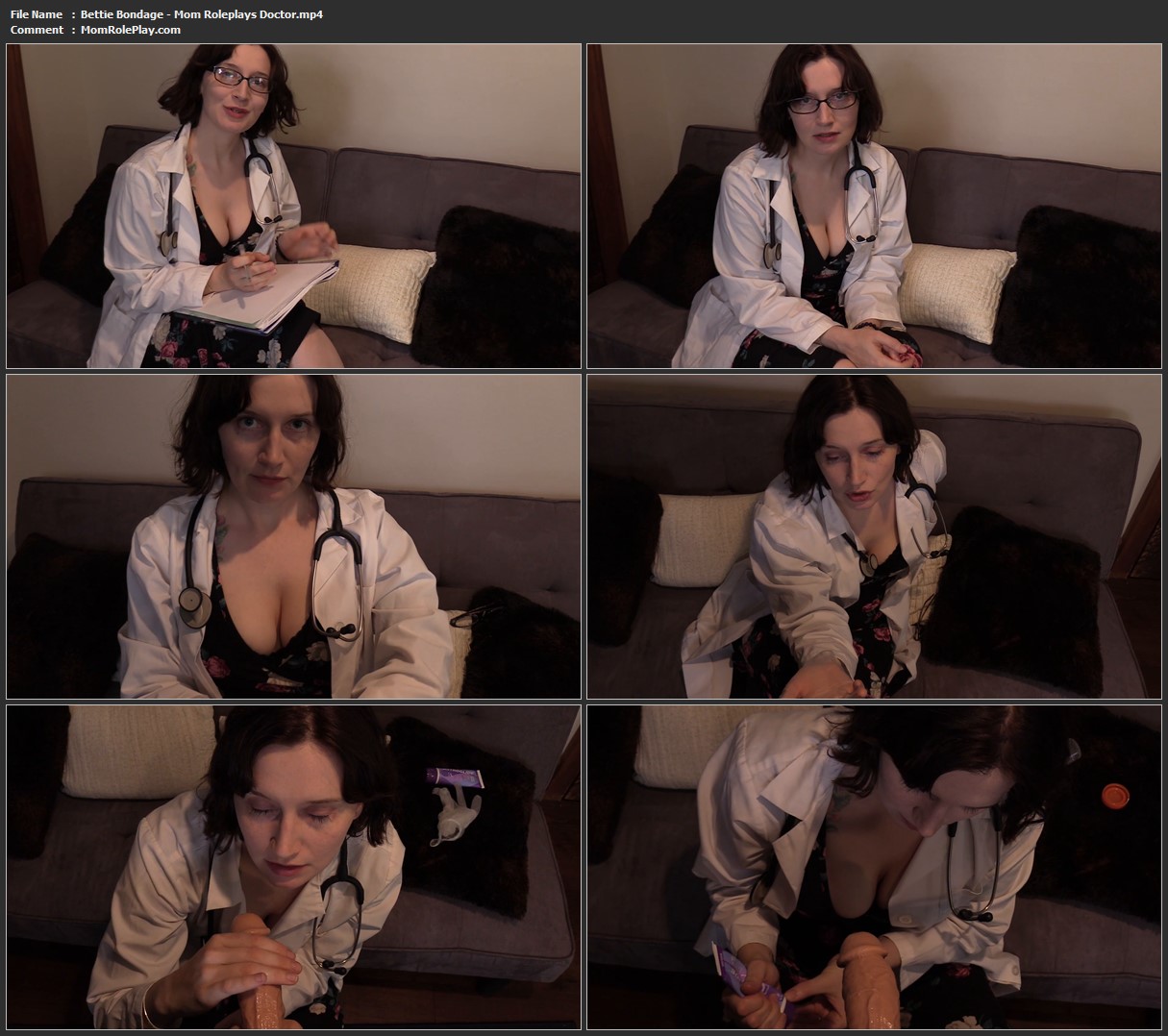 Download Files :
Bettie Bondage – Mom Roleplays Doctor.mp4