Your best friend's mom is a real hard ass…with a real nice ass. Of course, you'd never tell him this, but his mom is smoking hot…and sort of a flirt. She's always smiling at you, winking, bending over straight at the waist to get things out of the cupboards when she's making dinner. You think she must just be one of those bored housewives.
Until today. You're watching a movie on the couch when she barges in, ready for yoga, and turns the TV off, scolding her son for having friends over when his room is a mess. He groans, annoyed, but she insists that if he wants to have you over, he has to go clean his room, pronto. Begrudgingly, he goes upstairs, leaving you sitting on the couch. She tells you she's sorry to be such a strict mother about this, but she can't have him breaking the rules and, oh, so long as you're here, could you tell her if her yoga pants go see-through when she bends over?
Uh…what? Ok, I guess I could do that, you say. Before you can even finish agreeing, she is bent over, aiming her ass at your face. This lady is crazy horny, you can tell…and…well, they aren't see through but…there's a huge hole. And the more she bends over, the more evident it becomes.
"Nope, all set," you tell her, staring straight at the hole.
"Are you sure?" she asks, reaching behind and fingering the spandex, pulling at the hole, "are you sure there isn't anything wrong here?" she says, pulling at the fabric, tearing it open. "I'd hate to embarrass myself!" she continues, her charade evident as she spreads her legs, pulls your cock from your pants, pulling the hole wide so she can fit you insider her, no panties, her pussy wet for you already. You slide inside her, watching her ride you until she cums, hard, pulling off your cock and squirting hard all over your cock before riding you again, desperate to have her hole plugged!
MILF, SPANDEX, CLOTHES DESTRUCTION / BURNING, SQUIRTING, POV, VIRTUAL SEX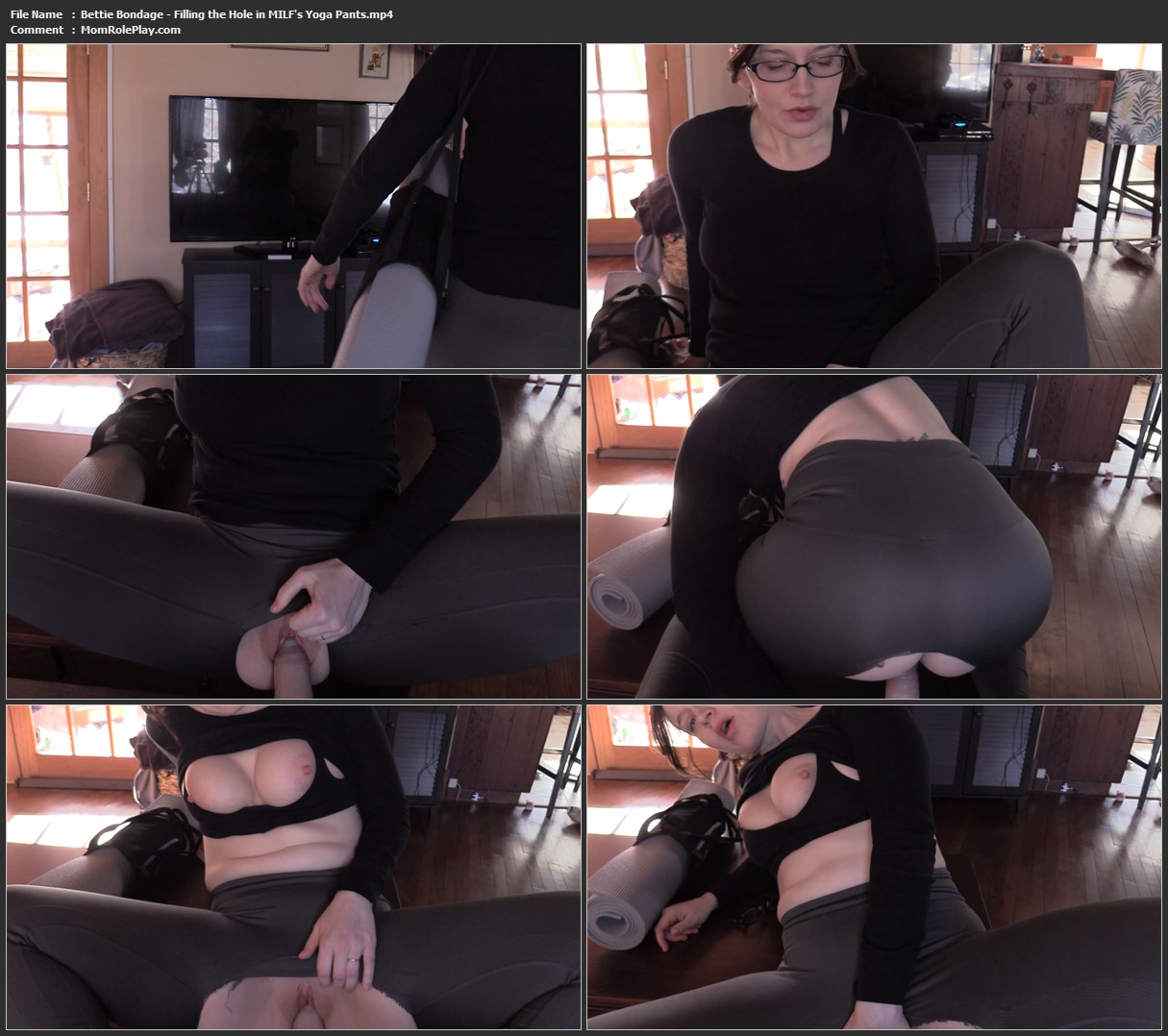 Download Files :
Bettie Bondage – Filling the Hole in MILF's Yoga Pants.mp4