A hot blonde MILF wearing nothing but a robe is in her room and calls her son in. She tells him she is sick of his attitude since he came home from college on a visit. She plans to punish him, but since she can no longer ground him she has had to think outside the box and has done so in a very taboo way.
She then takes her robe off to reveal she is naked. When her son thinks this is his punishment she laughs and says it is worse. He will have to watch mommy get fucked. And, not just with a random dude, but with his best friend. She is going to have her own son be her cuckold and there is nothing he can do about it.
His best friend then walks in and goes right behind his mom and starts to fuck her in doggystyle. As she gets fucked she tells him this is his fault and that she will continues to have him be her cuck as long as his attitude is the way it is.
Mommy sees that her son is getting aroused by the cuckolding adventure and she makes fun of him for it. She then tells him that he might as well take his cock out and jerk off, but that he should not cum until later. As she continues to get pounded she tells him she has plans for him in just a bit.
Mommy continues to take dick from behind and her big tits sway back and forth as she does. She then senses her lover is about to cum so she tells her son she is going to take his best friend's creampie. But, she is not using protection and she might get pregnant. She winches as the stud pumps a big load of jizz inside her pussy.
She then relaxes a bit and tells her son that she does not need to get pregnant again. So, as the final part of his punishment, he has to clean her pussy out with his mouth. She wants all that jizz licked and sucked out of her pussy so she doesn't get pregnant. She hopes this will teach him a lesson in being courteous, but she has no problem having him as a cuckold with his best friend again, or even some of his other fiends. So, he had better behave from here on out.
Category: TABOO
Related Categories: CUCKOLDING, TITTY SQUEEZING, MILF, BIG TITS, DOGGYSTYLE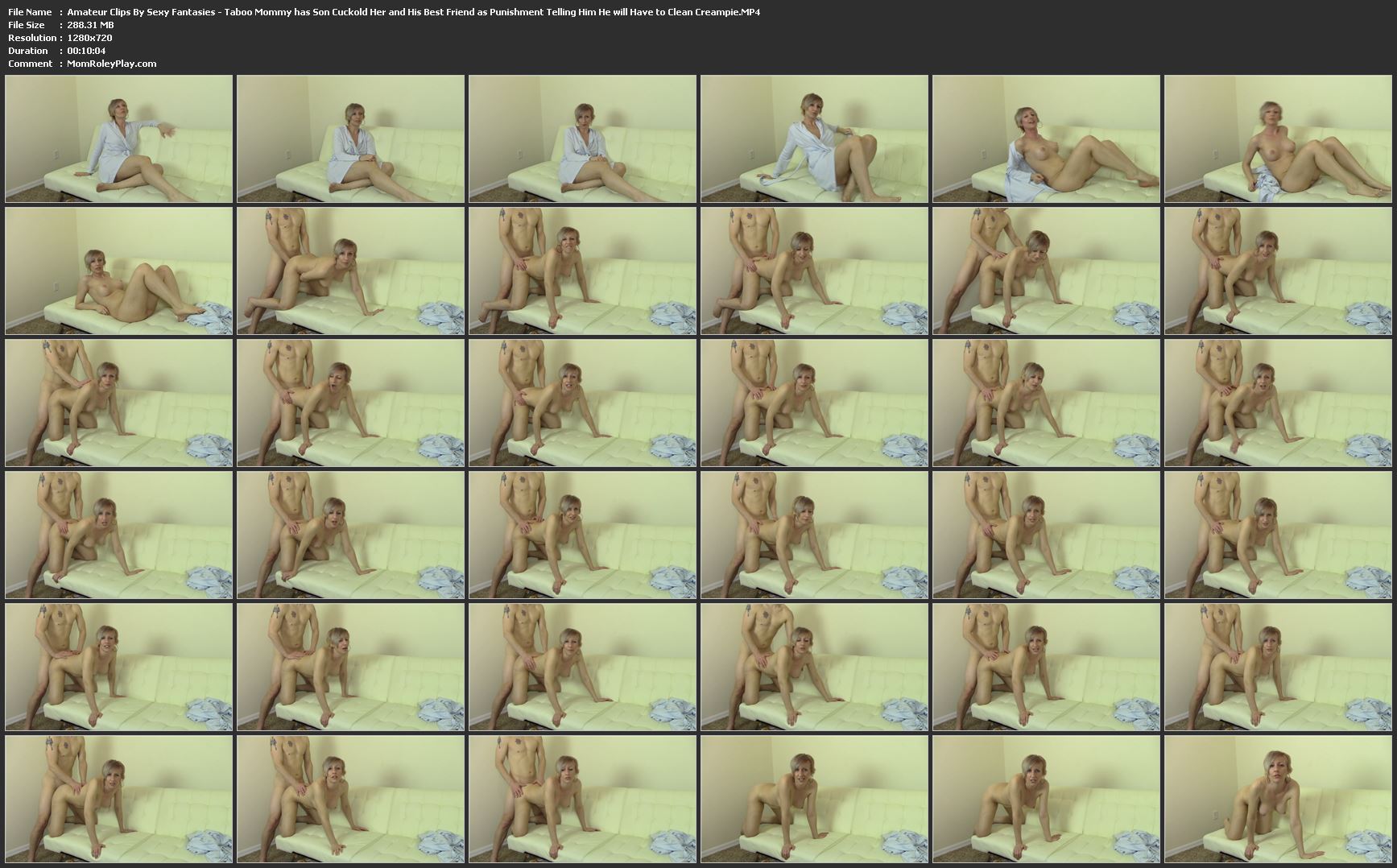 Download Files :
Amateur_Clips_By_Sexy_Fantasies_-_Taboo_Mommy_has_Son_Cuckold_Her_and_His_Best_Friend_as_Punishment_Telling_Him_He_will_Have_to_Clean_Creampie.mp4