It's a Friday night, and your mom surprises you by staying up to watch a scifi movie with you, something she never does. After its done, she confesses that she's trying to put off sleep because of a side effect from a new medicine she's on. She tells you that she's having a hard time determining what is real and what are dreams, because her dreams are so vivid, she swears they're real. As she tells you all about how disorienting it is to have no idea if what she's experiencing is real or not, and how you could tell her that the conversation you're having at that very minute was a dream and she'd believe you, you start to have an idea…
You've always been attracted to your mother, but of course, you could never do anything about it…besides furiously jack off imagining what her tits would feel like in your mouth. But this predicament…this strange situation she's describing…well…you'd be lying if you said that your cock wasn't rising in your pants at the thought of your mother, prone and vulnerable, able to be manipulated…so you tell her good night and watch with aching anticipation as she climbs the stairs to her bedroom. After a little while, and lots of slow, agonizing jerking off, you step into her darkened room and approach the bed. Her pajamas are mostly see through, her blankets tossed off, leaving her on display.
You approach with your rigid member out, standing on the edge of the bed, unable to contain yourself. Cock in hand, you press it against your mother's soft, warm lips and watch as she reacts, her mouth twitching. She said that this new medicine makes her sleep through anything, and unable to stop yourself, you start to rub your cock across her lips, pushing it into her mouth. To your amazement, your mother starts to suckle, to moan a little. You thought she might just lay there and have a nice pleasant wet dream, but she's interacting, engaging with your body, sucking your cock and reacting like she's loving it!
You decide you need more, and position yourself between her legs. Her pussy is already wet when you pull her panties aside, watching as she slowly awakes, obviously thinking it's all a dream, stroking you, pulling you inside her, telling you things that a mother should never tell her son…begging for your cum, to make her your slut…you can't hold back, filling your mother's pussy with a hot, thick load of her son's cum!!
Category: TABOO
Related Categories: VIRTUAL SEX, POV, MILF, DIRTY TALK, EROTIC MAGIC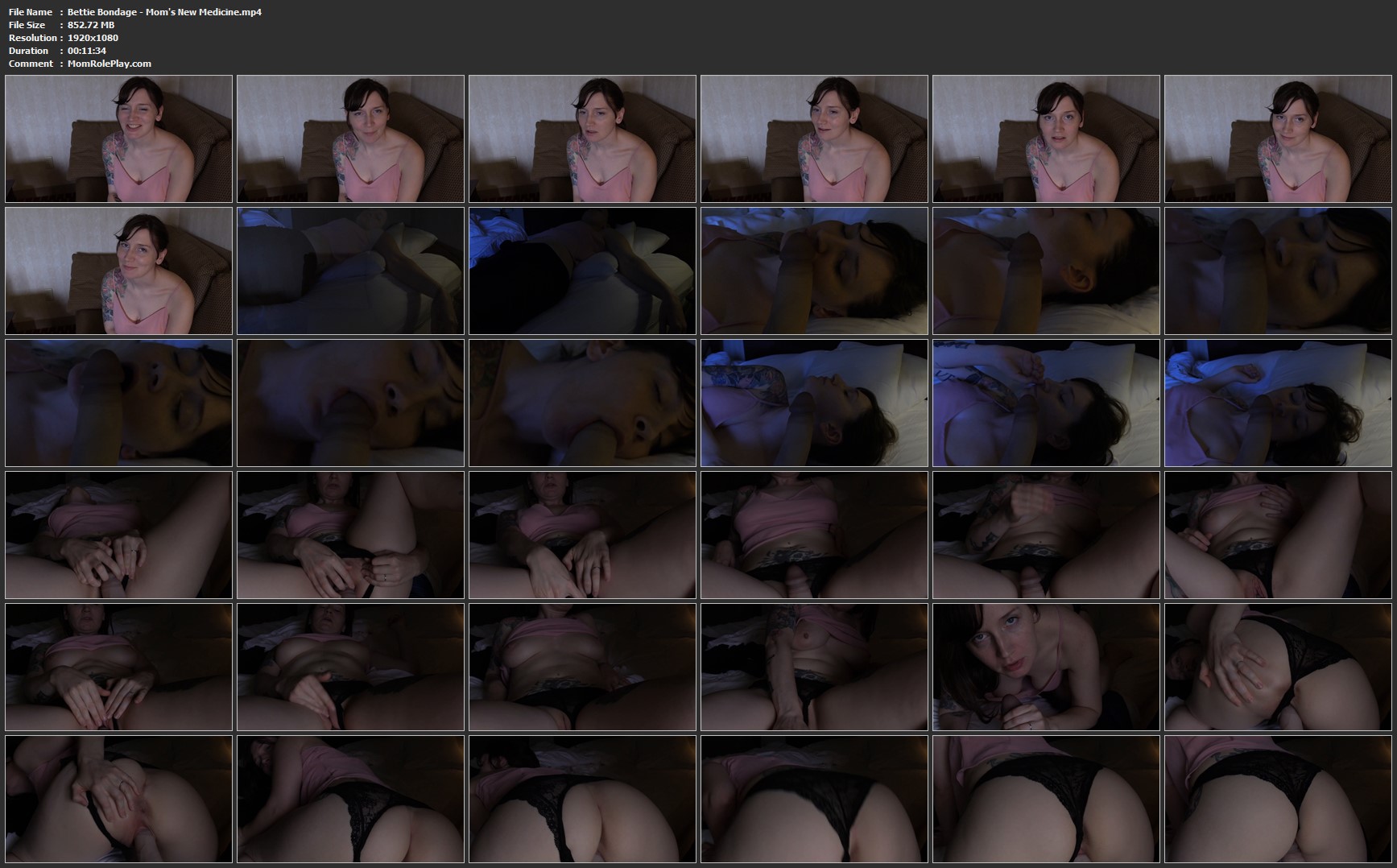 Download Files :
Bettie_Bondage_-_Mom_s_New_Medicine.mp4