Alina Lopez is on her bed texting. When her mom, Mercedes Carrera, knocks on the door, she tells her to come in. Mercedes introduces her friend, Christie Stevens, to her daughter and sits on the bed.
Mercedes has some trouble speaking, so Alina raises her voice, rudely asking her what she wants. Mercedes blurts out that she married Christie and that she'll be staying with them temporarily. Shocked, Alina asks her mother if she's a lesbian. She explains that she did it to help Christie, who needed a green card to stay in the country.
As a result of this, she'll have to live with both of them for at least a year. Alina can't believe it. She doesn't want to live with a stranger she doesn't know or trust. She tells her mother it's out of the question. Christie tells them both that she'll figure something out, she certainly doesn't want to be a burden.
Mercedes tells her daughter that her decision is final and she's going to have to be a gracious host whether she likes it or not. When they leave the room, Christie doesn't feel comfortable about all this; after all, they are lesbians and do love each. Mercedes doesn't want to overwhelm her stepdaughter but promises Christie that she will tell her the truth when the time is right. Alina now feels bad about being such a bitch to her new guest.
Regretting her behavior, she gets up to go apologize. When she spots them, she sees that they're being a little too touchy-feely with each other. She knew it. Her mother is a lesbian! Wanting proof, she goes to her room, grabs her camera and places it in her mother's bedroom. As she watches her stepmom make out with Christie, she starts getting turned on. She starts playing with herself as she watches them and when she can't take it anymore, she storms out of the bathroom and jumps on the bed to confront them.
Mercedes is worried at first because they got caught, but when Alina tells them that she's also a lesbian, Christie invites her to join them and after all, her mother did tell her to make the guest feels welcome!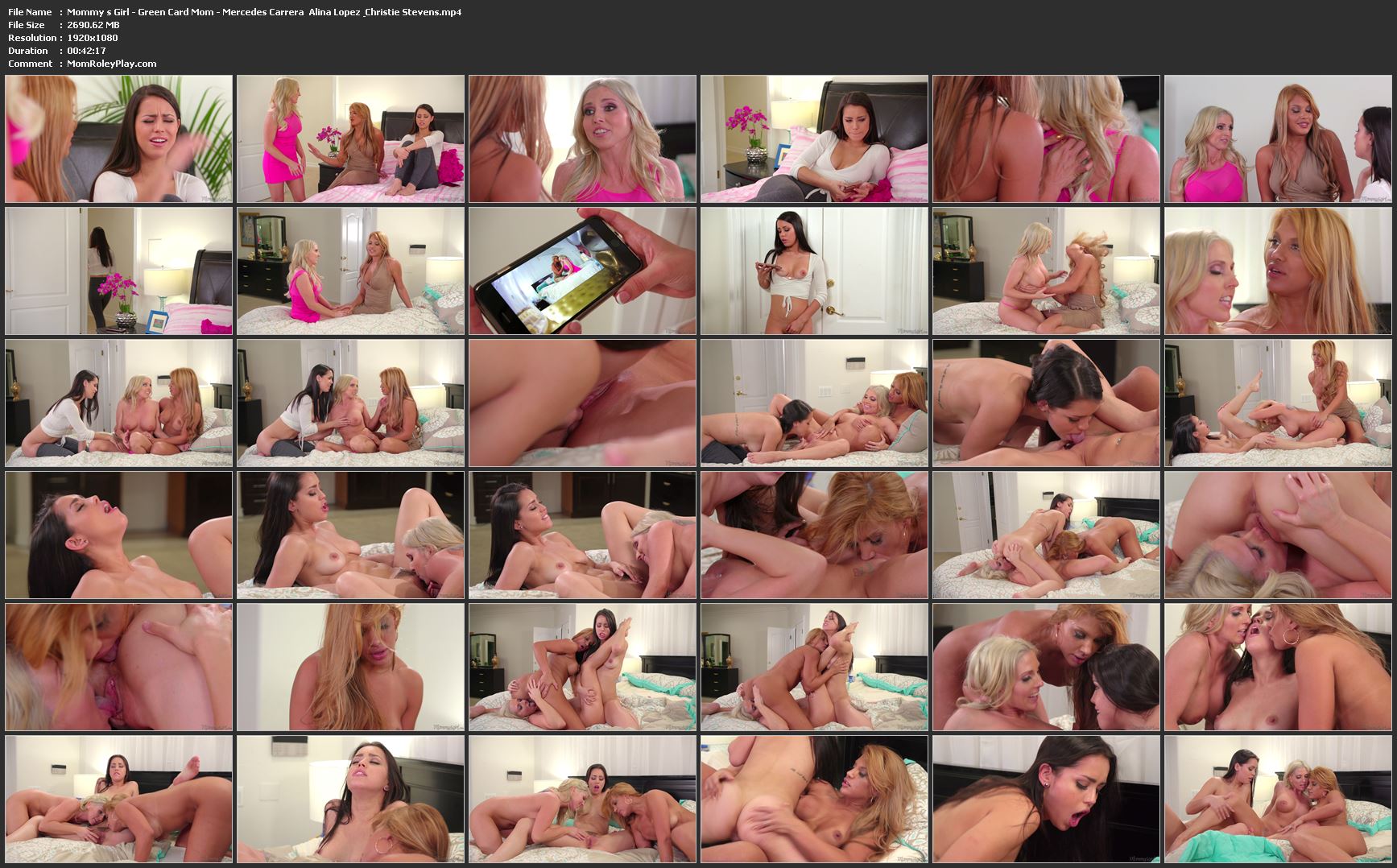 Download Files :
Mommy_s_Girl_-_Green_Card_Mom_-_Mercedes_Carrera__Alina_Lopez___Christie_Stevens.mp4