The scene starts with Ariana's girlfriend taking her home to meet her mom, Nicolette.
Ariana gets turned on looking at Nicolette cooking and sparks fly while the three of them have dinner.
Ariana and Nicolette play footsy under the table and when the girlfriend walks out for a second Nicolette grabs her chance and fingers Ariana under the table.
When Ariana starts licking Nicolette's pussy the girlfriend comes back in and they take their seats again.
Both Nicolette and Ariana make an excuse and meet up in the bathroom, where Nicolette is quick to lick Ariana's pussy while she's standing.
Then the girls move to the floor for some scissoring action, after which Nicolette fingers Ariana's pussy and licks her pussy and ass.
Nicolette stands up and has Ariana lick her pussy until the girlfriend knocks at the door and Nicolette sends her out of the house with an excuse.
They move the action to the bedroom, where they start out scissoring before Nicolette licks Ariana's pussy and ass again, taking her time rimming the brunette and even sticking a finger in there.
Ariana licks and fingers Nicolette's pussy before the girls move into a 69, taking turns on top. Nicolette can't get enough of Ariana's ass, fingering and licking it while playing with her pussy.
Then Ariana gets down on all fours and Nicolette plays with her pussy and ass from behind, after which she sits on Nicolette's face and they get into a 69 again, which even leads to a standing 69.
Nicolette then rides Ariana's face before fingering and licking her ass and pussy some more.
The girls get back into a 69 with Nicolette on top, who fingers her own ass while Ariana licks and fingers her pussy.
Then Nicolette licks Ariana's pussy one more time before the girls grind on each other to orgasm.
The scene ends with the girls cuddling, kissing and talking.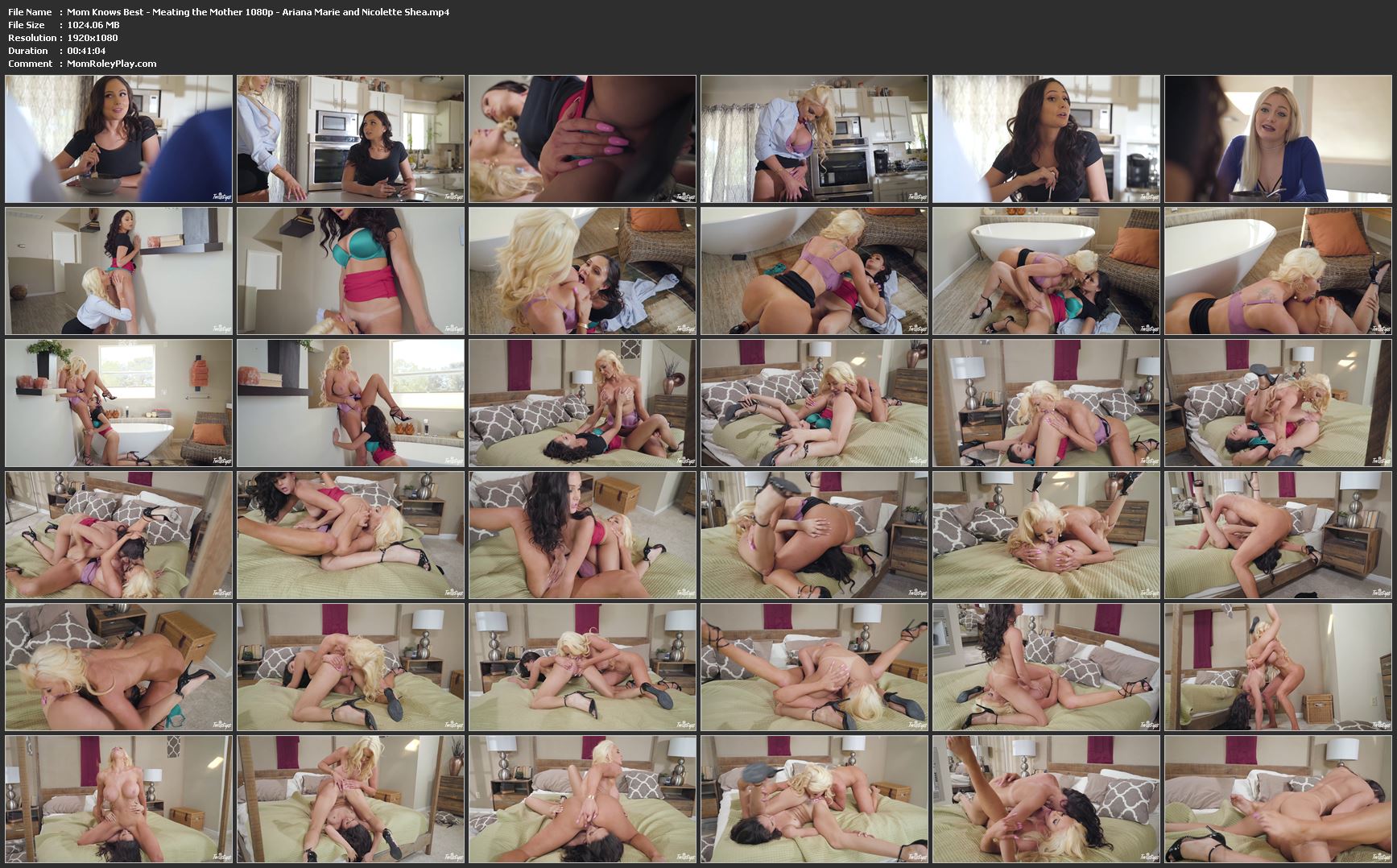 Download Files :
Mom_Knows_Best_-_Meating_the_Mother_1080p_-_Ariana_Marie_and_Nicolette_Shea.mp4