Oh sweetie, i didn't hear your come in. What are you doing in my bedroom? I thought you were getting ready for your girlfriend to come over. I am wearing just my panties. Maybe i should put covers on. What's wrong? Something bothering you? Why don't you hop on my bed, we can cuddle under my blanket like we used to. you are growing up fast that we never really cuddle anymore.
You are worried that you've never had oral sex. Oh, that's ok honey, i can help you and tell you all about it. Too bad your idiot father never taught you any guy stuff. I am here for you honey. As a mother, i always want to help my son with whatever troubles you. You know how much i love you. The first blowjob could be awkward and scary…Feeling woman's warm mouth for the first time on your penis.
On the other thought, i think i should show you what it's like to have a blowjob. You are my son and i need to teach you. We've always been so close. Don't worry, we wont tell anyone.
Relax sweetie, let me touch your cock. Oh, you are so hard! And your cock is so much bigger than Daddy's. It's making mommy wet feeling how grown up you are. Close your eyes. Feel that? Doesn't it feel good to have your mommy's warm soft hand on your penis?
Now i am going to put my mouth on your hard cock. Just relax…let it be a good experience for both of us. It's been awhile since i had such a big young cock inside my mouth. Your dad and i don't have oral much. You like that? Ohhhhh, please cum inside mommy's mouth. I want to know what you taste like, honey. Yes, Yes, Cum in my mouth!!!
Oh, you cum so much and it tastes delicious. Don't be shy…Now go get ready for your girlfriend to come over. Hope you won't be thinking about my mouth a lot while spending time with your new girl. I love you sweetie! Mom.
Category: TABOO
Related Categories: MOMMAS BOY, OLDER WOMAN / YOUNGER MAN, VIRTUAL SEX, MILF, BLOW JOBS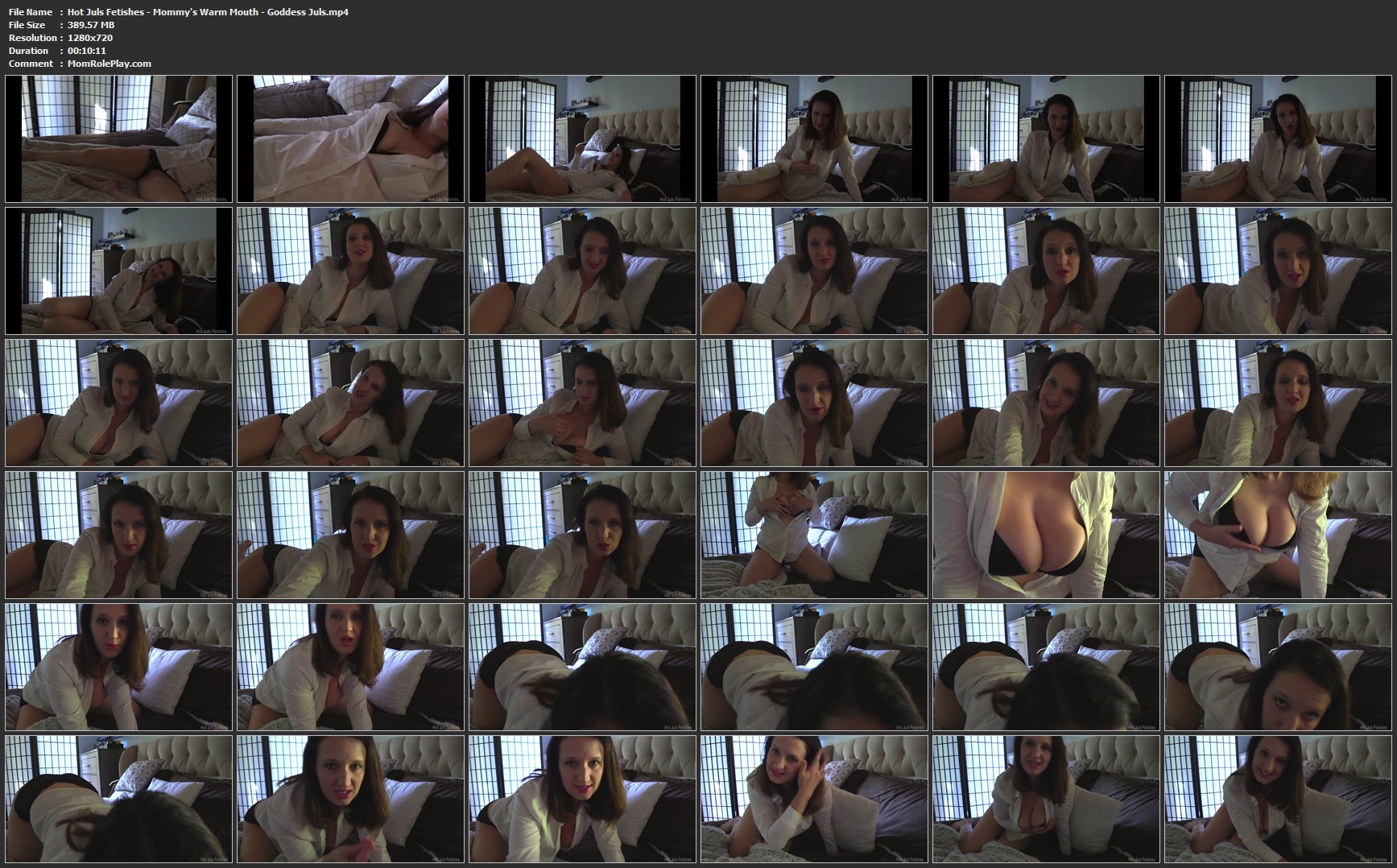 Download Files :
Hot_Juls_Fetishes_-_Mommy_s_Warm_Mouth_-_Goddess_Juls.mp4