How many times have you jerked your dick thinking about your hot mom being fucked? Yes, many times! She is hot, powerful, total domme and a little abusing to her sissy cuckold son. But you love her dearly!
The clip starts with your domme mommy putting on her red stockings before her client shows up. Today is one of her most important and high paying clients comes over to fuck her. She tells you how proud she is of you for being such a good, obedient son…How she taught you so well to be the best cuckold son you could be. She decides to reward you by letting you be present in the bedroom while she is fucking her lover. Go ahead and put on your pretty pink panties, pantyhose and meet me in the bedroom. You must be quite, do not make a peep, just watch your mommy get fucked hard.
In the next scene you are seeing your mommy standing above you, her lover is behind her, you see his big hands are grabbing her waist. Her beautiful breasts are popping out her lacy robe. She tells you to stop playing with yourself and just watch. Her lover is fucking her doggy style until your mommy and he cums inside her hot pussy. (POV CUCKOLD'S VIEW).
As soon as her lover leaves she sits down and spreads her sexy legs and tells you to clean her sloppy wet creampie pussy (POV view). She teases you, humiliates you as you lick her lover's cum off her shaved pussy. She notices your penis is getting so hard. She is in a good mood so she lets you jerk your little penis to her amazing big tits. "Come on my cucky son, stroke your penis and i will let you cum on mommy's boobies. But you must clean up your load off my tits" (POV hand job). You cum all over domme mommy's tits….your fresh cum is covering her milky tits . "TIME TO CLEAN UP, HONEY!".
Category: CUCKOLDING
Related Categories: MOMMAS BOY, POV SEX, MALE CUM SWALLOWERS, TABOO, HUMILIATION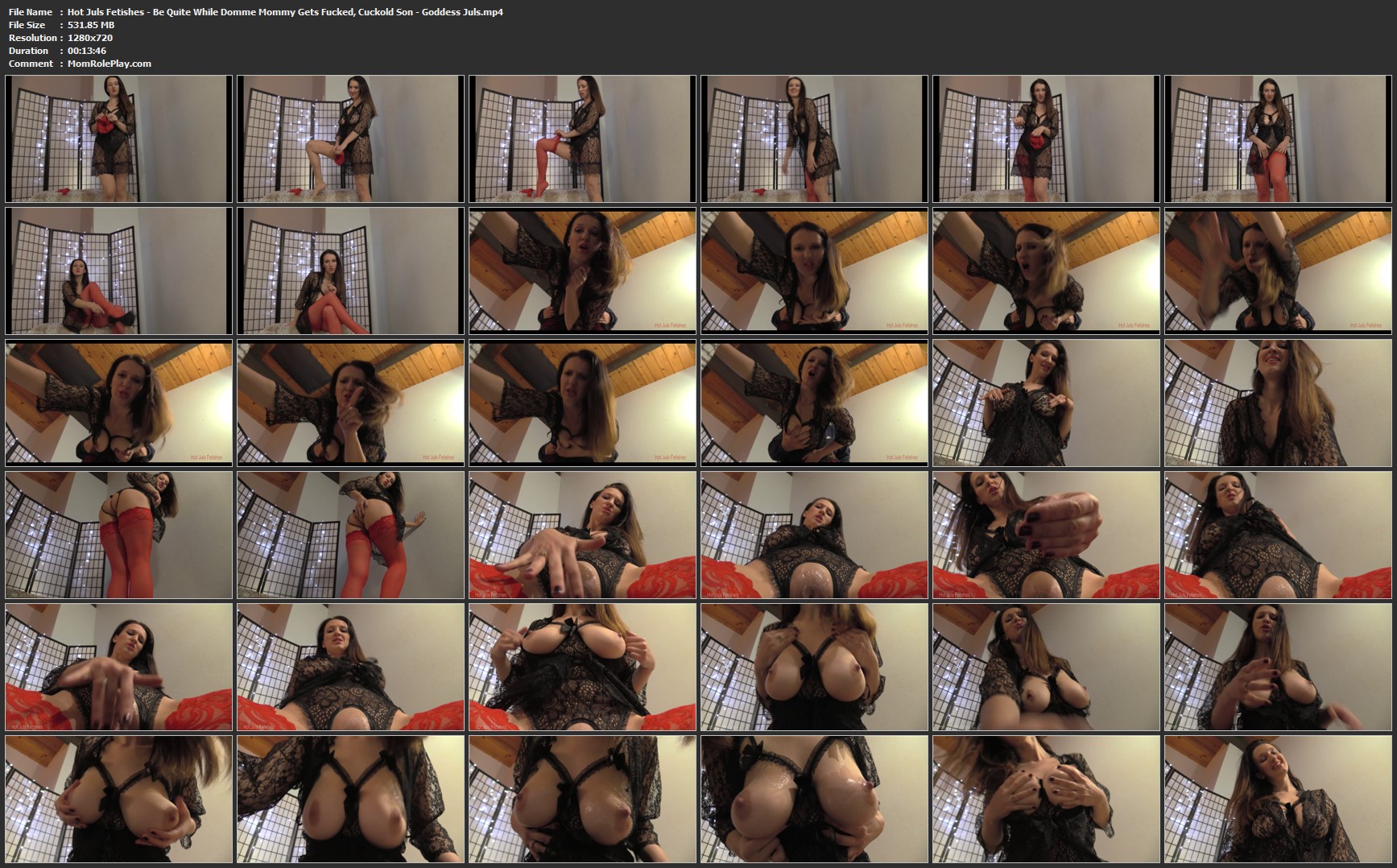 Download Files :
Hot_Juls_Fetishes_-_Be_Quite_While_Domme_Mommy_Gets_Fucked_Cuckold_Son_-_Goddess_Juls.mp4