Part 1
I was working at a local restaurant as a cook, it was a job i really hated. one day there was a fire kitchen and my hands were burned, the doctor rapped my hands in bandages and told me i had to keep them on for 2 weeks. after a few days of bed rest and my mom taking care of me, which was awesome. i was relaxing when my mom came to check on me, we made some small talk and then my mom said i was really funky. she asked me when i last bathed, i told her i couldn't because i could get my hand wet or hold the soap. my mom thought about it for a minute and then said she would help me take a bath. she didn't wait for my answer she just walked to the bathroom and started filling the tub. i walked into the bathroom a few minutes later, my mom looked me up and down and then told me to take off my pants. i hesitated for a minute then she just bent down and pulled my shorts to the ground. so there i was standing naked in front of my mom, she told me to get into the tub. mom told me to turn around so she could wash my backside, that was kinda strange and a little arousing. once she was finished she with my back she told me to turn around, then she dropped to her knees and started washing my front. she washed around and under my dick, then she just grabbed my junk and started gently cleaning it. i complained a little but i was really getting turned on by it. she finished the rest of the bath then she dried me off.
This is part 1 of Mom Washes Hurt Son, this series stars Helena Price. this is a POV Taboo Milf Cheating CFNM Bathtub soap bathing scene, there is no female nudity or sex in this episode, this is just a tease episode and the beginning of hot story.
Part 2
Its been a full day since the awkward bath my mom gave me and to be honest its all i can think about. since the accident i haven't been able to jerk off on the account if my hands being bandaged and standing there naked in front my mother was kind of a turn on. when my mom came into my room this morning she was wearing a short black silk robe, we made some small talk and i couldn't stop thinking about i much i liked her seeing my cock. she asked me if it would be ok for her to give me a bath just wearing her bra and panties, she didn't want to get her clothes wet, i of course agreed. once my mom finished washing my backside she had me turn around in the tub and face her. once i was facing her she started washing my body and my dick started getting hard, i saw my mom lock eyes onto it but she did her best to ignore it. right as my mom was washing my balls i just couldn't take it anymore and i finally said something. i explained the problem about not being able to jerk off and how the stress was hurting me, she looked worried for me but she didn't know what to do. i finally just asked her if she could use her hand and help me out, she was shocked at first but after some begging and me promising not to tell anyone she agreed. my moms soft soapy hands stroked me to a much need orgasm, im looking forward to bath time tomorrow!
This is part 2 of Mom Washes Hurt Son, this series stars Helena Price. This is a POV Taboo Milf Cheating CFNM Bathtub Handjob scene.
Part 3
My mom came into my room to give me my bath like yesterday, i was super excited. yesterday during my bath the sexual frustration was more then i could take and my sweet loving mother gave me a heavenly handjob. so to say i was looking forward to my bath today was an understatement! mom was wearing a sex short black silk robe, she was trying to make some small talk and avoid talking about what happened yesterday. we went into the bathroom, mom took off her robe and was just wearing a sexy bra and panties. i checked her out for a long second and then i took off my clothes and got into the tub. mom washed my backside the had my spin around, mom had been squatting down to while washing the back of my legs. so when i spun around my raging hard cock nearly smacked her in the face, she started washing me and was trying to avoid my dick. i made the first move and asked mom if she could help me like she did yesterday. she told me she was hoping after yesterday i would be ok until i heeled up enough to take care of myself. i told her that i normally jerk off 2-3 times a day, she got wide eyed and asked if i was serious. i said yes and begged her to help, she reluctantly agreed and started jerking me off. after a few minutes my mom was starting to get annoyed with how long it was taking me to cum. i told her i was sorry and asked if she could maybe take her top off, she was shocked that i asked that. before she could respond i told her it would help me finish faster, that seemed to make her ok with it. she took her top of and kept jerking me, a few minutes later i decided to push my luck further! i asked my mom if she could maybe sorta kinda use her mouth? she started to lecture me but i just told her this was really awkward for me to and i really wanted to get it over with! that seem to make it ok with her to put her sons cock in her mouth and she did. i never knew my mom could suck a dick like that and like any good mother should she swallowed every drop of my nut.
This is part 3 of Mom Washes Hurt Son, this series stars Helena Price. this is a POV Taboo Milf Topless Handjob Blowjob Bathtub scene.
Part 4
My mom was giving me a bath like normal and like normal she noticed i had a hard on and so she started taking take of it. after a couple of minutes of mom sucking my dick i told her my legs were getting shaky and i asked if we could maybe lay down on a bed. after a few more minutes of her sucking me off i told her i wasn't close to cumming and asked if there was anything else we could do. she seemed a little nervous so i just pushed my luck and asked for sex. to my surprise she agreed, my beautiful mommy let me cum deep in her pussy!
This is part 4 of Mom Washes Hurt Son, this series stars Helena Price. this is a POV Taboo Milf Cheating Bath Sex Scene.
TABOO, MILF, CHEATING, POV, CFNM, BATHTUB FETISH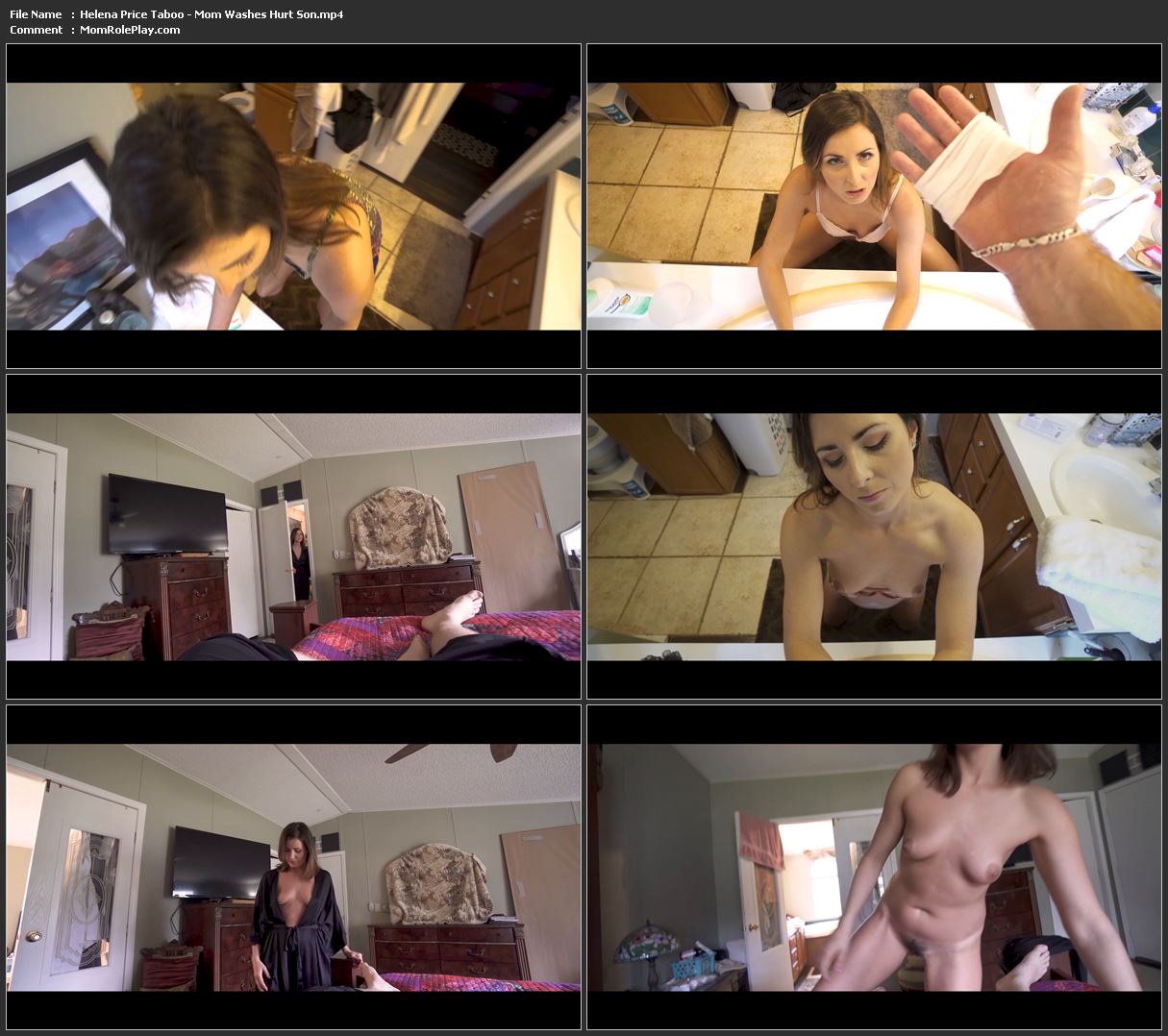 Download Files :
Helena Price Taboo – Mom Washes Hurt Son.mp4