Cadence Lux walks in to find love letters from her lesbian lover Kenna James. When she sees Kenna sitting on the couch, Kenna offers her one of two gifts; a lollipop, or something hidden in her other hand. Cadence takes what's hidden, and is surprised with an engagement ring. Cadence accepts the ring, but is adamant about meeting Kenna's parents. Kenna reminds her that her family is overbearing, but regardless, Cadence has to meet her parents before they say the words 'I Do.'
Kenna arranges a Mother's Day get together with her stepmoms Dana DeArmond and Katie Morgan. Her anxiety increases, wishing they can leave before it's too late. Cadence is introduced to her future in-laws. However, Dana becomes condescending and questions Cadence's loyalty to Kenna. To make matters worse, Dana grabs a lie detector test, wraps it around Cadence and interrogates her about her lesbianism. Cadence flunks the polygraph by denying any attraction towards Katie and with Kenna fed up with their shenanigans, demands an end to this game. But, the fun is only just about to begin, Katie grabs Cadence and kisses her sensually and demands she show how much of a real lesbian she is.
Kenna watches in disgust as Katie spreads her legs apart and orders Cadence to eat her juicy pussy. Cadence opens her mouth and doing what she's told, makes Katie moan and orgasm all while Dana is holding Kenna back forcing her to watch. Dana takes her daughter's clothes off to engage in a lesbian foursome pleasing one another systematically. One by one, they take turns sucking each other's boobs and pussy lips in a lesbian chain of pure sapphic euphoria. Cadence is still utterly shocked that this is happening but didn't stop Dana from finger fucking her pussy and making her squirt effortlessly, making this an intense lesbian mother-daughter orgy she will never forget!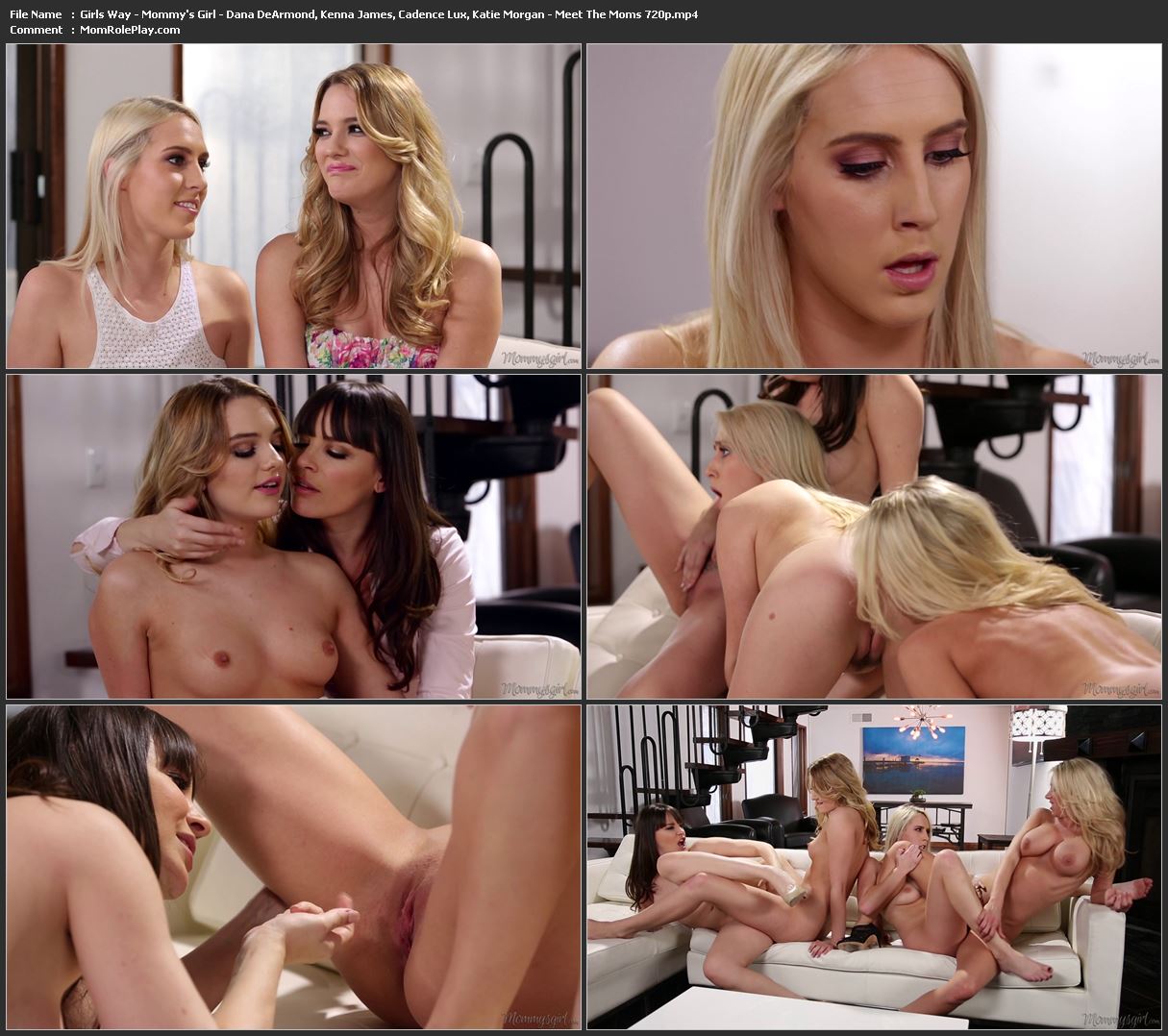 Download Files :
Girls Way – Mommy's Girl – Dana DeArmond, Kenna James, Cadence Lux, Katie Morgan – Meet The Moms 720p.mp4