Dana DeArmond settles in for the night, cleansing her face observing herself in the mirror fascinated by her vitality and youth. But Dana didn't know what was going on in the other room, until she heard Jade Nile moan from enjoyment. She hushed Adriana Chechik from being too loud knowing the consequences of being caught. Jade and Adriana didn't realize the severity of defying their mother by engaging in sexual pleasures even though they knew this was strictly prohibited and the punishment would be firm and immediately dealt with.
Dana watched her twin daughters in shock licking one another's naked bodies, moaning from being so wet from their sexual escapade. Dana's rage and jealousy burst out all at once seizing all activity to a stop leaving the twins panic-stricken. Jade puts all the blame on Adriana, apologizing to her mother saying this was not her fault but her sisters. Dana scolds the girls regardless of who started it first. The girls deserved to be punished. And if the girls wanted to share one another, they weren't going to leave their dear mother behind. After all, Dana took them in when they needed help, she provided them with food and shelter and most importantly, a mother's love. Dana had to make this mess right, so they could become one happy family again.
Dana grabs both girls by the hair, demanding they show her how much they love to kiss. Adriana was transparent showing uneasiness towards the situation but she wasn't expecting what Dana had in store. Dana introduces her to the 'punishment stick', a massive strap on dildo ready to be used on their sinful pussies. Both Adriana and Jade lick the dildo by order of their mother, waiting to see who will have their turn first. Jade sucked her mother's cock vigorously, deep throating it apologizing to Dana for being such a bad girl. But Adriana was going to get the cock first, since she was the naughtier of the two. Jade pleads with her mother, wanting to be the first one to punished since she was a bad girl too, but Dana just made her watch and suffer as her sister was being plowed. Wearing her out, Dana instructs the twins it was time for bed all falling asleep together. But Jade couldn't sleep; she had too many things going on in her head. No matter how many times and how many girls came into the house, none of them were the same and she had to escape from her mother's grasp and she had to take Adriana with her. Not even picking up any of their things, they just ran, ran as far away as they could from their mother. But will they get caught? Find out more!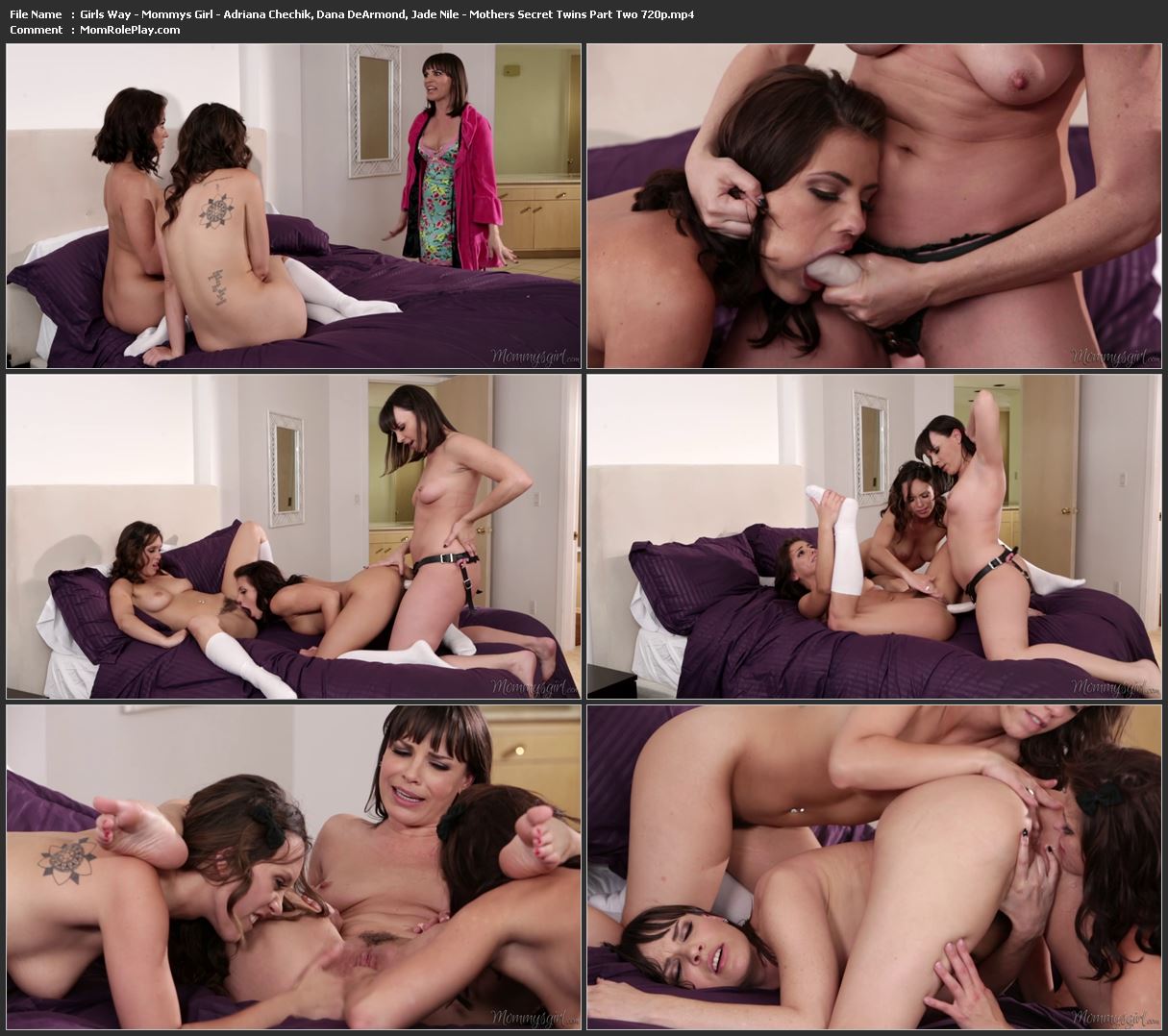 Download Files :
Girls Way – Mommys Girl – Adriana Chechik, Dana DeArmond, Jade Nile – Mothers Secret Twins Part Two 720p.mp4