After a night out with her friends, Mom drunkenly slammed down onto your bed. "Hey baby," she slurred obnoxiously, a big smile on her face. "How was your night? Oh, I'm sorry…were you trying to sleep? I just wanted to come in and check on you and see how you were doing…"
"I know I was being a super bad mom by letting you stay in the house all by yourself tonight," she rambled, "but Mommy needed to go out and have some fun with her friends." Her hand caressed your face and she pinched your cheeks, "Aww…you're so cute. You're growing up to be such a handsome boy! Do you know how handsome you are?!"
Mom started rubbing your chest, then sat up and puckered her red lips. "Oh my sweet baby boy, why don't you give Mom a little kiss?" her warm breath hit your face and you shoved her away. "Don't push me away! You used to give Mommy goodnight kisses, morning kisses, and good-bye kisses all the time…come on, give Mommy a little kiss. Oh, you think you're getting too old and grown up for kisses?"
"Yeah, you're feeling really grown-up, aren't you?" she smiled devilishly as her hand brushed against your cock. "Did you just bat me away? Mommy's just having a little touch…just a little touch. Mommy might have had…a few too many glasses of wine. Can I just sleep in your bed with you?"
She continued to drunkenly rant as her hands explored your body. "Oh, you look uncomfortable…I feel like…you got a little chub going on. Don't push Mommy away…" She was sloppy as she stripped down, giggling and smiling stupidly as her head spun from the wine.
"How about you touch Mommy's titties?" she slurred. "Look, Mommy got a new bra…" She shook her tits in you face, then insisted that you touch them. She went on to tell you about how lonely she had been, and all she wanted was to be touched.
Her hand wrapped around your stiff cock, and she could see the red on your cheeks from blushing. Eventually her warm, wet mouth would bob up and down on it, and she would beg for your throbbing cock inside of her. Her moans would be wild and loud, and after the two you came, she'd ask if she could lie in bed with you.
"Don't worry, there's room for us to snuggle together…" she'd tell you with a warm smile. "Good boy." A few seconds later, she'd be fast asleep. What would she think when she woke up?Would she even remember what happened?
TABOO, MOMMAS BOY, MILF, DRINKING, OLDER WOMAN / YOUNGER MAN, VIRTUAL SEX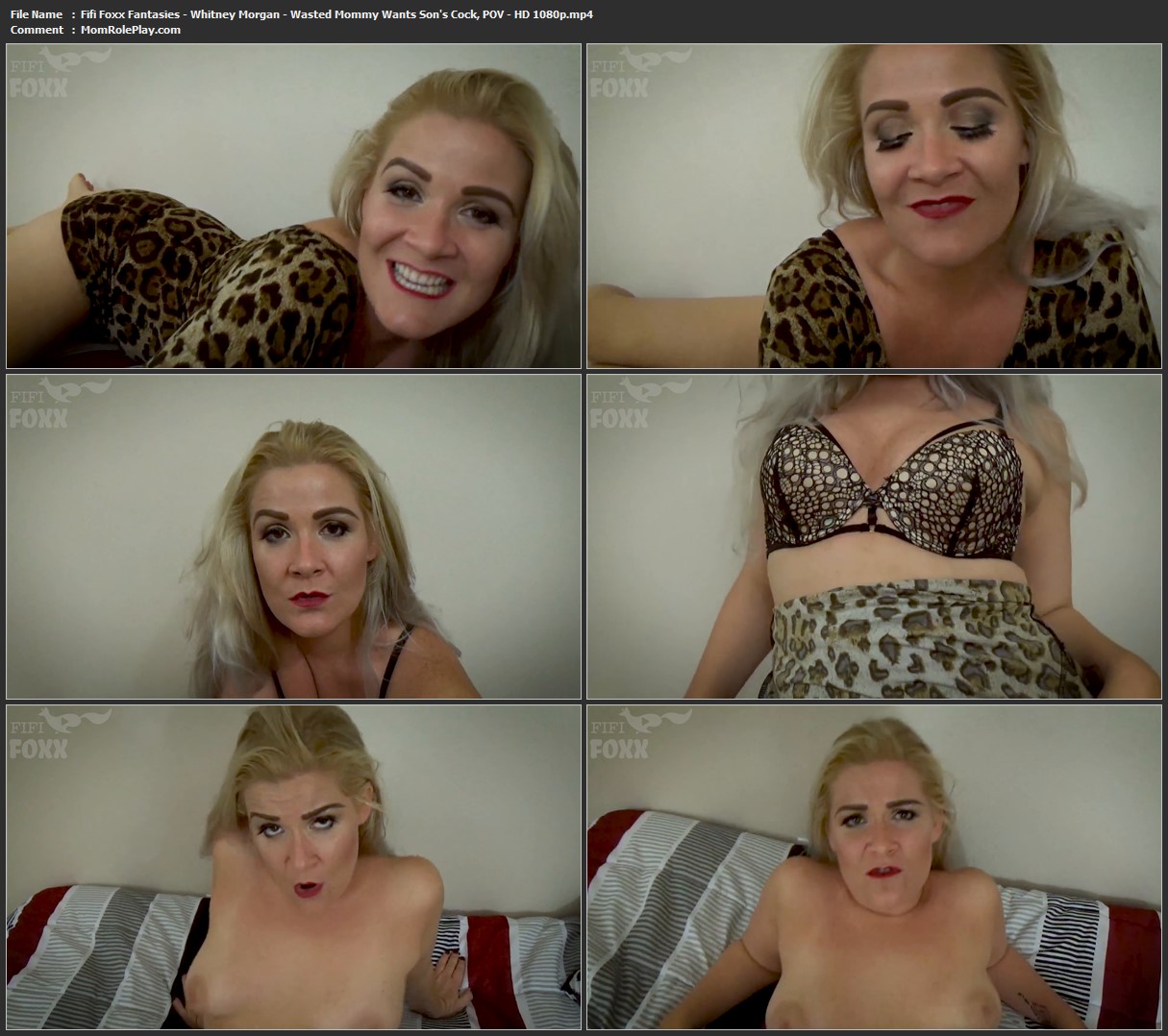 Download Files :
Fifi Foxx Fantasies – Whitney Morgan – Wasted Mommy Wants Son's Cock, POV – HD 1080p.mp4