It was the perfect time to test out your new remote control. Your mom and aunt had been talking in the bedroom when you walked in with a big, confident grin. "Oh hey honey, how are you doing today?" Mom greeted you with a warm smile. "Whatchu got?"
You showed off your latest invention, which your aunt mistook for a TV controller, but Mom was thrilled. "Oh no, he loves to do these silly, little inventions. He's going to be my mad scientist. He's won first place in the science fair every single year," she bragged to her sister.
You demonstrated how it worked by pressing a button on the controller, which caused Mom and Auntie to say naughty, filthy things immediately. "I want to suck your dick," Auntie said seductively, then gasped in horror at what she had just said. "What just happened?" Mom's eyes widened in disbelief and she shoved her sister, "Don't say those things to my son!" But even Mom couldn't control herself – she ranted on and on about how much she wanted your cock, then realized that she had been doing it, too.
"No, no, no!" they both yelled when they saw you bring out the control again. This time you had them do a sexy, little striptease for you. "Why am I moving? I can't control myself…I don't know what's going on," Auntie panicked. "He's…he's getting better with his inventions…" Mom lifted her shirt and groped her tits. They shouted at you about how inappropriate this was, and how you'd be grounded the moment they regained control, but you weren't worried.
"This is humiliating," Mom said as she danced provocatively and began spanking her butt. You continued to watch as they put on a very unwilling show for you, then hit another button. They fell to their knees and started masturbating right in front of you. They moaned, actually enjoying themselves, which made the situation even more mortifying for them.
And things only progressed from there. You had a throbbing erection, and you were going to make sure Mom and Auntie took care of it. You'd hit another button for them to give you a double handjob, then another for a double blowjob. "I don't want to stroke it!" Auntie yelled. "What is wrong with you?!" Mom was appalled at how hard you were from family members touching your cock. "Do you know what this is? This is inc*st. A mother should not be stroking her son's penis!" Mom explained.
But soon it'd be in their mouths…then inside their tight, mature pussies. After hitting a button to get them to lie back, you tried to decide who to fuck first – your aunt. The both of them were stuck in the positions they were in, and there was no fighting you as you fucked them. "Get out of your mother!" Auntie screamed as she watched you thrust in and out of her sister. "She doesn't want to have sex with you! Stop torturing your mother and me!"
"No means no!" Mom yelled. When you had orgasmed, you left the two there as they threatened to take your remote. You knew they couldn't move until you let them, so you gave them a cocky wave good-bye and left them there naked, spread, and exposed – your mother's pussy full of your cum.
MAGIC CONTROL, FEMALE TRAINING, WOMAN FOLLOWING ORDERS, TABOO, VIRTUAL SEX, ROBOTS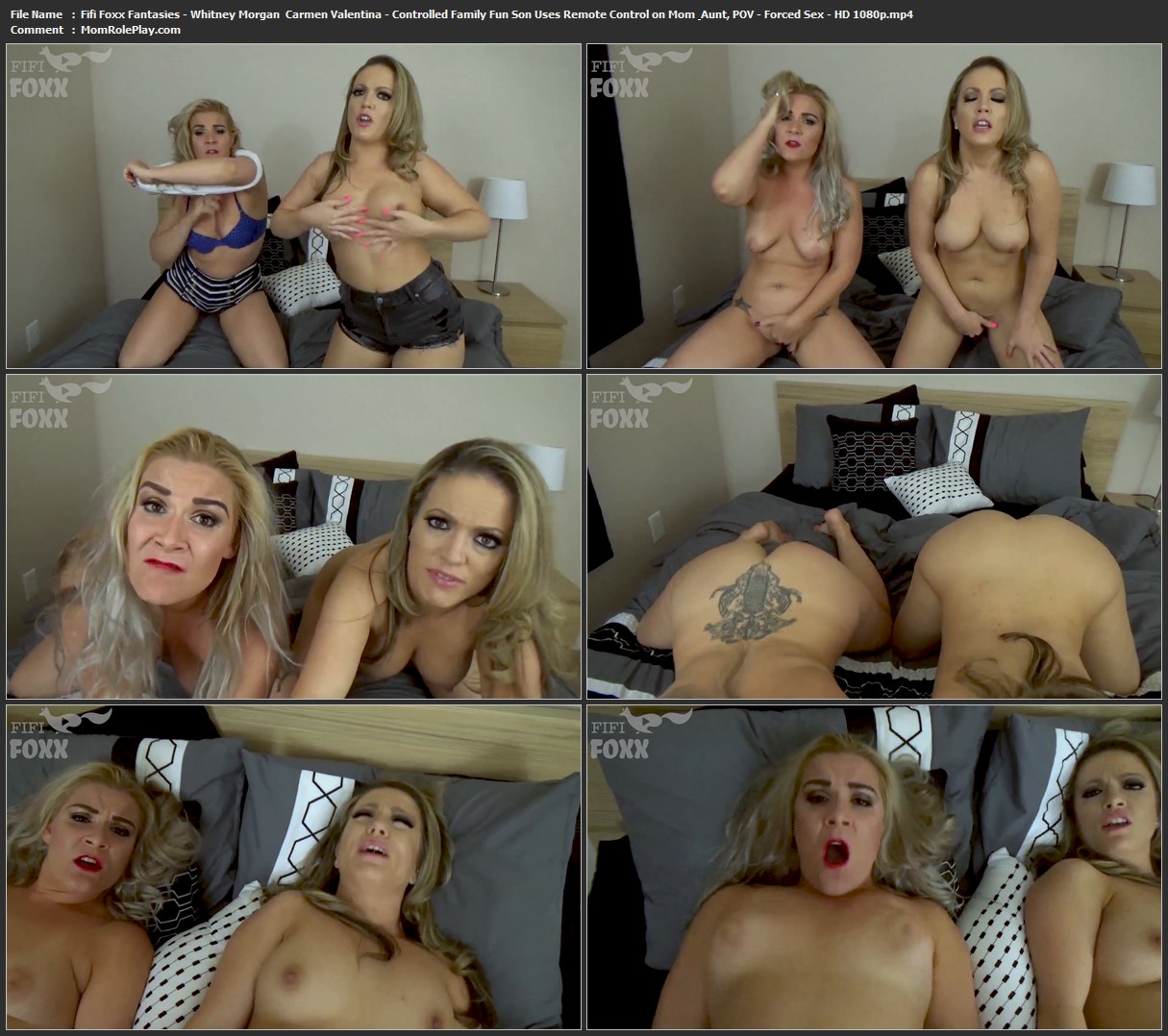 Download Files :
Fifi Foxx Fantasies – Whitney Morgan & Carmen Valentina – Controlled Family Fun Son Uses Remote Control on Mom & Aunt, POV – Forced Sex – HD 1080p.mp4