A very extreme family clip…not for the faint of heart! Now, if you're ready to learn how to pleasure your step-mother, let's continue…
"Welcome, young man, please stand over here," Ms. Paige greeted you with a strict tone. "So, welcome to our boarding school, I hope your intake went well. Have you filled out all of your forms? Have you also picked up your books? Excellent."
"This is a place where step-mothers send their young sons…" she began to explain, "so they can learn how to make them happy." Because your step-mother gave birth to you, provided you with a home, kept you safe, happy, and healthy your entire life, it was time for you to reciprocate that love.
"In all of the ways you need to keep your step-mother happy, you, of course, need to be doing your chores," she continued. "Be sure you're doing your homework and bringing home good grades, do things without being asked." This also meant not spending too much time playing video games or hanging out with friends.
Ms. Paige explained that step-mothers had emotional, mental, and physical needs. If Step-Mom was sad, you'd need to learn how to speak to her with empathy or with sympathy, given the situation. If she was angry, you'd need to be there for her.
She may have problems she needs to solve, or perhaps she just needs mental stimulation – you'd need to be able to step up and help her. "That's what the academic program is for," the instructor said. "But the reason you're here, and what our most intensive training courses are for, are for her needs physically – her needs as a woman. In easier terms, it's her sexual needs."
Just like men, women got sexually frustrated, and if those needs weren't taken care of, they could affect her mental state as well. "So, we will be learning how to satisfy your step-mother sexually," Ms. Paige continued, "and I'll be your tutor for this." Not only would this training help with satisfying your step-mother, but as an added bonus, it would prepare you for any interactions with women in the future.
"Sex is typically back and forth, but in this school and at home, you'll only be satisfying your step-mother," she told you. "It's only for her gratification. If you want to go jerk off later, that's up to you, that's cool, that's whatever, but this class is for you to satisfy her."
First, you'd start off by asking your step-mother if her needs were being met, how she was feeling physically, if she was feeling sexy. "She will communicate her needs to you," Ms. Paige said, "she is a grown woman. Your step-mother knows how to communicate with you."
Then you'd begin with some light, sensual foreplay. You'd caress your step-mother's face, run your hands through her hair, nuzzle her neck and ears, then kiss her passionately. Ms. Paige would guide you through an intense training course on how to make your step-mother feel beautiful and appreciated, and most importantly, on how to satisfy her every need. And to help you get in the right mindset, you'd be referring to and pretending that Ms. Paige was your step-mother.
TABOO, OLDER WOMAN / YOUNGER MAN, MILF, VIRTUAL SEX, TEACHER FETISH, MOMMAS BOY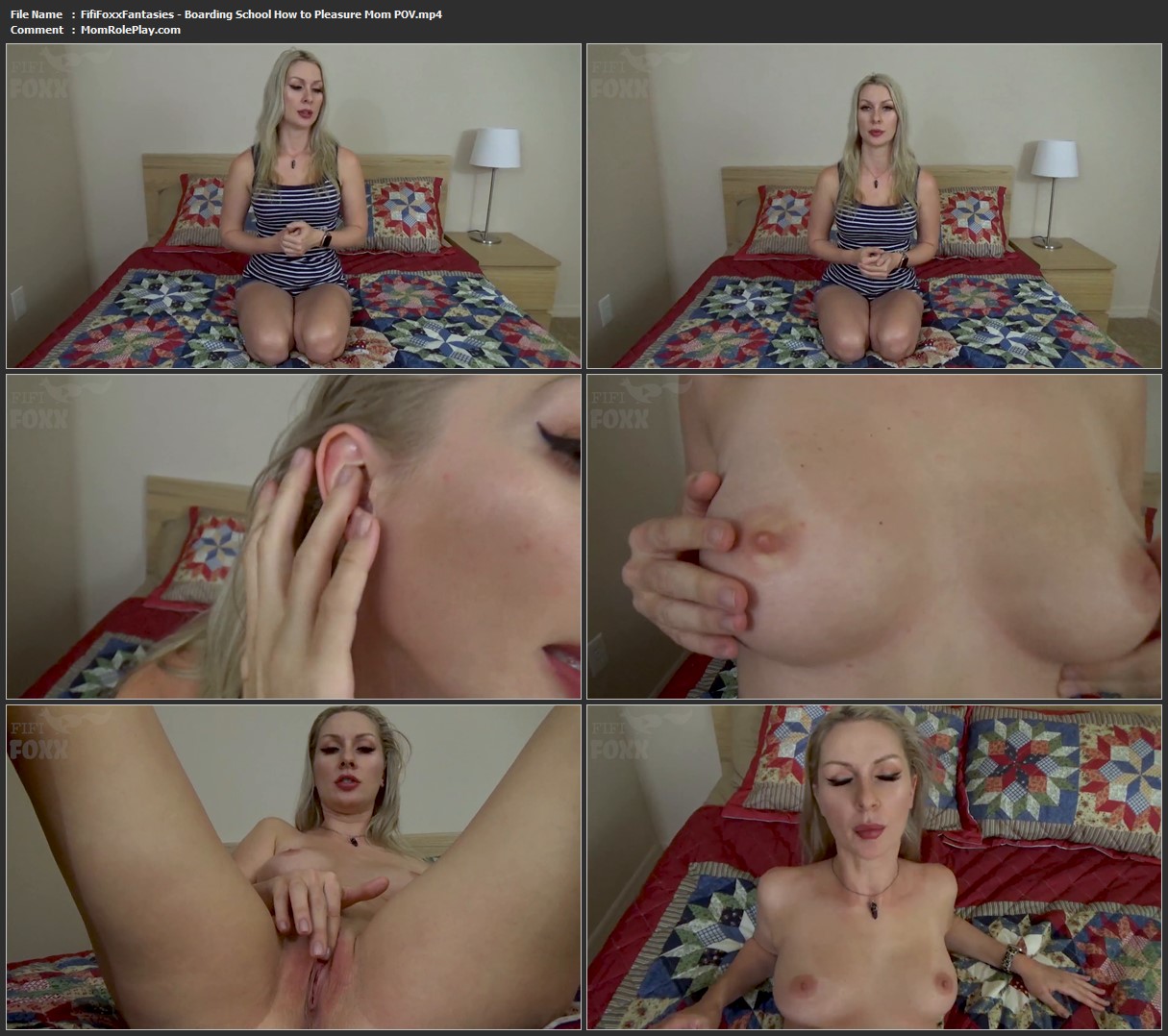 Download Files :
FifiFoxxFantasies – Boarding School How to Pleasure Mom POV.mp4