"Well, I guess dinner is almost ready," Mom began to say, "and I think your father is going to end up working late again tonight." The two of you sat at the dinner table, and you admired your beautiful, different shaped crystals.
"What are you playing with?" she asked. "Is that what you got in the mail today?" They radiated and glowed in your hand, and even Mom couldn't deny that they were pretty. You raised a crystal up to her face and gently swung it from side to side as her eyes followed its captivating beauty.
"I am yours, I am your obedient slave. I'm useless, I'm your cum dumpster…I live for your cum – that's all I'm good for…is taking all of your cum. I am your breeding whore," she repeated as the magic object moved in front of her. Once she was locked in the trance, you snapped your fingers, and her eyes widened. "Well sweetie, listen…dinner's going to be ready any minute now…" she started to say, "no, no, no…before you go to wash up for dinner, I really need your cum."
Mom was impatient, obsessed, rushed…to get her hands, mouth, and pussy around your cock. She didn't care about anything else…she couldn't think of anything else until she was filled with your seed. "Just let me taste it," she begged, reassuring you that Dad wouldn't be back for a while. "Just let me help you get to that point if you're not ready yet."
She started to undress in front of you, revealing her beautiful, perky tits, and then pulled out your hard cock from your pants."It's all that I want…just let me undo your pants and jerk you off a little bit," she purred hurriedly wrapping her hand around it. "Isn't that what you want? Feels good, doesn't it? I'm getting you nice and hard for Mommy, so you can give her all of that cum."
Mom got down onto her knees and put your cock inside her mouth. She begged and begged for your seed deep inside of her, then got on top of the table, pulled her panties to the side, and masturbated in front of you. She was so uncontrollably horny that she couldn't help but pleasure herself.
"You wanna make me your cum dumpster, don't you?" she said her fingers wildly circling her clit. "You wanna fill me with all that hot, sticky cum, don't you? Will you, please? For Mommy? Please just give me all of your cum. I need it so bad."
With a throbbing, hard cock, you pushed yourself inside of Mom, and she moaned loudly. She was acting like a sex maniac, brainwashed to be nothing but your breeding whore. "Please," she said in-between breaths, "oh no, no…don't tease me like that. Please give me that cum! I want to feel it!"
Her pussy dripped with your enormous load. "Look at your little breeding whore – that's all I'm good for. Just your little cum dumpster…I love the way you impregnated me like that." With just a snap of the fingers, Mom would be back to normal. Only you would know what really happened – that you had impregnated Mom, and she was carrying your baby….
MAGIC CONTROL, IMPREGNATION FANTASY, TABOO, FEMALE TRAINING, VIRTUAL SEX, SUBMISSIVE SLUTS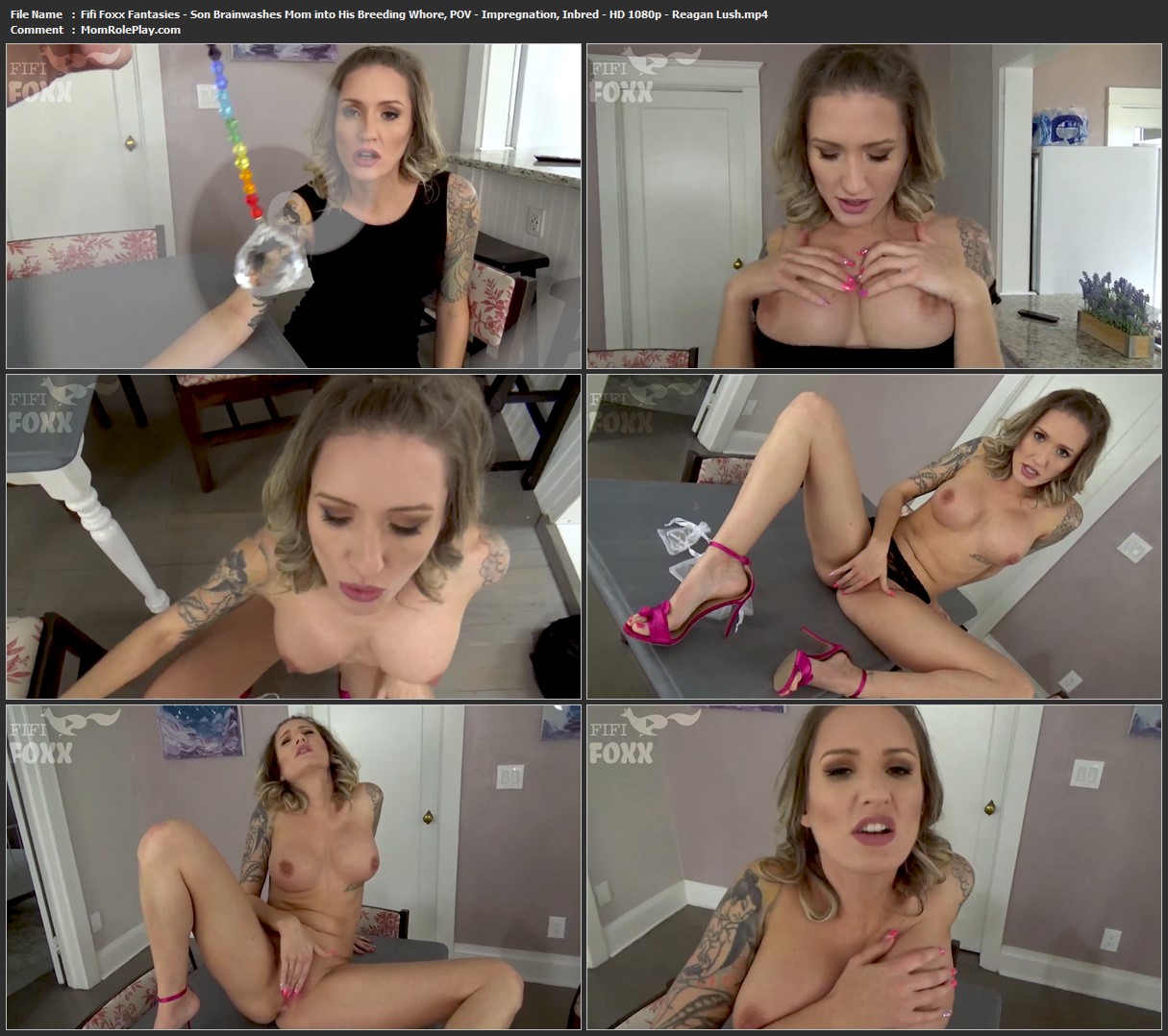 Download Files :
Fifi Foxx Fantasies – Son Brainwashes Mom into His Breeding Whore, POV – Impregnation, Inbred – HD 1080p – Reagan Lush.mp4