Warning: this is an extreme clip.
You were furious. You stormed into Mom's room screaming at the top of your lungs. "Can you…" she gave you a serious look, "stop yelling at me!" She was talking on the phone, but because you were causing such a scene, she had to hang up.
"Calm down!" she said sternly. "Excuse you, young man! What exactly is the problem? Slow down, slow down." You explained that you had went into your room to see that your favorite action figures were gone. "You're mad that I threw away your little dolls? Yeah, I threw them away," she argued, "how old are you now? You are way too to be playing with dolls!"
It was obvious that Mom didn't understand what they had meant to you, and it only infuriated you more when she called them "dolls." She rambled on about how you should go meet other people instead of playing with toys – that it was time for you to "grow up." She stood up to walk past you, and that's when you decided to fight back – you'd make sure she'd never throw away another one of your toys, that she'd never disrespect you again.
You slammed her against the wall, your hand against her throat, and she gave you a terrified look. "What are you…what are you doing? Stop it!" she panicked with wide eyes. "Get your hands off of me – I am your mother! Do not touch me like that, I don't like it. I know that you're mad, but let me go."
Not a chance in hell. She wanted you to interact with other people? Grow up? Okay, fine. You groped her big, perky tits and she cried…even begged you to stop. "Don't grab me there!" she pulled back to button her shirt up. "No…you've made me really uncomfortable. Stop it!"
Things only got worse for her. You pulled up her black skirt, rubbed your fingers against her panties, then began to strip her down. She tried to fight you off, but didn't stand a chance since she was weaker than you. "Don't take my panties off," she said desperately. "I'm sorry, I'm sorry that I upset you…don't-don't do that…" Her pretty, pink pussy was exposed now, and you rammed your fingers inside, then swirled your wet, warm tongue against her clit.
You wrapped your hand around her neck to throw her down on the bed, then penetrated her hole. "Please stop…" she cried, "you don't know what you're doing. Please don't cum in me." Even though poor Mommy didn't want this…you could feel her pussy was wet around your cock. "No, sweetie…no…don't do it, don't do it…please don't cum in me!" But the both of you knew you were going to do it.
"Please just let me go…I won't even tell your father about this," she looked up at you with exhausted, sad eyes, her pussy full of your seed. You patted her on the cheek as a sarcastic way to comfort her, then watched as she quickly gathered her clothes and began to get dressed.
TABOO, MOMMAS BOY, OLDER WOMAN / YOUNGER MAN, VIRTUAL SEX, MILF, FORCED STRIPPING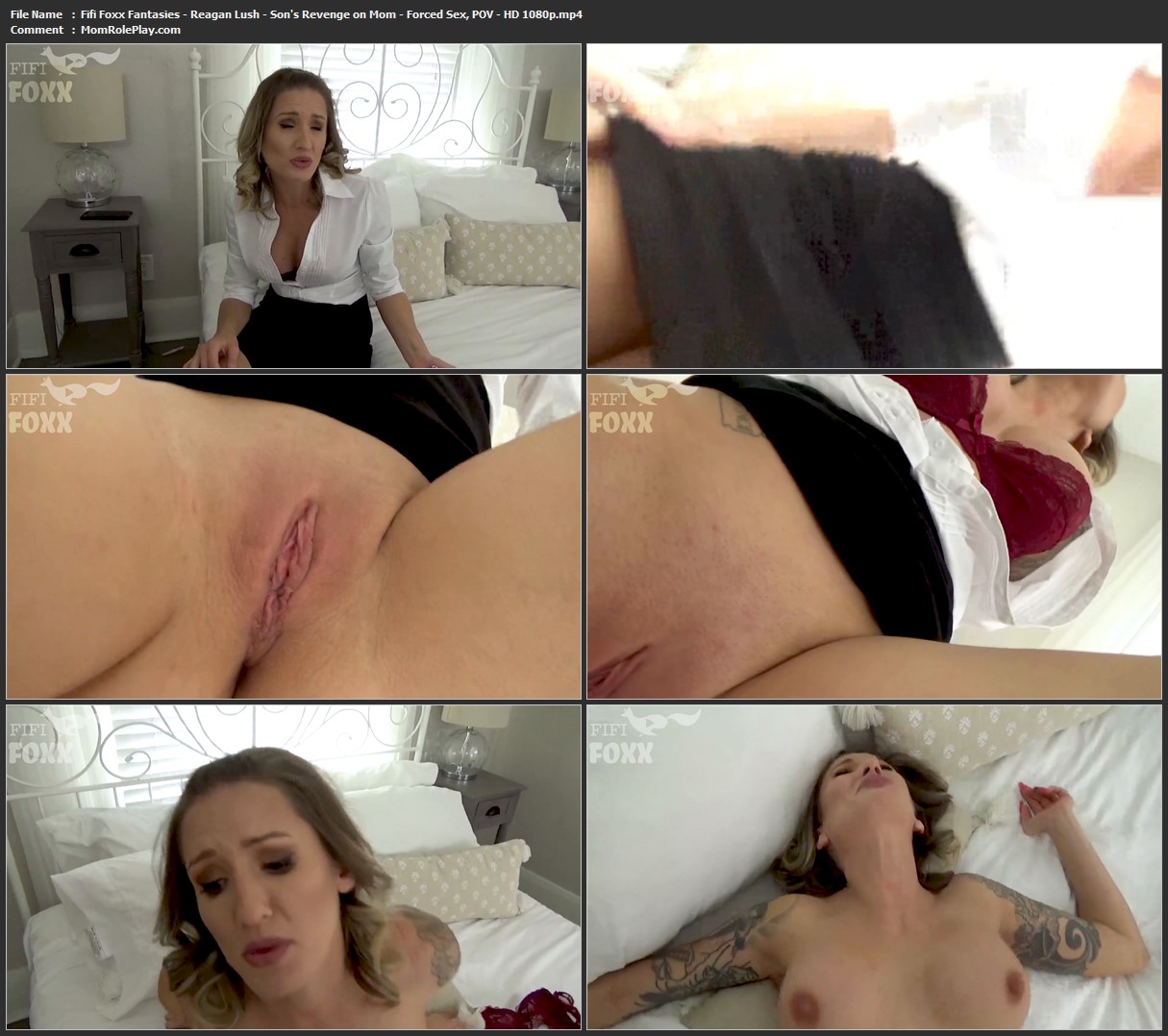 Download Files :
Fifi Foxx Fantasies – Reagan Lush – Son's Revenge on Mom – Forced Sex, POV – HD 1080p.mp4