Mom examined her body in the new, lacy lingerie she had purchased and let out a sad sigh. "Oh hi," she looked up to see you. "Yeah, Mommy's not feeling too good right now." It was obvious that something was wrong, and she hesitated to tell you what it was.
Mom had lost her confidence a while ago. Because Dad hadn't paid any special attention to her for a while, she didn't feel attractive anymore. So, she went out to buy some sexy lingerie, but he didn't notice that either. "I'm…I'm trying not to be upset by it, but I really am," she struggled to say. "I shouldn't be talking to you about this."
"Why?" her eyes widened. "Well, because I'm your mom and you're not supposed to have to worry about this…but you're such a good listener, and you always have been, and I love that about you." You could tell Mom needed someone to talk to. But more importantly, she needed someone to tell her she was beautiful, and someone to show her that she was loved and appreciated.
"And I went out and bought pretty underwear, and I thought it looked good…" she confided in you, "but he didn't even notice. And now I'm sitting here crying to my son in my lingerie that nobody's gonna see, nobody's ever going to take off of me."
"You think I'm pretty?" Mom was shocked by the compliment. "Do you still think Mommy looks good? I know there are such pretty girls your age…and they've got such gorgeous bodies, and well…I've had babies." She explained that she used to have such perky, firm tits, but over the years, her once fit, tight body had disappeared.
You complimented her tits, even asking to touch them, and she was flattered. You knew what you'd do to cheer her up, to make her feel more beautiful than ever. "You wanna see the underwear?" she replied. She stood up and stripped out of her lingerie, then showed off her mature body in her sexy panties. "Thank you, honey…" she said softly, "do you wanna see what a real woman's private parts look like? Have you ever seen a woman's private parts before? No?"
You had only see girls in videos online. But now Mom had spread her legs and exposed her bare, pink pussy to you. "I even shaved for Daddy and he didn't notice," she said, her fingers rubbing softly against her lips. "Do you wanna kiss it?"
Mom desperately needed to be touched – she needed to feel good again. Soon, she was absorbed in pleasure as the two of you shared your bodies with one another. "It feels so good," she moaned. "Do you think you can cum in Mommy? Okay, fuck me hard and cum for me…"
"It's been so long…" Mom purred. "Thank you. Give Mommy a kiss." She finally felt like herself again, and she was glowing with a natural, undeniable beauty.
TABOO, MOMMAS BOY, OLDER WOMAN / YOUNGER MAN, MILF, MATURE, VIRTUAL SEX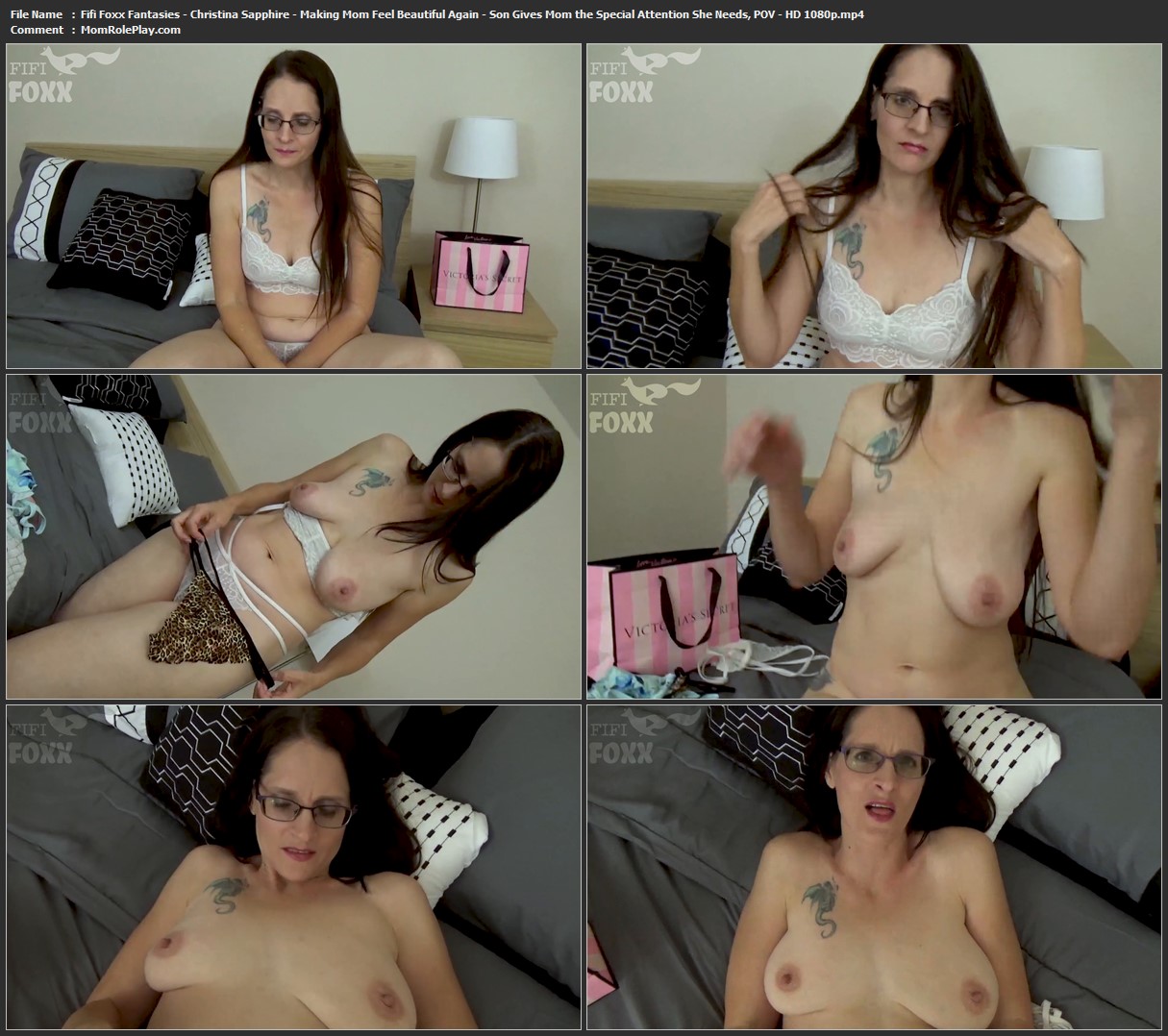 Download Files :
Fifi Foxx Fantasies – Christina Sapphire – Making Mom Feel Beautiful Again – Son Gives Mom the Special Attention She Needs, POV – HD 1080p.mp4