When Mom came in to tidy up your room, she always made sure to do a thorough inspection of the place. She looked underneath the pillows, then opened your wooden drawers, and to her surprise, found a beautiful gift-box. "What's this?" she asked curiously as she lifted the lid.
"Oh my god, cute!" she smiled examining the bulky, shiny ring. "He must be dating some girl. I wonder who he's going to give this to." Just then, you had entered your bedroom and caught Mom looking at the ring. "Ohhh…hey honey, I was just going through your room to see if there was anything bad in here…" she said, "I was just being a good Mom…and then I saw this ring, and the cute, little box. Are you dating a girl? You can tell me."
You shied away from giving her any details about why you had it, which only intrigued her more, and she slipped it onto her finger. "She's going to love it…whoever you give it to," she said looking at it. The crystal ring began to glow and hum, and Mom's hands moved up and down her body uncontrollably. "What's…going on?" she said in disbelief. "What kinda ring is this? Why can I not control my body anymore? Where did you get this ring? Can you take this off of me?!"
Her body stood up, and she started to freak out as she struggled to get the ring off. "Why won't it come off of me?!" Mom yelled. "Why are you watching? Why aren't you doing anything?" Her hands continued to move along her gorgeous body, now groping and stripping her down for her son to see. Her perky tits were bare and exposed, her big butt was pushed out, and it started to bounce and twerk like it had never done before. It was as if her body was putting on a little strip show for you to enjoy.
"Why am I dancing like a stripper?!" Mom asked in utter embarrassment. Her hands played with her purple panties before taking them off, then her body threw her harshly onto the bed. "I don't like this at all!" she cried, her big booty shaking obnoxiously. "This isn't funny!" Her hips shifted up into the air in a very sultry and provocative manner, then her legs shook like a stripper trying to get tips.
She begged and begged for you to take the ring off, then threatened to ground you if you didn't. Without your help, she would dance like a little whore all night long…and you'd enjoy every second of it. Of course, the ring was never intended for her, but somehow, this was far better than what you had planned to use it for.
MAGIC CONTROL, EMBARRASSED NAKED FEMALE, TABOO, FORCED STRIPPING, FEMALE TRAINING, DANCING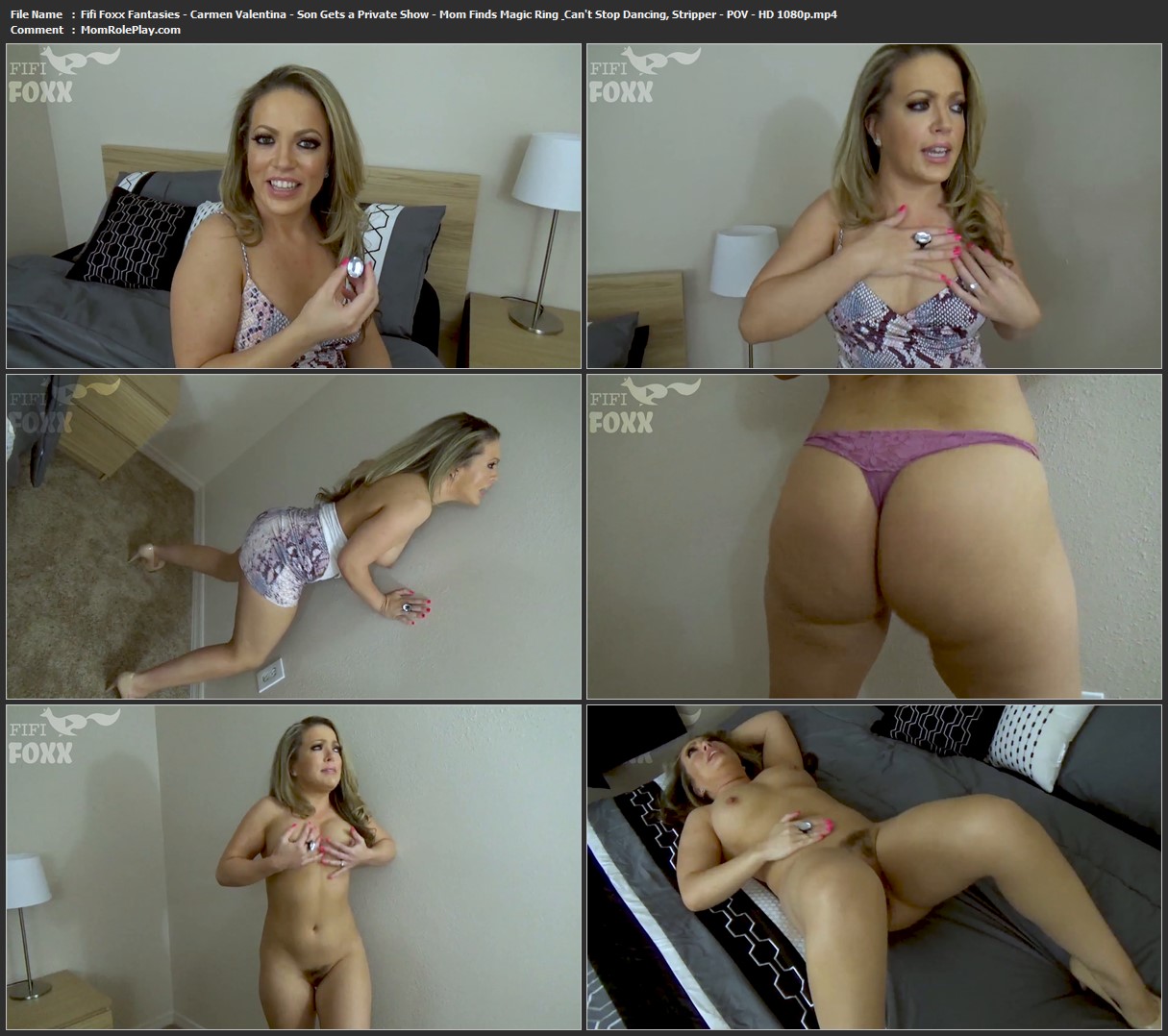 Download Files :
Fifi Foxx Fantasies – Carmen Valentina – Son Gets a Private Show – Mom Finds Magic Ring & Can't Stop Dancing, Stripper – POV – HD 1080p.mp4