Warning: this is an intense, perverted, & disturbing clip. It has been created for those who want something more than the typical family video…
Your family wasn't like anyone else's- in fact, it was more like a relationship, a threeway, a love triangle between you, your wife, and your daughter.
"We want to grow the family so there's more of us to love," your wife began to say, her hands brushing against Akira's soft legs, "and I've been telling our daughter we've been trying, but have been pretty unsuccessful…"
Your daughter had come up with the idea of impregnating her instead of your wife. "And then she can have a baby and we can help raise it and have an even bigger family," your wife smiled, then pressed her soft lips against Akira's.
Your daughter loved the thought of you making her a mother. "It's nothing different," your wife continued, "you just have to finish inside of her." It would make your family even closer. The three of you could go clothes shopping for the baby and raise it to be accepting of your loving, immoral family.
"Why don't you give Daddy a little kiss…" your wife said to your daughter, "let's warm him up. We want to see Daddy all nice and happy and big down there." The two of them shared your cock, stroking it and sucking it to get you throbbing hard. They knew how much you loved watching them play together, so they sucked one another's nipples and made-out in front of you.
You started with your wife, thrusting your hard cock in and out of her tight hole, then moved over to your daughter. "Honey, give her all of that cum…" your wife purred, "every last drop. Get our baby girl pregnant. I know you wanna see her grow a big belly…make her a mommy like me."
You exploded inside your daughter's pussy, and your wife kissed her passionately. "Try not to let it spill out," your wife quickly said, "put those legs up! I know, Daddy had a big load!" This would be the start to an even bigger, perverted, immoral family.
TABOO, IMPREGNATION FANTASY, DADDYS GIRL, OLDER MEN / YOUNGER WOMEN, BREEDING, OLDER WOMAN / YOUNGER WOMEN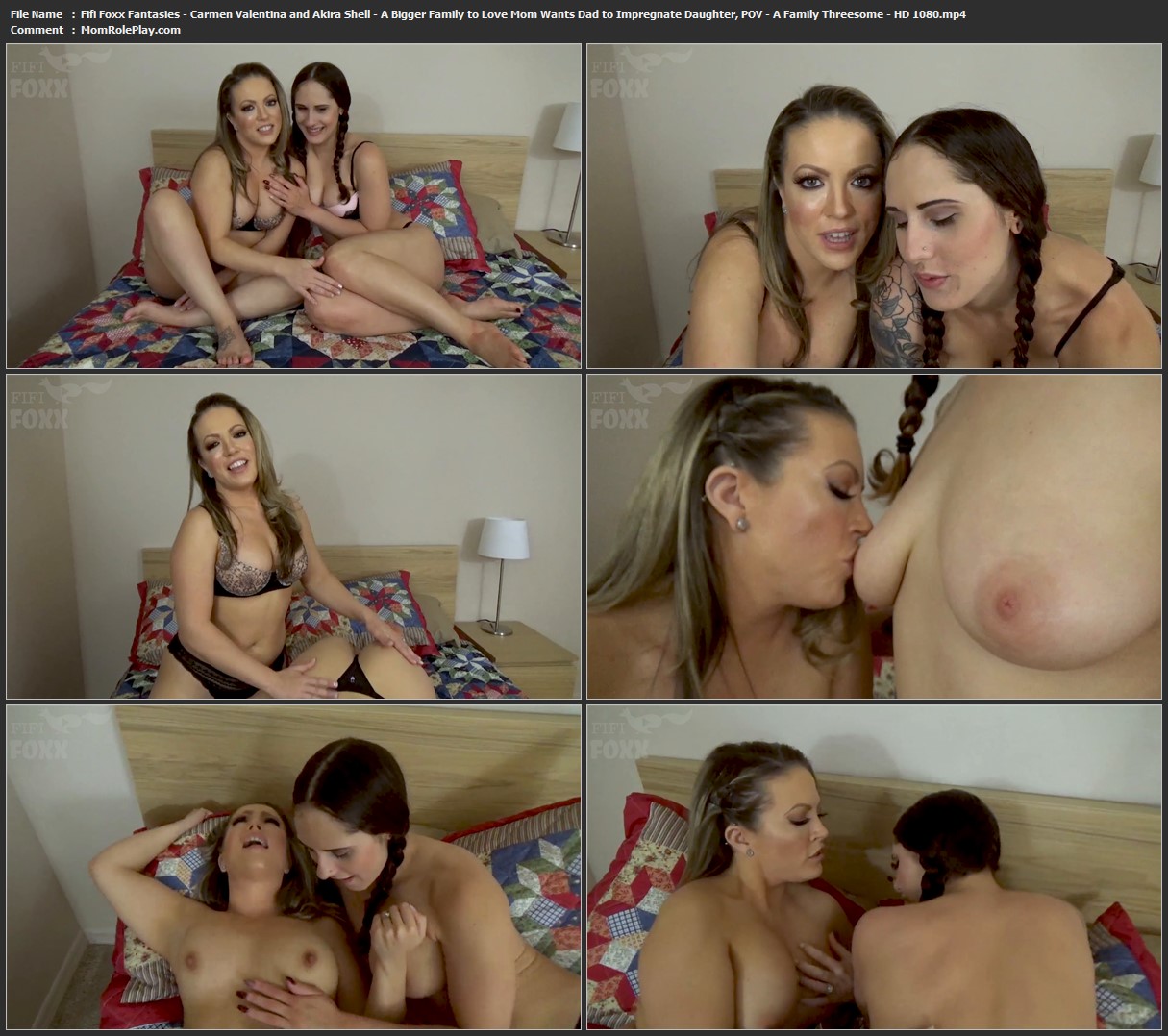 Download Files :
Fifi Foxx Fantasies – Carmen Valentina and Akira Shell – A Bigger Family to Love Mom Wants Dad to Impregnate Daughter, POV – A Family Threesome – HD 1080.mp4