A full family experience…
"I'm going to teach you some sex education," Mom said bluntly after pulling you and your sister into her bedroom, "like the birds and the bees." Since you two were getting older, Mom figured it was the perfect time to talk about this, and that it would make for an even better learning experience to have you guys practice on one another.
"Your brother has to know, too…you guys are like the same age," Mom replied to your sister's over-dramatic sigh. "I know the teacher at school isn't going to teach you properly, or they're going to avoid the subject altogether and say 'abstinence' when that's so unrealistic."
"No one does abstinence. You guys are young and horny, and you guys are going to have to learn eventually," Mom went on to say. "So, what better way to learn than with your family and the people you love? That way it's not embarrassing when you do it with someone outside the house, and you know what you're doing."
"What do you think about this, bro? I mean, seriously?" Anastasia turned towards you. It didn't matter what you guys thought, though, because Mom was going to make you do it anyways. She told you two to strip down so that Anastasia could see a man's body and you could see a woman's. "Don't worry, it's just a naked body," Mom comforted you and your sister. "Just think of this as an educational experience."
"This is so weird, dude," Anastasia said as you stood in front of her bare and exposed. "Now you're going to grab your brother's penis while he grabs your tits," Mom continued, "that way he knows what titties feel like." It was awkward – Anastasia was your sister, you were her brother.
Mom reassured you two it would be fine just as long as no one told anybody anything. "You guys need to know what it's like to be with the opposite sex," she told you. When your sister was hesitant, Mom got up and wrapped her own hand around your cock. "This is how you're supposed to do a handjob," Mom told Anastasia, then saw the odd look on your face. "Don't give me that look, you know you like it."
Mom then guided Anastasia into stroking your cock, and then taught you had to finger her. Mom went back and forth teaching the two of you, letting you take turns on each other – stroking, fingering, sucking, and licking each other's body parts. And it was obvious the both of you were enjoying it.
"I want you to spread open your legs," Mom told Anastasia, "and now your brother is going to come and stick his dick right in your pussy. Do you want to lose it to some weird guy that doesn't know what he's doing? You don't want to be in pain with that person outside of the house, right?" Before you stuck it in, Mom warned your sister that it was going to hurt a little bit. You slowly penetrated Anastasia's tight pussy and she let out a painful grunt.
"Not too fast yet," Mom said sternly, "you don't want to put your sister in too much pain." She instructed how to thrust in and out of Anastasia, and the two of you were really getting into it. "Don't forget to pull out," Mom told you. "Pull it out before you cum!"
But it felt too good. No matter how much Mom yelled at you, you just wanted to fill your sister's tight hole. "What is wrong with you?!" Mom yelled. "You're in big trouble! I told you not to cum in your sister." Anastasia's eyes widened in horror when she found out her pussy was filled with your cum. Mom told her not to worry because she would take her to the store to get the morning-after pill. "Don't worry, I don't want you guys to have each other's babies," Mom said.
TABOO, SEX ED, SISTERS, MOMMAS BOY, OLDER WOMAN / YOUNGER MAN, VIRTUAL SEX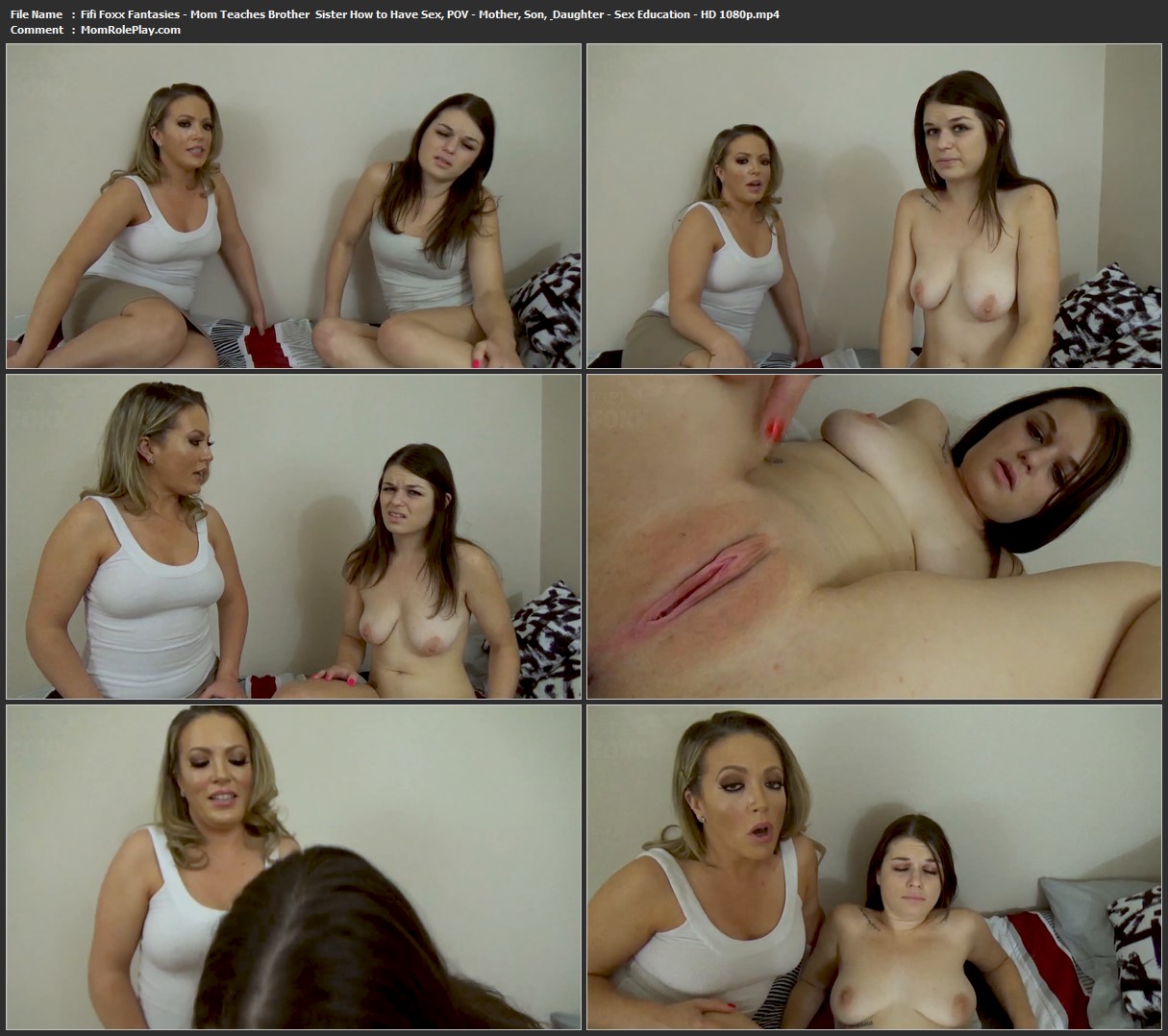 Download Files :
Fifi Foxx Fantasies – Mom Teaches Brother & Sister How to Have Sex, POV – Mother, Son, & Daughter – Sex Education – HD 1080p.mp4