"I didn't know you were watching me…" Mom smiled, "you scared me for a second!" She had been trying on different outfits for her big date later that night, and now that you were there, she wanted your opinion on what looked best. "For my date tonight, I need something that looks really good – I wanna impress this guy. I haven't gone out dating in a while, so I'm kind of nervous. Wanna tell me what dress looks good?" she asked sweetly.
She slipped into a purple dress, then turned towards the mirror to examine her figure in it. "It's feels comfortable, but is it too frumpy because it's too loose?" she asked pulling on the extra material, then shaking her hips. "Should I wear this one, honey? I like how I can move…I can go dancing, it feels good. Should I put this in the maybe category? You like this dress! Stop being so fidgety – tell me which dress looks good!"
Mom stripped down, then threw on another dress – this one a tighter fit to her body. "What do you think about this one? It hugs my body nice and tight – I think this might be it," she smiled, her hands running up and down the soft, silky material. "It shows off my boobs, I can definitely impress him."
She turned back towards the mirror, and your eyes ran up and down her gorgeous, curvy body. It became more apparent now that you were fidgeting, but that was only because you had been trying to hide the massive erection you had from watching Mom change in and out of her sexy outfits. "Honey, stop fidgeting – why are you fidgeting so much? Tell me if this looks good or not, you're being quiet. Do you like this or not? I think this is the one for the date tonight."
"Honey…what are you being fidgety?" Mom asked again, but then it hit her. "Oh…uh…you know what? I think I know why you're being fidgety. You know Mommy looks pretty – that's okay if you got a little bit of a boner. You know what, Mommy's gonna take care of it. I know every boy loves his mommy and thinks she's beautiful – it's natural, you don't have to worry about it."
She was caring and understanding, telling you that she'd take care of your issue first, then go out on her date. She wrapped her soft hand around your cock and began jerking you off. "You know you're my boy, you don't have to worry about anything. Does that feel good? We'll take care of this and you won't have to worry about it for the rest of the night," she said with a warm, comforting smile.
Mom then get on her hands and knees to blow you, then stripped down and invited you to use her wet, delicious pussy. "Stick it right there," she moaned. "Here, let me help you. Just thrust your dick up inside of me…just like that," she said in a sexy and sultry voice. "You like Mommy's tight, little pussy wrapped snug around that cock of yours? Gripping it tighter and tighter…."
Her naughty words and beautiful, mature body finally got you off, and the both of you came together. Mom blushed and thanked you for getting out all her nerves before her big date, then proceeded to get cleaned up before he arrived.
TABOO, MOMMAS BOY, OLDER WOMAN / YOUNGER MAN, MILF, VIRTUAL SEX, POV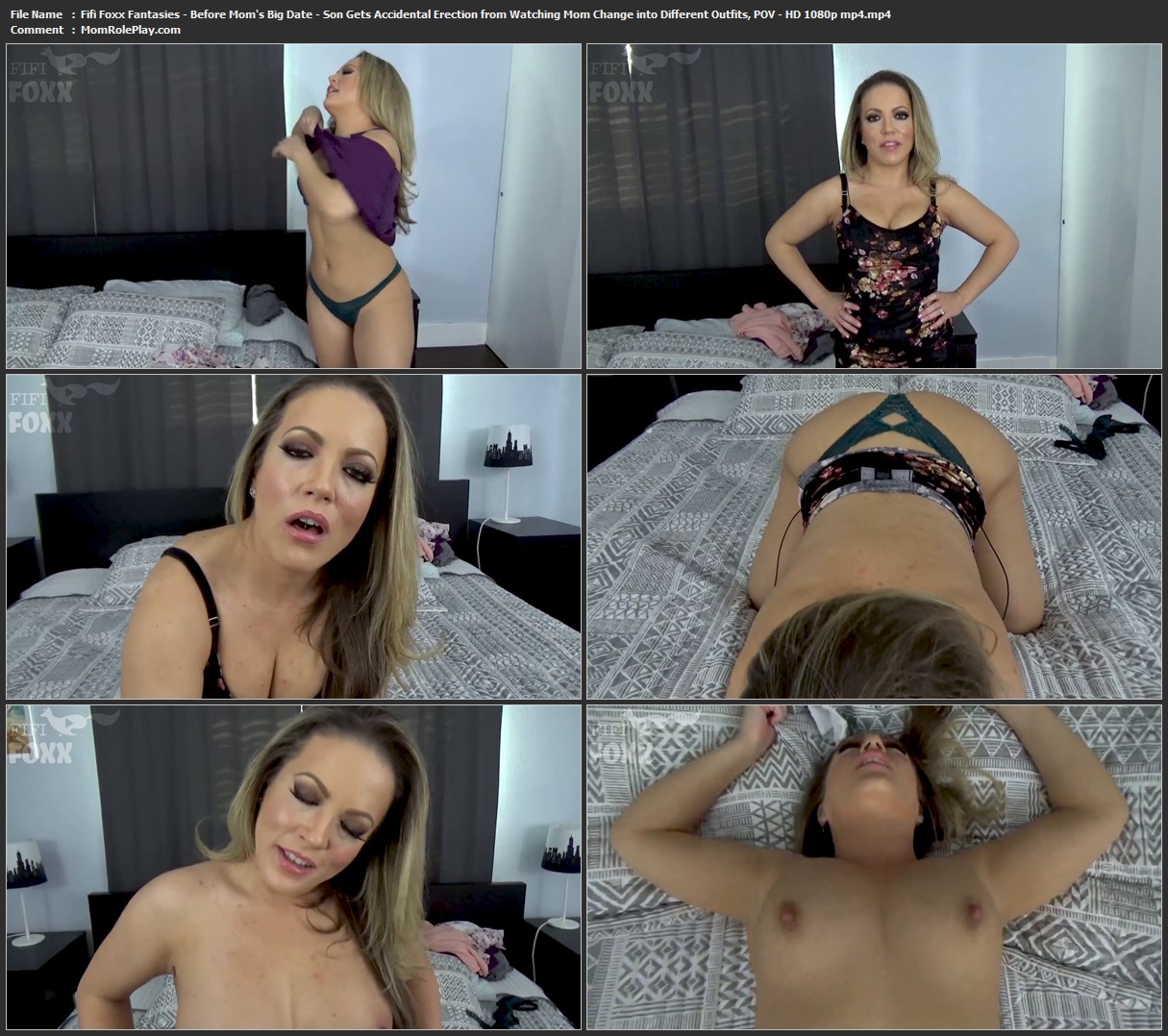 Download Files :
Fifi Foxx Fantasies – Before Mom's Big Date – Son Gets Accidental Erection from Watching Mom Change into Different Outfits, POV – HD 1080p.mp4