Our guy is working on a special chemical formula when he's annoyed by his mother telling him lunch is ready, he' too busy for lunch, orders the food brought to him by mom. Sister tucker joins mom in the kitchen, she starts talking about how his been looking at her butt lately and has bar-code tat on her ass, mom says same and shows off a bar-code tatted on her neck.
Cut to brother finishing his "mind control" project and joining them in the kitchen, he has his phone, it's got his special app on it that he wants to test. He scans mom's neck-bar-code, and sisters ass-bar-code. What do you know they are now instantly under his control, he's their new "master". Suddenly the two females are changed into other outfits…how this happens is left to the viewer.
Anyway moving continuing the absurdity brother whips out his dick and has mother and sis get down on their knees to suck his cock. After sampling their mouths he turns them around and fucks them both from behind while they bed master for his cock. They take his dick doggy in a few spots in the kitchen before he orders them to the bedroom… where the next scene starts.
In the bedroom, clothes are ordered off mom gets to work on the cock and sister gets to work on licking brother asshole. They get ordered prone on the bed where they take it from behind again the viewer getting to see the absolutely couldn't care less looks on both girls faces as they get fucked. Mom and Sis proceed to ride the cock in various positions, mom on bottom legs spread while sister on top of mom, as bro swaps between both juicy cunts. Some weird dialog from sis to mom about how good she is faking it?? It moves onto some cowgirl action, first with mom, while sis sits on bro's face, eventually the two females swap spots. Then sis gets on her back and spreads those legs to let brother pump her from the edge of the bed, till he asks his good little girl if she wants his, cum…. of course she wants masters cum! It ends when he nuts on their faces as they lay on their backs on the bed.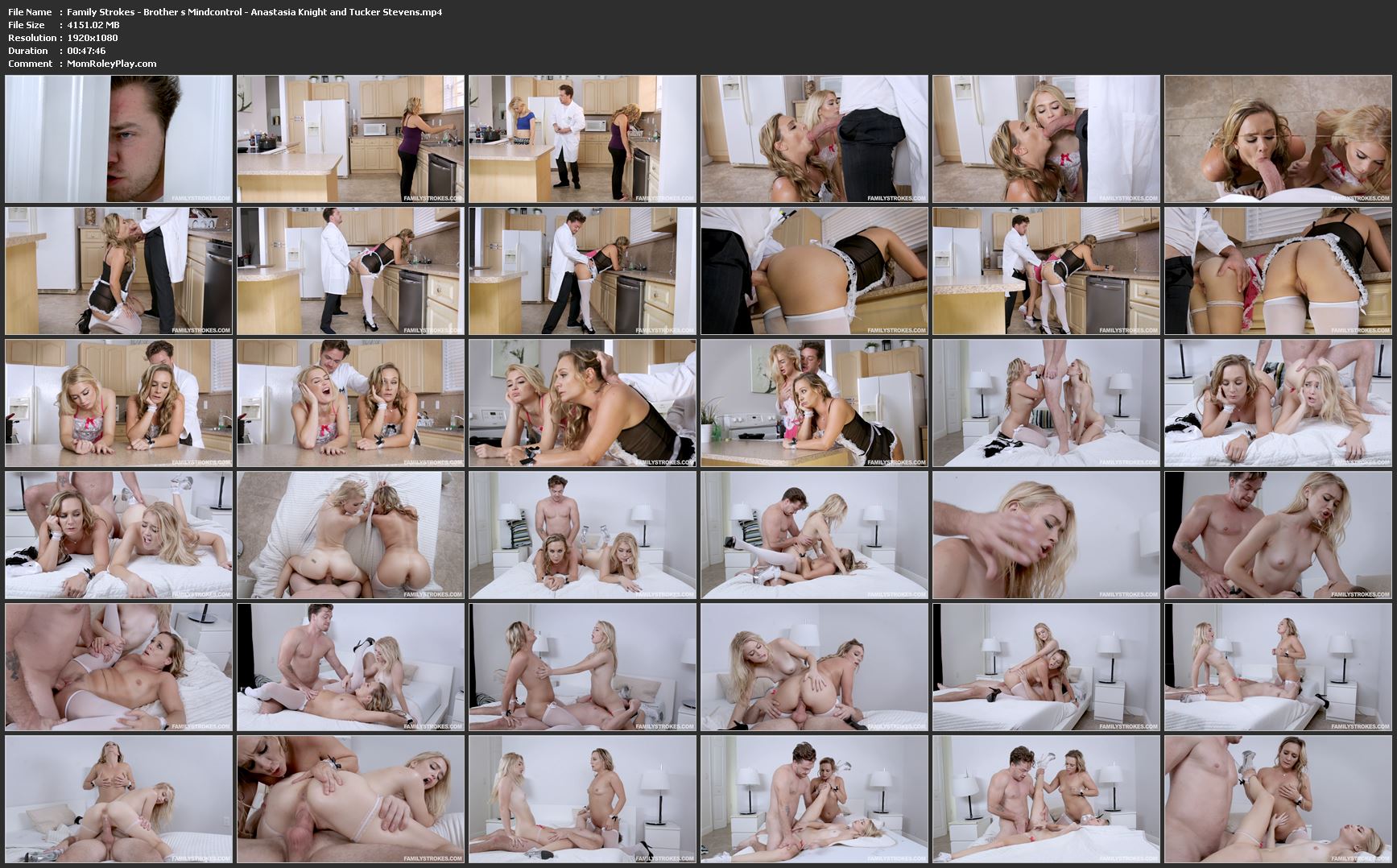 Download Files :
Family_Strokes_-_Brother_s_Mindcontrol_-_Anastasia_Knight_and_Tucker_Stevens.mp4