Dara's friend Carol is over for the evening. Together, they get up to all kinds of mischief. They are lounging around, almost naked on the bed. Dara is wearing red lace lingerie, and Carol is wearing her converse shoes and nothing but a white tank top. Dara tells Carol that she has a curious step-son, and asks her if she would like to invite him to join them. Dara has already fooled around with him in the past, and knows he would just love to see two hot blonde milfs suck his dick at the same time.
Carol, being the gorgeous cougar that she is, eagerly agrees. They invite him in, and giggle because he is walking around in his underwear. Before he can say anything, Carol grabs for his dick. She is smiling so wide, and so is Dara. The curious step-son will have the time of his life. They each take one side of his underwear and pull it down. Carol immediately puts his dick in her mouth, and it goes from half-hard to rock solid in a matter of seconds.
From here, the fun goes on. Carol starts giving him an extraordinary, experienced Milf blowjob while Dara licks and kisses Carol's ass and pussy. Not many words are exchanged as everyone's mouth is full. They both take their time, they have all night together and he isn't going anywhere now. They both give him a toe-curling double blowjob, kissing each other and his dick at once. Two gorgeous blonde Milfs on his dick, looking him in the eyes. These experienced cougars make sure there is almost always a mouth around his dick.
After an intimate introduction, they lie him down, and Dara proceeds to sit on his face. Carol of course keeps sucking, up until the point where she sits on it. She slides his throbbing dick into her pussy and sits down firmly on it. She is gentle and sensual, this is after all, extremely hot – and he's just young and needs to be able to last through it all. Dara rides his face, while Carol rides his dick. They kiss, and touch each other, both moaning and squirming. Carol pushes her pussy hard against his cock while Dara pushes her pussy hard against his face. They do this for some time before switching roles. Dara keeps his dick in her mouth while Carol moves onto his face. She sucks and jerks him for a bit before sitting on it herself.
Carol pleasures herself on his face and tongue, and Dara moans and bounces on his hard young cock. They kiss and touch each other all the while. Soon, Dara goes on her hands and knees, and Carol lies on her back with her legs spread. Dara eats Carol's pussy while her step-son fucks her from behind. He is fucking her nice and hard, pushing and pushing deep while her face is pressed against Carol's pussy. She is moaning and so is Carol. He can't believe his eyes, looking down at his gorgeous step-mom's ass and pussy and another hot mature babe spread eagle, all for him!
Dara turns onto her back, and carol then sits on her face. Carol sucks on his curious hard dick while she rubs Dara's pussy, preparing it for more. He continues to fuck her like this while Carol has her pussy licked. Carol leans forward and they embrace in a sexy kiss while he continues to pump into Dara. Everyone is having such a lovely time together.
Carol and Dara stand him up and get on their knees in front of him. They once again, give him a double blowjob. What an extraordinary sight! Two beautiful milfs looking up at him, kissing his dick together, giggling, having fun like a pair of school girls. They suck, and jerk him, they encourage him to cum. They take turns sucking and passing his dick back and forth. Then, Dara, being the loving step-mother that she is, jerks him just right while they both sit back with their mouths eagerly open. As she pumps his dick, cum shoots towards her face, and then again, and then again. She keeps pumping cum out and then aims it at Carol so she can have some too. Cum shoots again towards carol, and then on her cheeks and in her mouth. He has just been spoiled to bits by the two sexiest blonde Milfs he has ever seen! They kiss his dick, both with faces covered in cum. They seem to like having it on them. They lick and sooth his throbbing dick, and then kiss each other too.
TABOO, THREESOMES, MILF, COUGAR, BLOW JOBS, MOMMAS BOY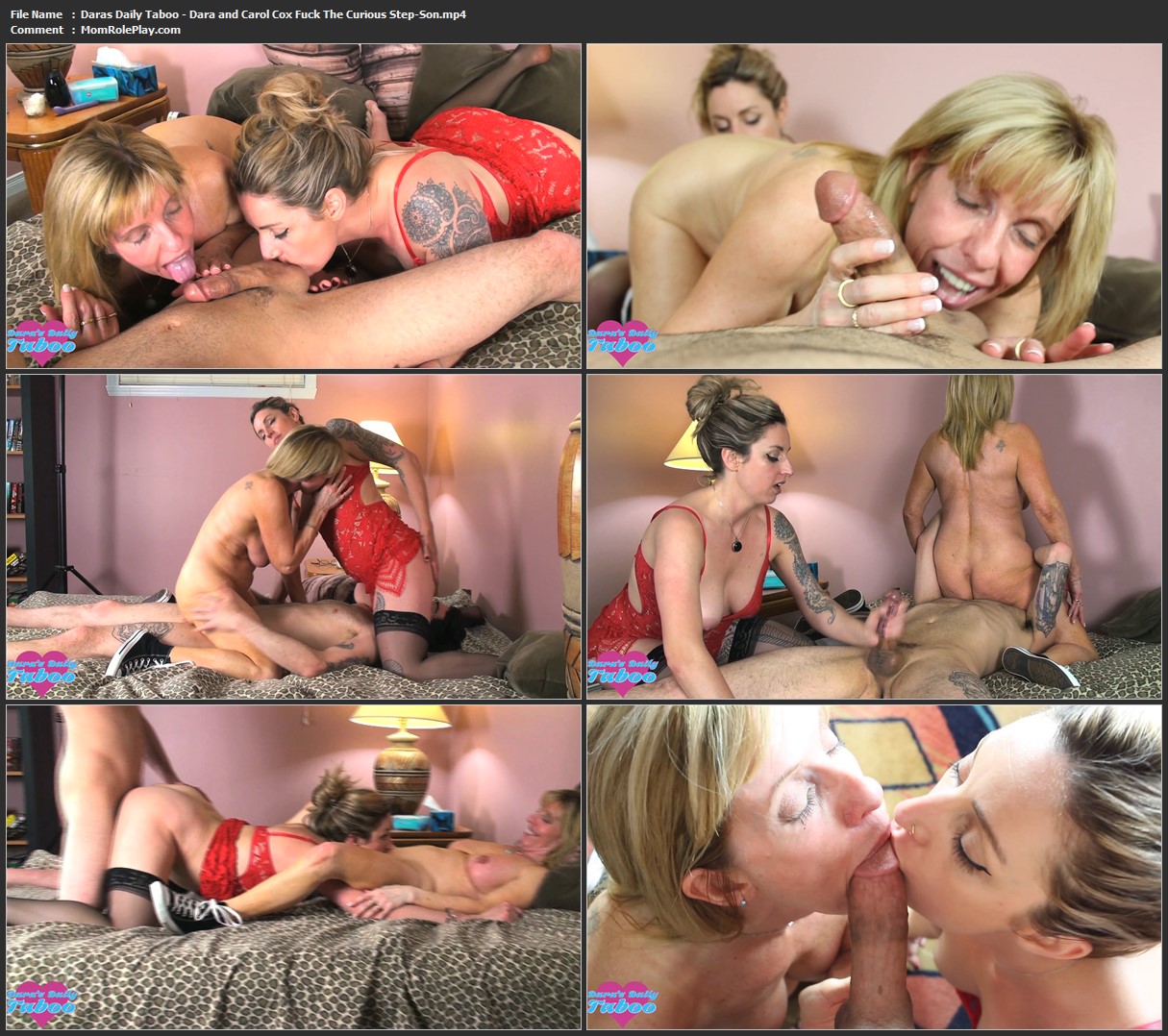 Download Files :
Daras Daily Taboo – Dara and Carol Cox Fuck The Curious Step-Son.mp4