While in bed Rick is confessing his fantasy to watch his wife Dani about have sex with another man. Dani being a good girl from the midwest thinks it is ludicrous. But down deep she finds the idea hot and her reaction encourages her husband to keep trying.
He admits to her his biggest secret fantasy would be to watch Dani fuck their son, Conor. At first she is shocked and livid for her husband even thinking of such things, but after she has some time to cool down and they talk about it some more Rick is able to pull her right into his fantasy.
So Conor comes home from college and dad pops the question to him. It catches him completely by surprise…as hot as he knows his mom is he can't believe his parents would suggest such a thing.
He asks for some time to think about it and they agree to wait for an answer until Thanksgiving. When he comes back for his Thanksgiving break Conor has everything all figured out. He tells them that he will do it, but under certain conditions
1) He gets mom whenever he wants for the whole weekend
2) He wants every sex position imaginable, a good BJ, and to cum in his mom's mouth at least once
3) And last but not least they use his parents bed and dad only gets to watch the first time.
His dad is outraged of the suggestions while his mother agrees to all the conditions without even thinking about it. Before there is a chance for any renegotiation Conor and his mother are making out and heading to the bedroom.
Rick tries to stop them, but they tell him that this was his idea and to not get in their way. He can't believe the filthy things coming out of their mouths as they continue to kiss, grope, and undress each other. Dani wastes no time pulling out Conor's cock and is in awe of the size as she had not seen it since Conor was a small .
She begins to stroke him and get him hard and then Conor fucks her tits as she spits all over his cock. Rick is at the corner of the bed looking at them through the palms of his hands as his wife starts blowing their son.
After a couple minutes Conor starts to get excited and grabs his mom's head and starts fucking her mouth. Rick tries to interrupt explaining that his mother isn't one of Conor's college whores, but Conor just continues forcing his mom to choke on his cock which doesnt bother her as she is all of a sudden a cock crazed slut that can't get enough. She keeps sucking until he blows a load in her mouth. She doesn't even hesitate to swallow and Rick gets even more upset as she has never swallowed his cum before in all the years they were married.
Conor and his mother then lay on the bed and kiss passionately as Rick gets them water and it is only a short break before Conor is performing oral on his mother. He gives her a quick orgasm and then they can't wait any longer to start fucking each other.
Rick is sobbing as he watches his son start fucking his wife every which way.They are too infatuated with each other to care and they don't pay him any attention.
Dani has orgasm after orgasm and keeps cumming all over her son as he pounds her harder and harder.
After a while Conor gets greedy and swiftly persuades his mother to let him fuck her in the bum. She is tight and hasn't done it in a while, but it goes in nicely and though they agreed to take it slow it isn't long before Conor is ramming his mother's ass hard and fast.
Rick can't take it anymore and has to get up and leave the room as Conor cums hard into his mother's asshole. They then start to cuddle and kiss again as they realize this is only the first time of many.
Category: TABOO
Related Categories: CUCKOLDING, BLOW JOBS, MILF, ANAL, CUM IN MOUTH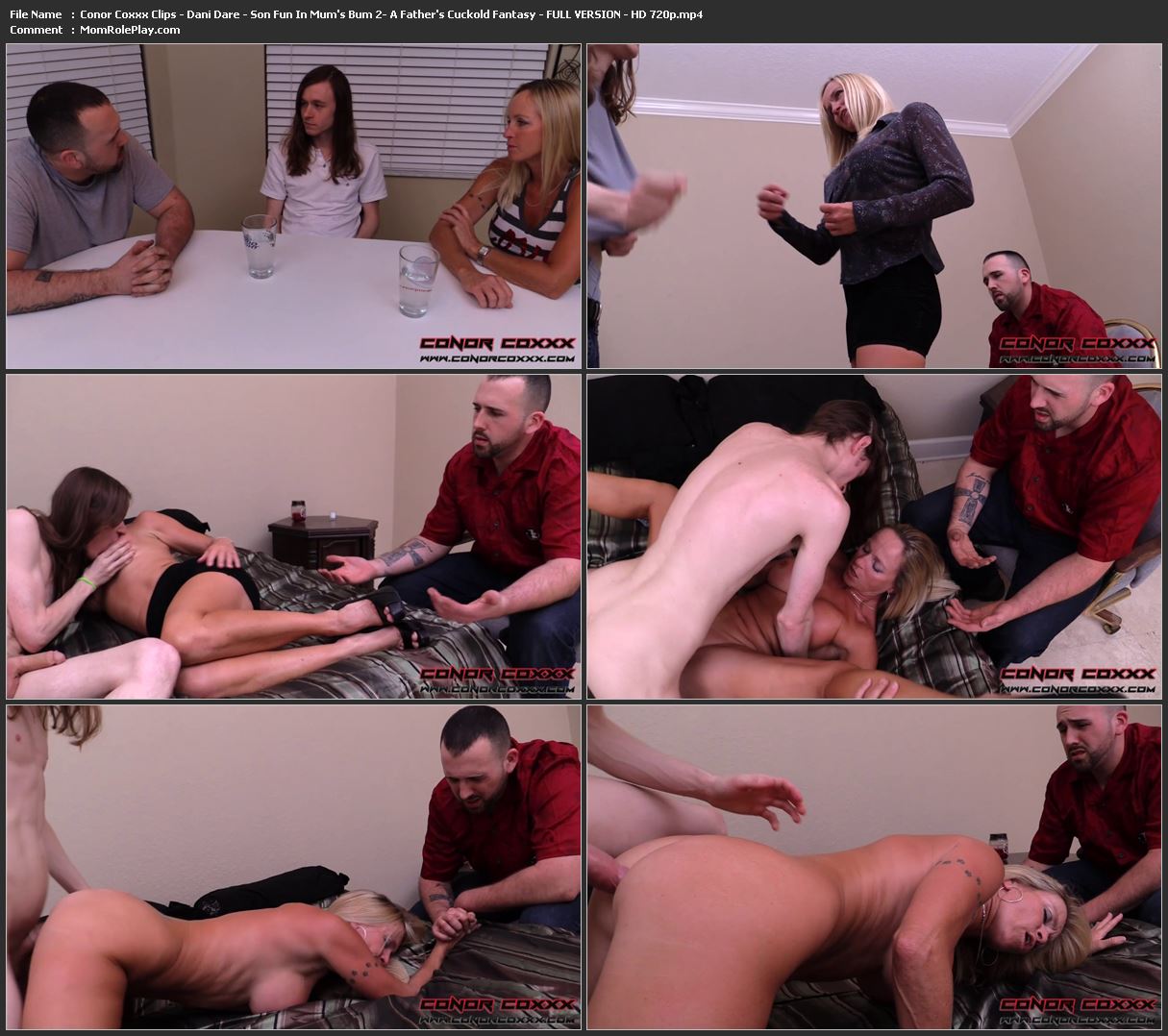 Download Files :
Conor Coxxx Clips – Dani Dare – Son Fun In Mum's Bum 2- A Father's Cuckold Fantasy – FULL VERSION – HD 720p.mp4