You and your father both got hotel rooms for Valentine's Day…and it seems that the keys got a little mixed up. When you enter your hotel room and see a blindfold waiting, you assume your girlfriend wants to get kinky…eyes closed, you hear her enter, and in moments, she has her warm, talented mouth wrapped around your cock. So talented…god, it feels so different when you're unable to see anything at all…and then, the feeling of her warm, tight pussy. God, she's riding you like her life depends on it! You can't believe how amazing it feels, and as much as you're enjoying this sensory deprivation, you have to admit you're excited when the blindfold starts to slip. You did, after all, leave a really sexy lingerie set with the hotel key, and you're excited to see her curves filling out the red lace…but…oh, no.
What?! That's not your girlfriend…that's…jesus christ, how did this happen?! You both agree that this is horrible, a horrible mistake. But an honest mistake! You can't beat yourself up, and besides, its not like it was an unpleasant experience, right? I mean, it actually felt, well, really, really good. In fact, you really liked it, you tell your humiliated mother. She blushes, telling you to stop it, not to lie, but you're being one hundred percent serious. You lean forward to kiss her, knowing this is your only chance to make this happen.
Her reluctance gives way, her body softens beneath you as you pull her towards you, leaning back onto the bed and pulling her atop your still rock-hard cock, watching your mother as she resumes riding your cock, in full view, her body glorious and gorgeous. Reaching around to grab her ass, you can't help but work a finger towards her tightest hole. You did, after all, bring a certain new toy to try out. Even if it wasn't meant for your mother to begin with, there's no one else you'd rather see filled to the brim with a thick glass buttplug. You're met with protests…at first. But you work a finger in, then another, and you can tell her defenses are dropping. She likes it, she loves all your attention, no matter the form, and before long, she is splayed before you, working that plug into her tight, virgin ass. Your mother, your Valentine, your anal slut.
TABOO, POV, VIRTUAL SEX, DIRTY TALK, ROLE PLAY, REALITY PORN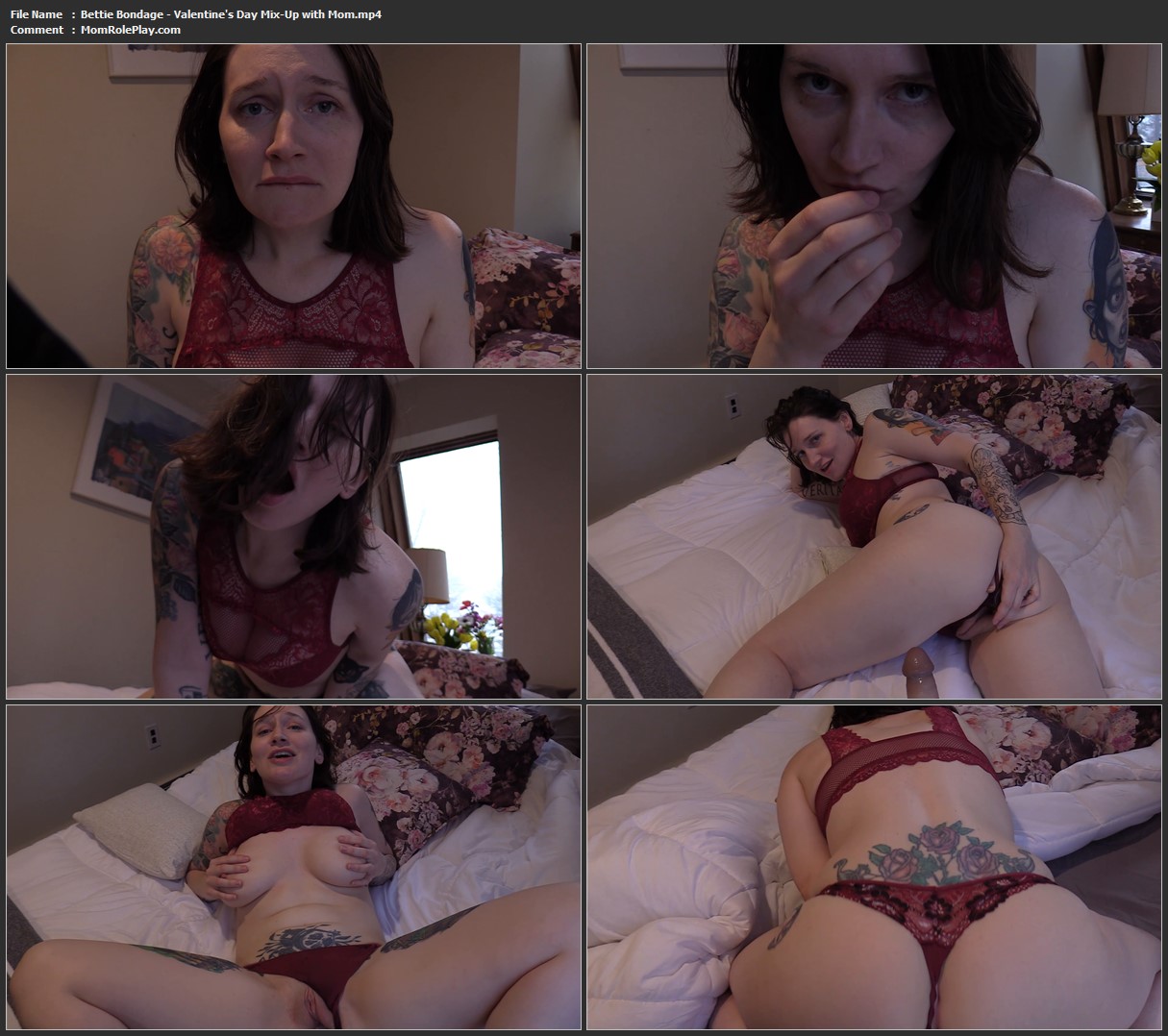 Download Files :
Bettie Bondage – Valentine's Day Mix-Up with Mom.mp4