Last month, you saw this ridiculous ad in the back of a nudie mag about "spanish fly." The ad said, "guaranteed to make any woman need your cock, or your money back!" when you looked it up online, it sounded like people actually had really good success with it, so you figured what the hell. Of course, the one woman you would want to use it on it would the hardest person to get to fuck you, under normal circumstances: your mother. You've always had such a hard-on for your mother, and she made it totally worse with all the skimpy clothes, and how well she took care of her body. You decide that you'll give it a try, dropping the colorless, odorless powder into a glass of water right before she comes in from the gym. She always goes and gets a glass of water, first thing, and she thinks its so sweet when you tell her you already poured it for her.
She gulps it down and, to your astonishment, within a minute, she is touching herself. She pours the last drops onto her body, rubbing her hands up and down her torso as she questions you about what was in that water. She's obviously feeling it! She starts to flaunt her body, oscillating between horny abandon and horrified shock. She can't control her body, she tells you, as she bends over and shows you her wet pussy, pulling her tight, white gym shorts down. You pull your cock out and watch as she grins at it, licking her lips before her normal brain takes over and she begs you to put it away. She can't help herself, she confesses, as she gets on her knees and takes your cock into her mouth, then her throat, gagging on your dick before stroking you across her face, an expert cocksucker.
Of course, she is able to wrest control of her mind for moments begging you to stop this insanity, but there is no way that's happening. You're going to nut all over your mom's face. She smiles as she strokes you to completion, taking a hot load across her pretty lips and cheek before rubbing your cum all over her pussy. Again, she begs you not to but the dirty slut in her wins again, and she sinks her hungry maw of a cunt onto your throbbing member, still hard with excitement over finally being able to fuck your mother. She rides your dick like a pro, like the slut you always dreamed she would be, until again you feel that familiar rumbling in your balls, and you let go with a huge load into your mother's wet and messy cunt. She pulls out and lets your cum drip onto the floor, finger fucking herself until she squirts cutely onto the hardwood. She gets on her knees and you watch as she slurps up the mix of your juices.
You're satisfied to end here, but your mother has another idea. She wiggles her ass against your still-upright dick, resting the puckered star of her asshole onto your member. The demure mom inside her begs you to stop this right now, but you know better than to mess with a good thing. You watch as the spanish fly takes control of her hips and she pistons down onto your cock, your mothers certainly virgin asshole now popped onto your rigid dick. You pump slowly into her, watching as her tightest hole accommodates your thick shaft. Within minutes she has you balls deep, and her hot asshole is milking you to an orgasm for the third time in under a half hour. You can't believe this – you're definitely buying more of this stuff – you're going to fill your mother's asshole with cum!!
TABOO, EROTIC MAGIC, MAGIC CONTROL, CREAMPIE, VIRTUAL SEX, ANAL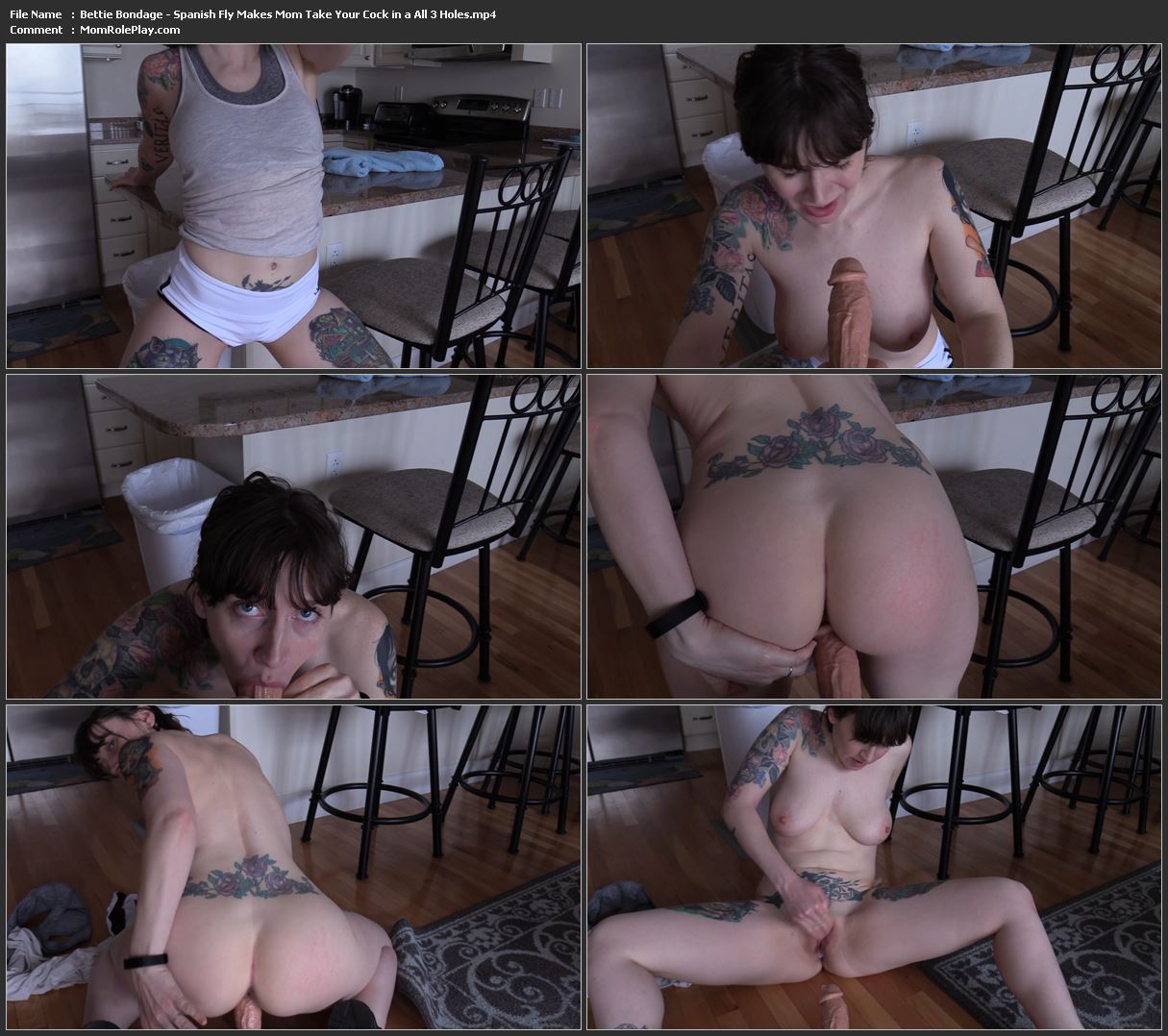 Download Files :
Bettie Bondage – Spanish Fly Makes Mom Take Your Cock in a All 3 Holes.mp4