Your parents had a pretty crazy New Year's Eve party last night. You've never seen your mom so gone! You didn't realize she'd get so flirty…with everyone. And that included you. By ten PM, she was falling all over any guy that would let her, not including your father. She was being a total slut and honestly, it was embarrassing. You tried to help her but she kept pawing at your chest, reaching for your cock and making jokes about fucking you. You kept telling her to stop but she just wouldn't! She even flashed you her tits, calling you a prude.You took out your camera and started taking photos.
You wanted her to see, in the morning, how ridiculous she was being…but the camera only spurred her on. You told her she was being a slut and she winked at you. "but if I were really a slut," she said, "I'd get on my knees and suck that cock!" Next thing you knew, she was on her knees, pulling your quickly hardening cock from your dress pants and getting to work.Your mother stroked and sucked all while you filmed. Of course, you came all over her face.
In the morning, you came downstairs to her cleaning up and couldn't help yourself. It was all too good to give up. She said she didn't remember anything, which wasn't a surprise to you. But you've decided to jog her memory, handing over your phone and watching her face switch from light amusement to absolute horror. She knows its not your dad's cock, and she's in for an even greater surprise when you tell her whose cock it is! She doesn't believe you at first, but she will! You let her know that you'll be needing more of this, if she wants to keep it quiet. Of course, she protests, near tears, telling you how perverse it is, how horrible she feels for "doing that to you," but you don't care. All you care about is getting her on her knees again, feeling her talented mouth around your cock, seeing her stroke you to completion across her pretty face, seeing her play with her big, heavy tits – the ones you've always lusted after!
Category: TABOO
Related Categories: POV, VIRTUAL SEX, BLACKMAIL FANTASY, DIRTY TALK, MILF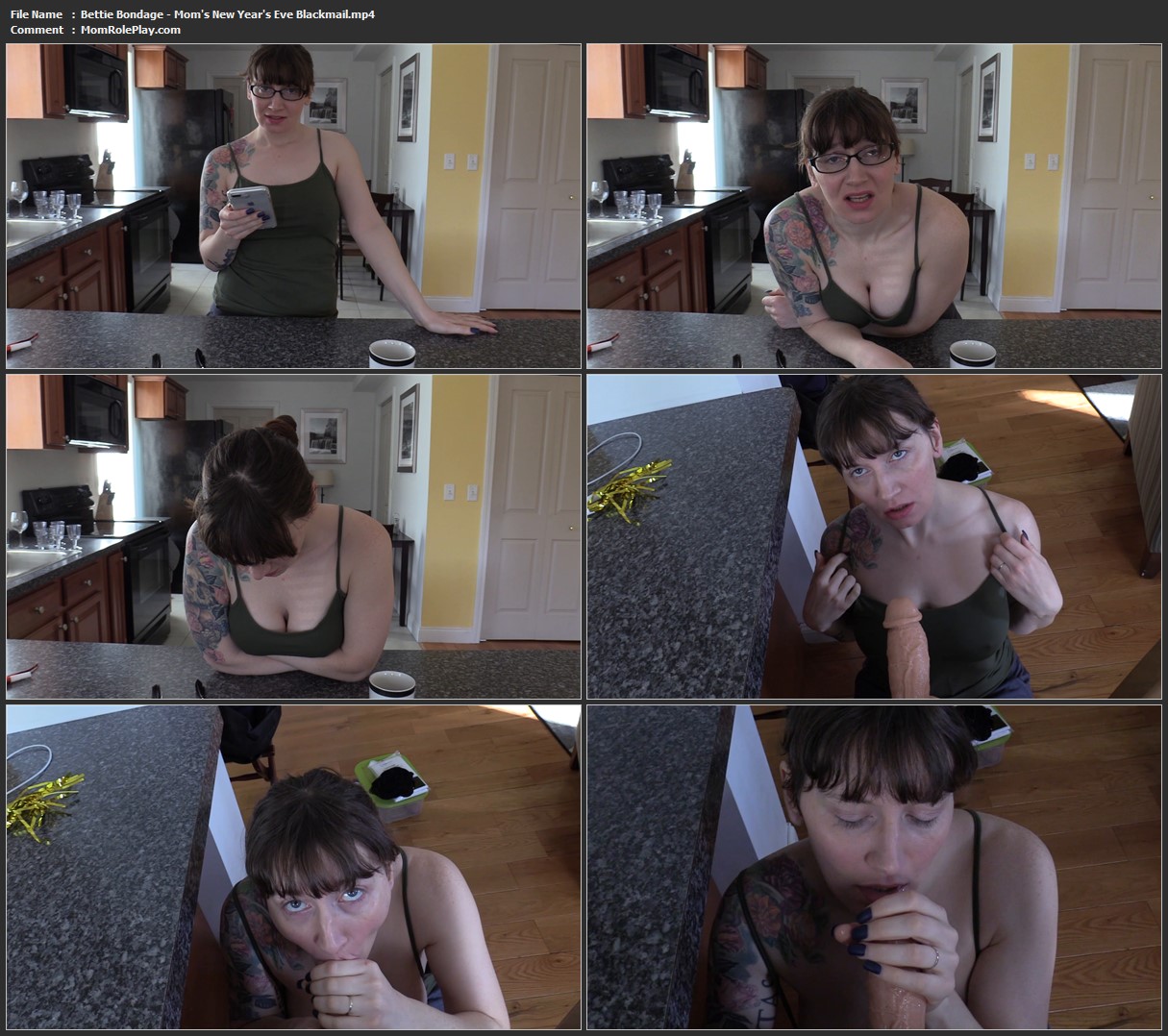 Download Files :
Bettie Bondage – Mom's New Year's Eve Blackmail.mp4