Your mother has been really committed to losing weight. She even shelled out a bunch of money to this program that monitors progress via waist measurements versus the scale. Today is her check-in day, and you walk by the bathroom just as she's beginning to measure her waist. You can tell all those squats have been paying off! Her ass looks great in her high-waist red thong, and you can't help but stop and stare. She looks so hot, strong and sexy…like the athletes at your school only…hotter? Wow, you can't stop staring…
…of course, she sees you, and you ask her what's wrong. She's clearly frustrated. She tells you that she isn't seeing the waist changes she should. You think fast, knowing you've got to take advantage of this view. You tell her that the difference between the waist and the hip measurement is the best indicator of whether things are moving in a good direction: if your waist stays the same, but your butt gets bigger, well, that can only be good. She smiles, moving the tape down towards her ample ass.
"Like this?" she says, wrapping the tape around her cheeks as she turns away from you, giving you a perfect view of that big butt. You want to reach out and squeeze it. You watch as she clocks in her ass stats, stating happily, "41 inches!" You tell her that the ratio between chest and waist and waist and hips is what constitutes an hourglass figure. Halfway there, you inform her, you just need to measure your bust. She's shy, reluctant, but eventually grins, measuring her sports bra covered chest with joy, noting the greater than 10 inch difference between her waist and her lovely, big tits. You tell her its best to measure without the bra, not really knowing if its true but also knowing she's getting excited from all the attention. Every pretty girl loves attention paid to her sexy figure, even if its from her son…especially when its from her son…
you watch her tits drop from her sports bra and try not to drool as she wraps the tape around her hard nipples. You want to cover them with your mouth but you just watch as she starts to touch them…you rub the front of your jeans. She can tell she's turning you on. She rubs and pulls at her nipples, teasing herself while you start to stroke through your pants. It doesn't take more than a minute of teasing her with how hard you are before she's giving in, reaching down and touching you herself. She tries to fight it off – we shouldn't do this, this is wrong – but they are weak protests.
She pulls your cock from its tight place and drops to her knees, sucking your cock like a woman starved for cum. You watch her measure your dick, delighting in its size, in how much she can fit down her throat, before she lays on her back and begs you to fuck her, to put all 8″ inside her, deep inside your mother…you watch her grind her hungry pussy onto your cock, riding you hard, taking you from behind and making herself cum hard against your young dick. Hearing her dirty talk, telling you not to tell anyone, not to tell your girlfriend, to cum inside her, to give mommy your cum…you let loose a huge load, flooding your mother's tight cunt and watching it pour out as she pulls her still spasming pussy off your spurting dick. She eagerly laps the excess from her fingers, the floor, your cock – your mother, the cum-hungry slut!!
Category: TABOO
Related Categories: DIRTY TALK, POV, VIRTUAL SEX, MILF, COCK WORSHIP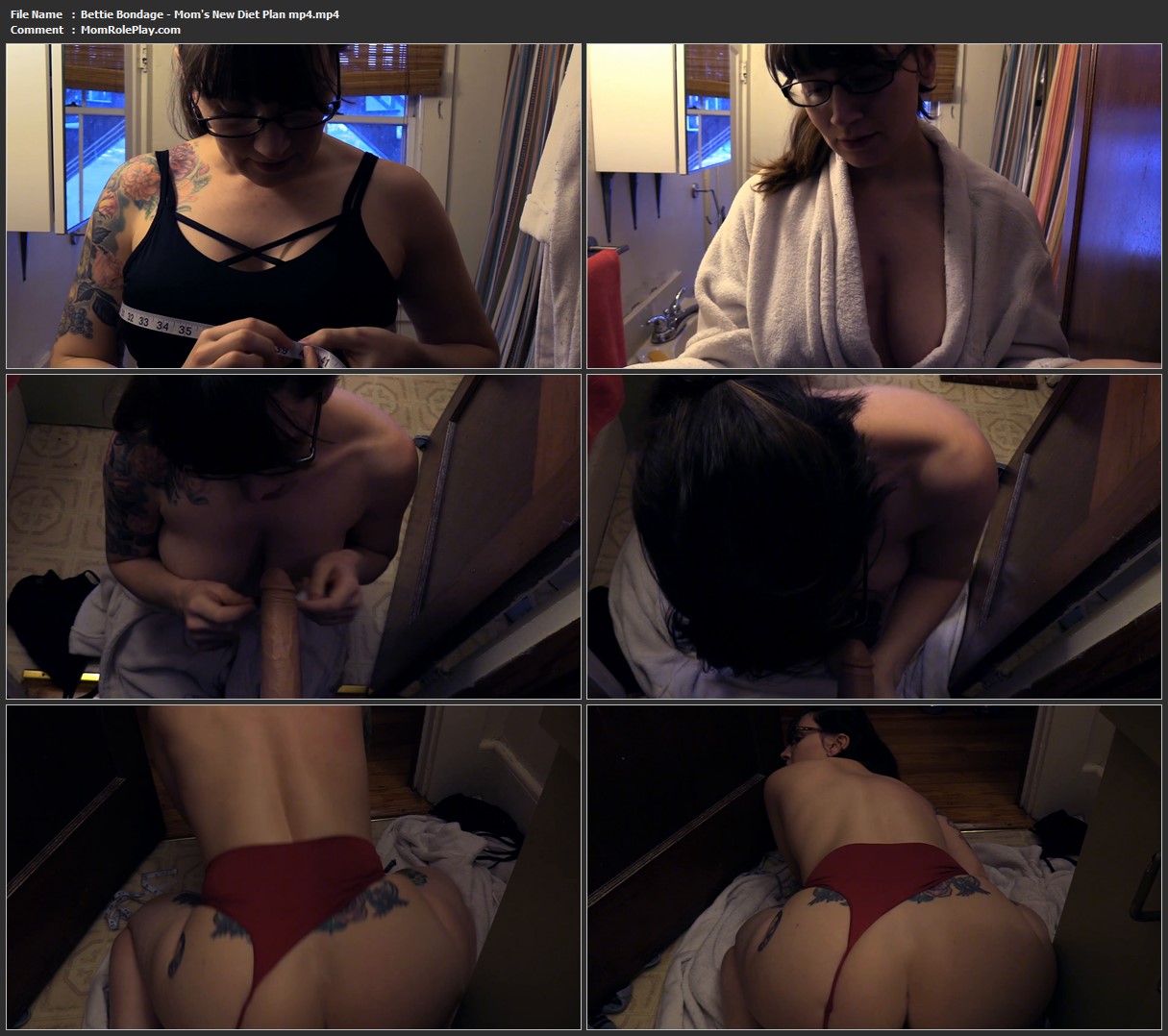 Download Files :
Bettie Bondage – Mom's New Diet Plan mp4.mp4