You and your mom have decided to go away for a few days to this resort, because you told her that you feel as though you need a chance to "reconnect with one another." Of course, she agrees – what mother would tell her son no after saying something like that?! But you have a very specific plan for how things are going to go. You've decided to buy her a new bikini, and give it to her as a gift for always being such a wonderful, caring mother. When you present her with it, right before she goes down to the pool, she thinks its so sweet! You tell her to go put it on, and when she does, she has a bit of a change of heart. She comes out of the bathroom, clearly upset.
"Is this even a bathing suit?!" she asks, trying to adjust the tiny fabric to cover herself, "it looks more like lingerie! I think it's see-through, too!" she whines. You tell her its perfect, its the style, and that it's absolutely covering her.
"Jump around," you tell her. She looks at you wide eyed. "No, really, mom – jump around, you'll see that you stay in place. Just wiggle and jiggle it. Everything will stay put and you'll see!" To your utter pleasure, she does! You watch as your sexy, barely covered mother jiggles her full breasts in the tiny scraps of fabric you've just presented her with. Her tits bounce beautifully and you feel your cock stiffen, but they don't fall out of the tiny top. Your mother is starting to be swayed that all is well with the scandalous suit, when you tell her to bend over and bounce her bottom. "To see if the bottom stays in place?" you suggest, unsure as to whether this part will fly. But, again, your mother agrees, getting on the hotel bed and bouncing her ass. The transparent fabric of the suit rides up her round ass cheeks as she twerks and shakes her big booty, looking back at you as you do your best not to laugh at how perfectly this is working. Finally, satisfied that the suit will hold up in the resorts pool, you two set off for the pool…but your time down there is cut fairly short, once your mother starts getting certain, uh, reactions. She drags you back to the room and starts demanding to know if you thought it would be funny, if it was all a humiliating joke.
"One man asked if he could suck on my breasts!" she says, going red. "I looked like an utter fool down there, and its because of you! People grabbing me, whistling, asking to take pictures, and all the while you were just standing there, smiling, with…with…with an erection!" she looks hurt, humiliated…your cock twitches once again. She notices. "That's it, isn't it? You liked it?! Alright, mister, take it out!" she demands. You hesitate, now unsure how far this is going to go, but before you can wait too long, your mother is insisting once again that you take out your rockhard erection and stroke it for her. "Go ahead. If thats what you want, your mother, in this skimpy thing, a slut for all to see, then take out that cock and get stroking." She proceeds to shake and jiggle her ass and tits for you, pulling them out of the top to flaunt them while you desperately stroke your dick for her. She's angry and all that does is make it hotter, your mother, hurt and humiliated, instructing you on how to stroke it. Once she can tell you're nearly there, she gets on her knees in front of you and tells you to go ahead, do the dirty thing she knows you want to do…cum on her! That's right, cum all over your mother's exposed tits – they're on display, aren't they??
Category: TABOO
Related Categories: JERK OFF INSTRUCTION, MASTURBATION ENCOURAGEMENT, MILF, POV, PUBLIC HUMILIATION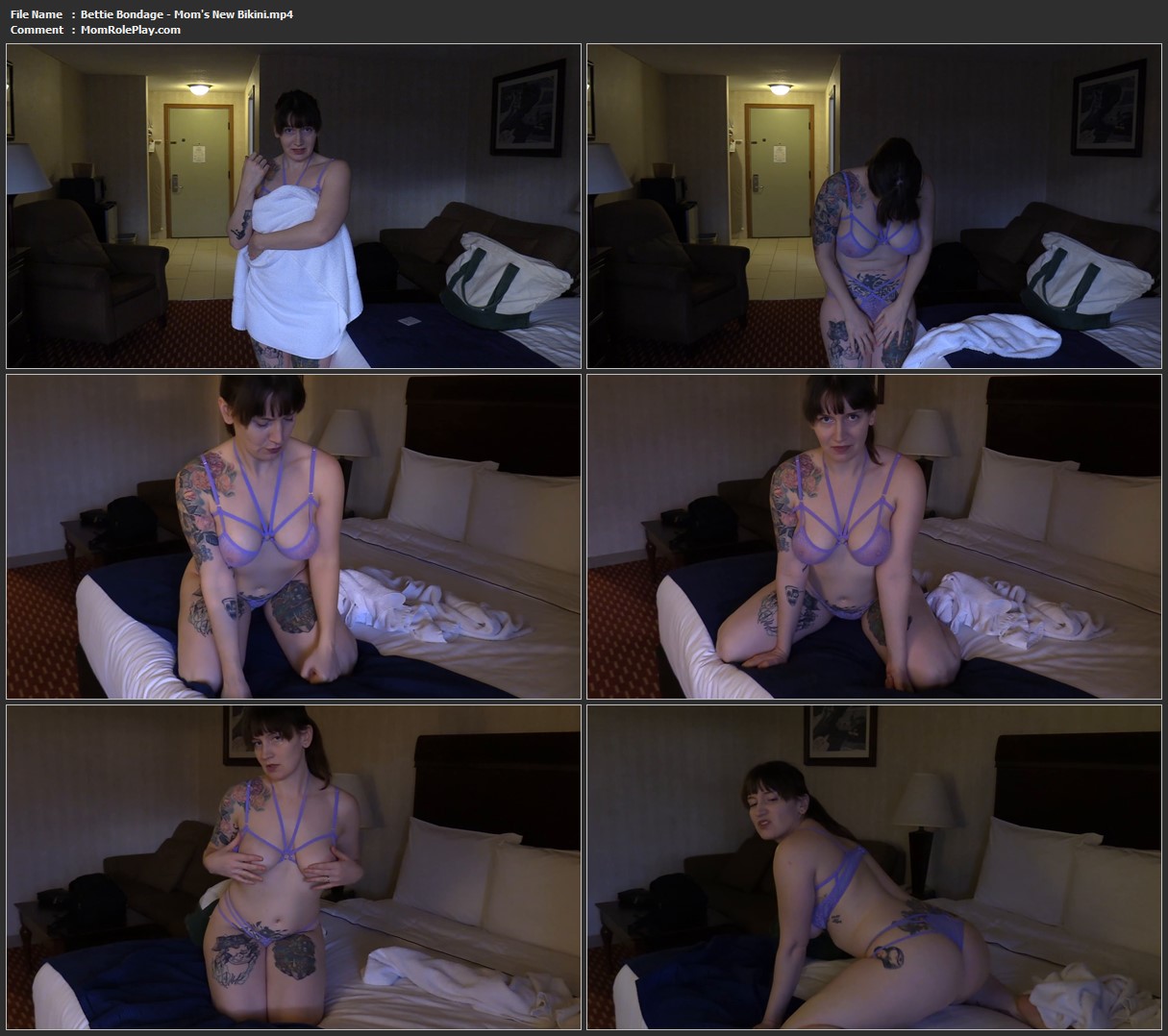 Download Files :
Bettie Bondage – Mom's New Bikini.mp4