You were both so gone. It was your 21st birthday. It's not like you knew what you were doing. So you kissed! It's not like you've never kissed your mother before. Ok, so this time was on the mouth. With tongue. In the back of a cab, at 2am. But it's your mother! It can't mean anything, right?
It's a week later and you two have been avoiding each other, so it surprises you when you hear a knock at your bedroom door, and in steps your mother, wearing a silky purple nightie which leaves very little to the imagination. Lately, even the slightest hint of her nipples through her shirt is enough to get you rock solid, and this is no exception. She looks hot.
She sits on the edge of the bed and looks at you, serious and concerned. She wants to talk about that night. You try to hide your growing erection as she shifts and sighs, telling you how it was nothing, Nothing to be concerned about, just a mistake. She's edging closer, though, and the talk clearly has the both of you a little bothered. When she leans in to kiss you again, just to prove that it was really nothing, you feel her brush against your engorged member, and all bets are off.
Within minutes, she's stretched across the bed, her full, gorgeous breasts bouncing as you pound in and out of her, both of you trying to be quiet so everyone home doesn't hear you. Your mother squirms and bites her lip trying not to scream and moan as you deeply fuck her hungry cunt. She grinds against you as she cums, milking a hot load from your balls with apparent delight. Scooting off the bed with a hand tight against her well-fucked pussy, she arranges her nightie, kisses you goodnight, and quietly shuts the door behind her. Man.
TABOO, VIRTUAL SEX, DIRTY TALK, ROLE PLAY, POV, MILF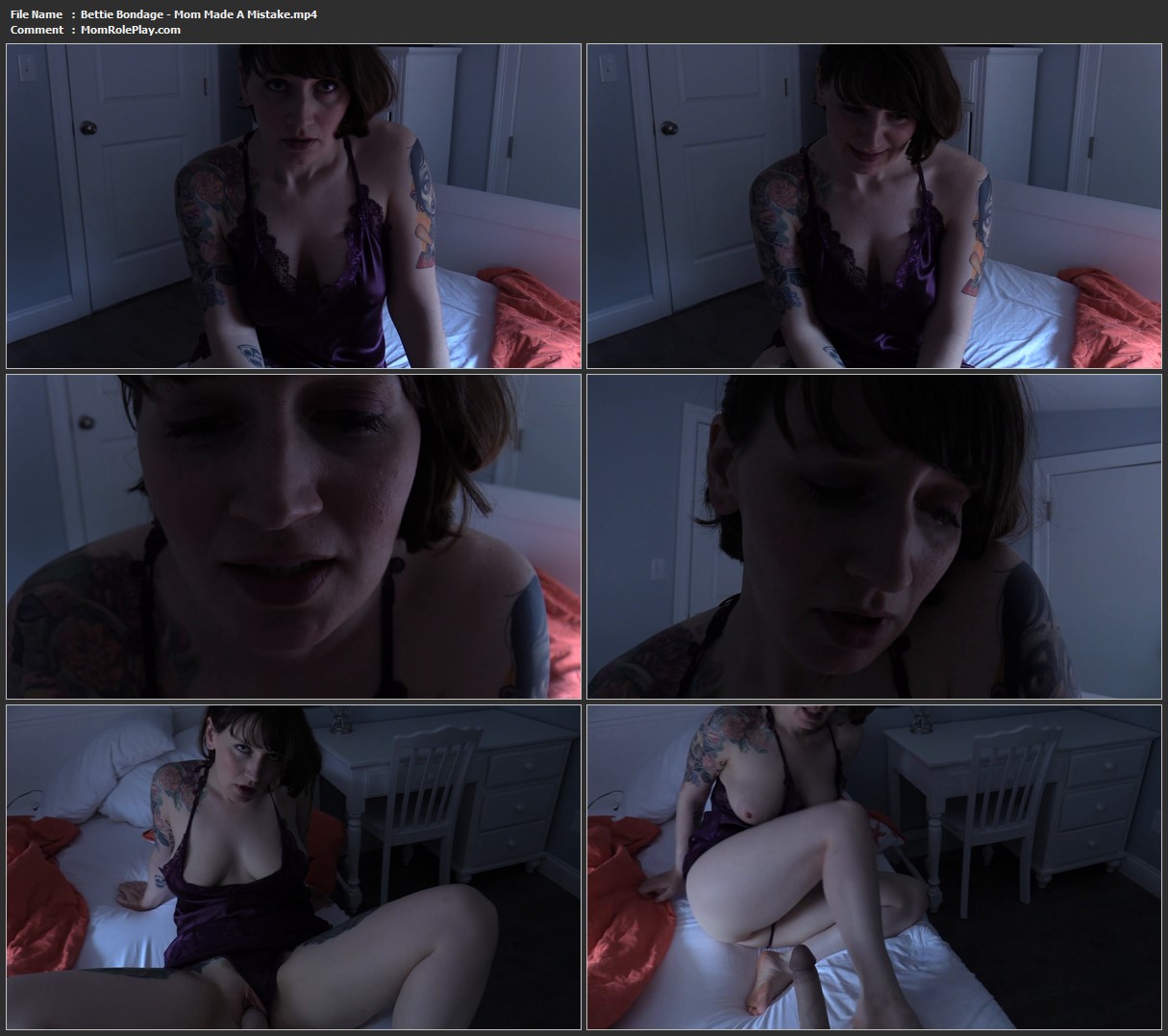 Download Files :
Bettie Bondage – Mom Made A Mistake.mp4