Your health class just started the sex ed portion, and your homework is to go home and write down two questions you have but are nervous to ask, and they will be answered anonymously. You know exactly what you're going to ask: first, is the size of your penis normal? You think it is, based on the other guys in gym, but those are only little glimpses and all the guys in porn are so huge. The second question is a little more embarrassing…is it normal to get a boner from your mother? Of course, the second you finish writing, your mom walks in. She's always dressed in outfits that aren't exactly revealing, but they're…sexy. Sometimes you think she even knows what you're thinking when you look at her. She must know, sometimes you can't help but stare. You tell her what the homework is and she wants to see the questions but you tell her no. After a few minutes of just chatting, she tells you that she made a snack in the kitchen so you leave to check it out. When you get back, your mother seems a little weird. Did she read the paper?! You left it out, how stupid…
…in a few minutes, it's pretty clear that she did read it. She's unbuttoning her blouse a little as she talks. And her voice is flirty? Your cock stirs against the tight denim of your pants as she pulls another button. Her hand snakes into her shirt as she tells you that she thinks seven inches is a great size for a young man. You stiffen completely as she giggles, pinching her nipple. You ask her what she's doing. "What am I doing? Oh, well, this feels good. And it makes my nipples hard. Is there anything on your body that's hard right now?" she asks, her eyes darting to your cock. You admit it, and she assures you there's nothing wrong with that. In fact, she confesses, she'd like you to take it out. She wants to show you what she can do with a penis that size. "There's so much I can do," she says, reaching forward as you free your throbbing erection, taking you into her hand and stroking you with a smile.
It's not long before she's on her knees, stroking you against her breasts, against her lips, taking your cock into her hot and warm mouth, purring around your young and virile member. It takes everything in you not to cum, but you're holding out for home-base. She smirks as she suggests one other thing she can do with a cock this size, getting up onto the chair in front of you and positioning her wet, hungry pussy below your cock. You watch as she rubs your ready-to-burst cock-head against her clit, moaning as she finally slips you inside! She rides your cock, pistoning her hips to an intense orgasm while she tells you to admit everything, to confess and say out loud how much you love mommy's pussy and tits. She loves hearing you call her mommy, hearing you admit that you want to cum all over her tits. After she's cum all over your cock, she gets on her knees and strokes you to orgasm against her full, pillowy tits!
Category: TABOO
Related Categories: POV, VIRTUAL SEX, ROLE PLAY, MILF, DIRTY TALK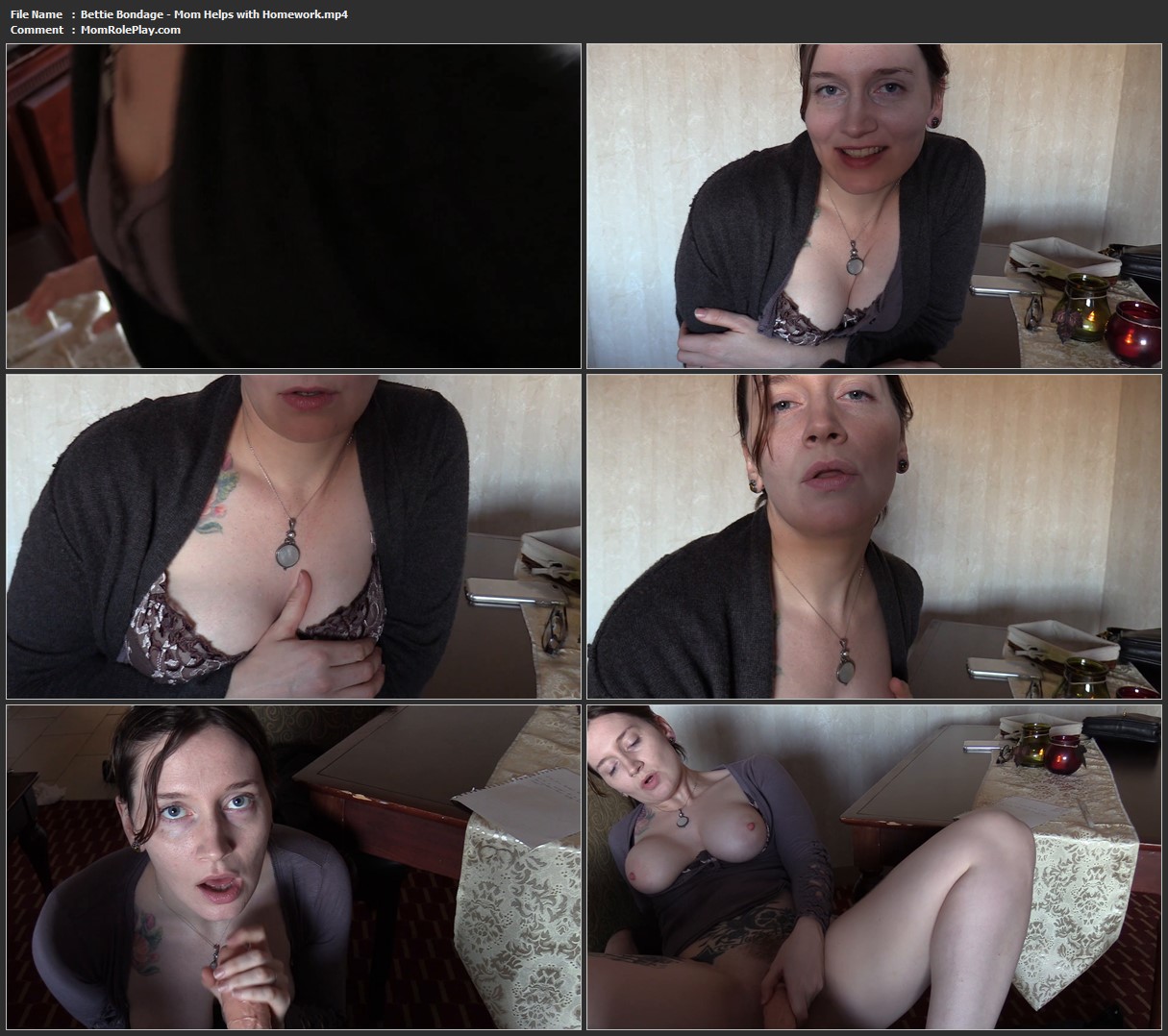 Download Files :
Bettie Bondage – Mom Helps with Homework.mp4