Lately, you can't help but stare at your mother. She's just so sexy, sexier than any of the girls at school, sexier than the women on TV or the ones you jerk off to late at night. Lately, the only person you jerk off to at all is your mother. So of course, when she's wearing a tight, low cut dress to do housework, you can't help but lock your eyes on her ample chest, practically spilling out of her dress. She catches you and chastizes you for being a pervert, but you can't help it. Even after she kicks you out of the kitchen so she can clean, you keep sneaking peeks of her, bent over and cleaning the floor or reaching up to a high cabinet. She catches you each time, getting more and more exasperated.
Finally, she snaps, telling you she's going to teach you a lesson. Just like when she caught you smoking, she's going to overload you with the thing you seem so tantalized by, until you just can't take anymore!! First, she demands you stroke while she shows you her pussy. You don't want to at first – even though you were staring, the idea of jerking off for your mother is still embarassing! But she insists, thrusting her pussy in your face while you begin to stroke. It doesn't take much for you to be near the edge of a powerful orgasm, as you hear your mother's breath quicken. You lick and suck her delicious quim until you both have shuddering orgasms…thinking it's over, you feel an intense wave of lust and shame wash over you…but she's not done!
Your mother makes you stand up, laying across the island and demanding that you fuck her until you cum! Your cock is so sensitive but there's no avoiding this – she pulls you inside her and before long, you're emptying a load inside your mother…but she's not done yet!!
Category: TABOO
Related Categories: MILF, FEMDOM, POV, VIRTUAL SEX, REALITY PORN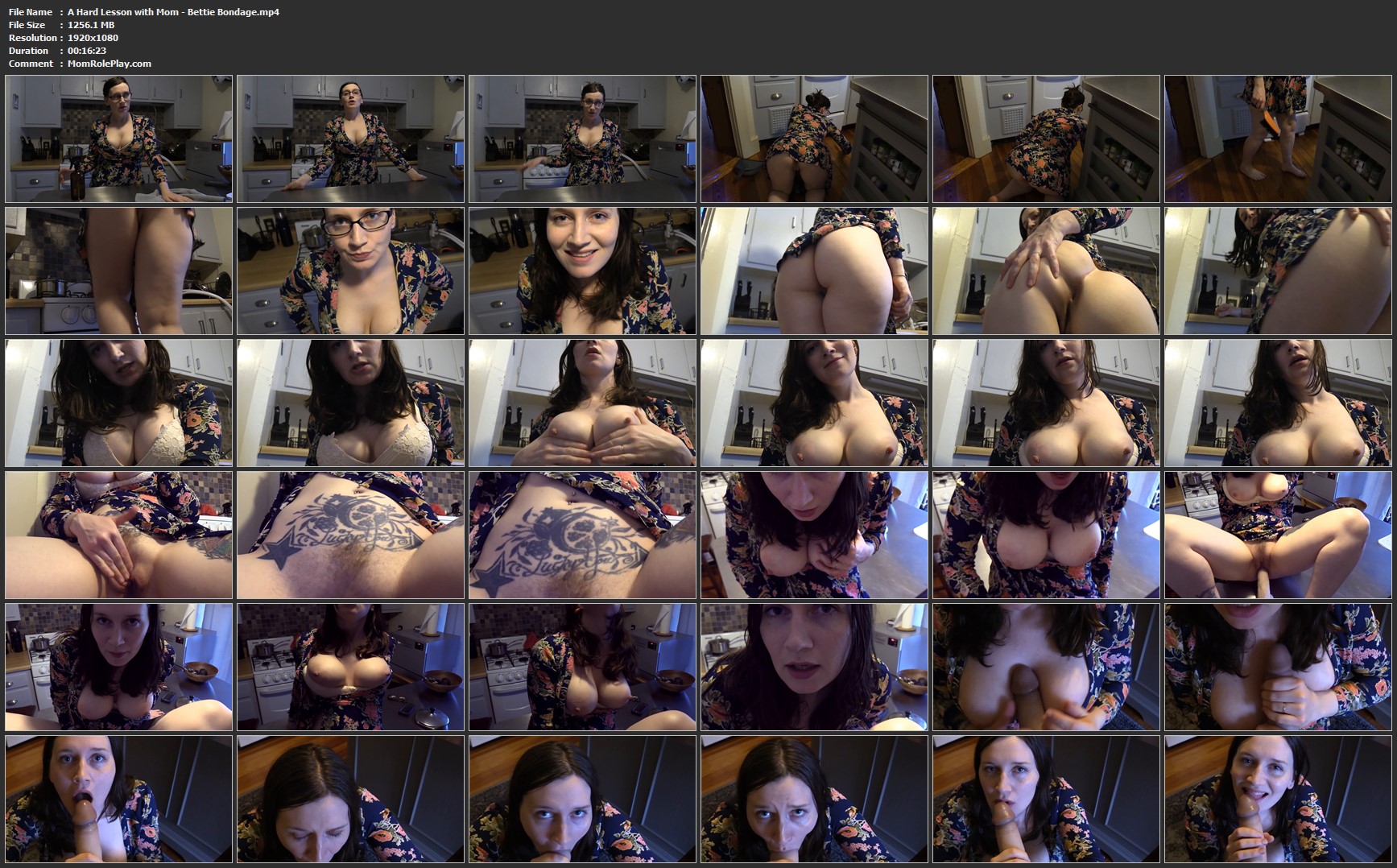 Download Files :
A_Hard_Lesson_with_Mom_-_Bettie_Bondage.mp4